My favorite movies of 2015
the five movies I enjoyed the most from last year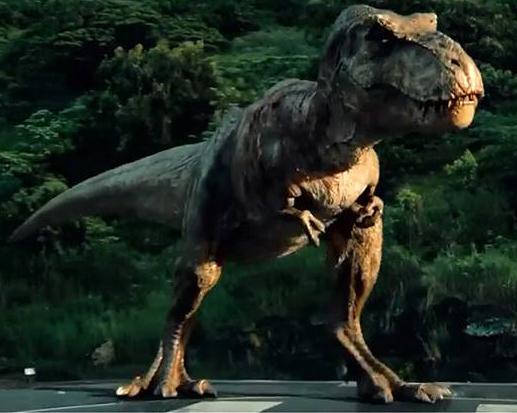 In 2015, we got new Jurassic Park, Terminator, Mad Max, and Star Wars films along with a slew of underrated gems such as "Pawn Sacrifice." After careful consideration, here are my five favorites of 2015. Remember, these are my favorite films, not the best films. Now, without further ado……
"The Hateful Eight"
Quentin Tarantino returns to the director's chair with his newest blood-soaked outing with "The Hateful Eight," a film that literally takes place in a cabin for three hours. That might sound boring, but how many three hour films involves crazy mountain man beards, two heads exploding, and characters vomiting geysers of blood until they die? None by my count. The whole cast is great, but the main standouts are Walton Goggins as a racist soon to be shariff named Chris and Kurt Russell playing "the Hangman," a macho, grizzled bounty hunter that'll make sure the bounty will see their day in the executioner's court. In addition to the haunting score by western music legend Ennio Morricone, "The Hateful Eight" will leave you thoroughly entertained throughout
Grade: A
"Mad Max: Fury Road"
The fourth Mad Max film is one of only two films from my earlier list of my five favorite films I had seen of the year up to that point, because when it was all said and done, "Mad Max: Fury Road" had some of the best action I have ever seen in my life. Charlize Theron steals the show as Furiosa, while Tom Hardy was great as "Mad" Max Rockatansky. It was just such a freaking awesome movie that shows not all fourth films in franchises are crap (*cough – Batman & Robin). It was pretty visually awesome and trippy as well, something that definitely is welcome amongst the typical filmfare. It's definitely one of the weirdest films I've seen in awhile, but it just so happens to be that "Mad Max: Fury Road" was one of the best films I've seen in awhile.      
Grade: A
"Spotlight"
Several months ago, I predicted that "Spotlight" would win Best Picture, and while it looks like "The Revenant" might have gained some much needed momentum, "Spotlight" still has a strong shot at taking home the big prize. There's no doubt it deserves it either, because "Spotlight" is easily the best film with its subject since "All the President's Men" back in '76. Michael Keaton and Stanley Tucci tear it up and deserved Oscar nominations, the music by Howard Shore is haunting, and the writing was extremely well done. When tackling such a controversial topic such as priests raping and molesting children, one needs to tread carefully while still telling the story as it actually happened. "Spotlight" walked this line like a champ, and rightfully deserves to win Best Picture. Then again, "Good Will Hunting" also deserved to win back in '97….
Grade: A
"Jurassic World"
It has been a long time since I've had such a problem picking my favorite movie of the year. Both this and my number one pick were so good that I almost wanted to just tie them, but that's cheating. So, after much consideration, I went with "Jurassic World." It really breaks my heart to not have this as number one, but in the end, it was such a great movie that it really does not matter. Sure, it had its problems, but it was overall a really good movie that perfectly captured the feel of the original "Jurassic Park," something that neither of the previous two sequels were able to do. The heart, the nostalgia, the humor, the excitement, all of these played such a huge role in invigorating a sequel almost 15 years in the making. From beginning to end, "Jurassic World" had me on the edge of my seat, and when the credits did role, I don't think I've ever clapped so hard for a film in my life.
Grade: A+
"Star Wars: Episode VII – The Force Awakens"
After ten years, we finally got another Star Wars movie (I pretend "Star Wars: The Clone Wars" never happened), and thank God it was awesome. I really don't have anything to say really. It was well acted, shot, directed, and written and had great sound, visuals, music, and costumes. "The Force Awakens" somehow exceeded all of my expectations and, by a landslide, is the best in the franchise since "The Empire Strikes Back." Several months ago, I correctly predicted it would be the best since "Return of the Jedi," but what I did not know was that it was better than "Jedi." Sure, it had its faults, but almost every film has something wrong with it. Since the second teaser trailer was released in March, I had been extremely excited for the film and thought it would be one of my favorite films of the year. I don't think, however, I would have ever thought the film would be my favorite of the year. The biggest reason why I love the film so much is because it feels like it definitely belongs as a sequel to one of the absolute greatest film trilogies of all time. I'm excited to see how the franchise continues to play out and, if "Episode VII" is any indication, the upcoming films should be awesome.
Grade: A+
Honorable Mentions:
"The Martian"
"Avengers: Age of Ultron"
"Ex-Machina"
"The Revenant"
"Sicario"
2015 was a great year for movies, from the critically acclaimed award contenders to the box office giants. With the new year upcoming, we will see "Batman v. Superman: Dawn of Justice," "Rogue One: A Star Wars Story," "Captain America: Civil War," "Suicide Squad," Martin Scorsese's new film "Silence," Mel Gibson's "Hacksaw Ridge," his first directorial work since 2007's "Apocalypto," among much, much more. Here's to hoping that 2016 can somehow match the absolute greatness of 2015.
Leave a Comment
Your donation will support the student journalists of Francis Howell Central High School. Your contribution will allow us to purchase equipment and cover our annual website hosting costs. FHCToday.com and our subsequent publications are dedicated to the students by the students. We hope you consider donating to allow us to continue our mission of a connected and well-informed student body.