Jazz bands gather for night of music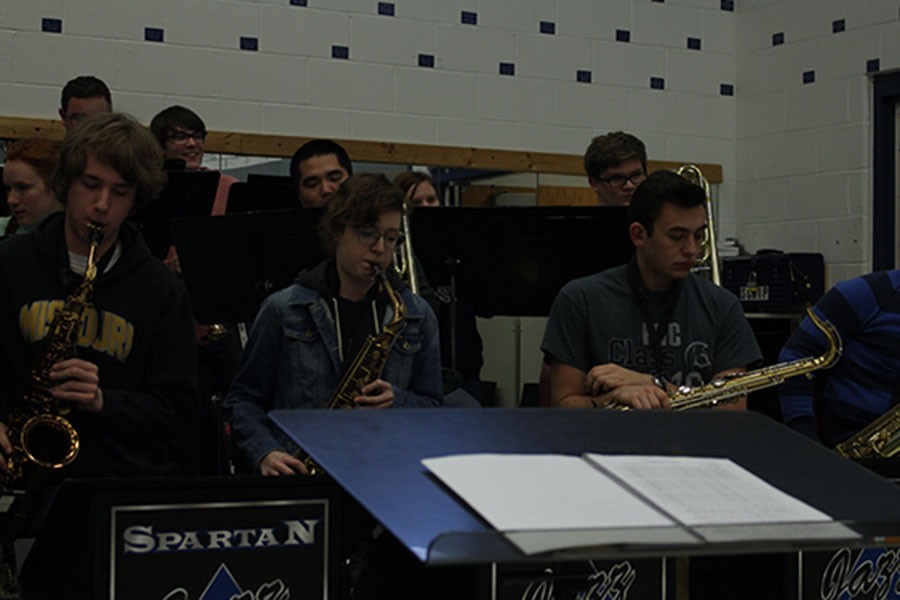 On Thursday, Feb. 18, the jazz band and jazz ensemble, led by Band Director Nathan Griffin, performed here at Francis Howell Central. They weren't alone as they were joined by the jazz bands from Francis Howell and Francis Howell North in the annual District Night of Jazz.
This event, which, according to Mr. Griffin, was started around three years ago by the three high schools, was initiated in order to shine light on the various jazz programs around the district.
"We don't often get to hear the other schools' jazz groups, so this is just a way for us to get together and support one another," Mr. Griffin said.
According to Mr. Griffin, each of the bands from the various high schools had a great deal of playing time during the performances to show off their skills to their fellow jazz musicians.
"Each band performed for about 20 to 25 minutes," Mr. Griffin said. "There were about four songs performed per band."
Mr. Griffin feels that the jazz band and jazz ensemble did well especially in regards to the material that they performed.
"They performed all new pieces, which is pretty hard to do this early in the semester. Normally, we just played old material at this event, but we decided to try new ones this time," Mr. Griffin said. "It's hard to play new songs like that with such a short time to learn, so I'm pretty proud of them."
Junior Vivian Scott, who is a member of jazz ensemble, was equally proud of the performances that her group and jazz band put on.
"It was a really great experience. It is a cool opportunity to see the other schools since we don't always get to see them play. Overall, it went really well," Scott said.
With this event over, Mr. Griffin and the various FHC bands are now preparing for other performances and festivals around the community.
"Jazz ensemble has a few jazz festivals coming up. These are just places where they can go and get feedback from professionals and other educators. They're a great learning experience," Mr. Griffin said. "Our concert band has a state conference on Mar. 15 where they will be rated based on their performance."
As the curtain falls on one performance, many more rise for the coming events, and FHC's musicians are hard at work in preparing for all of them.