Band students go solo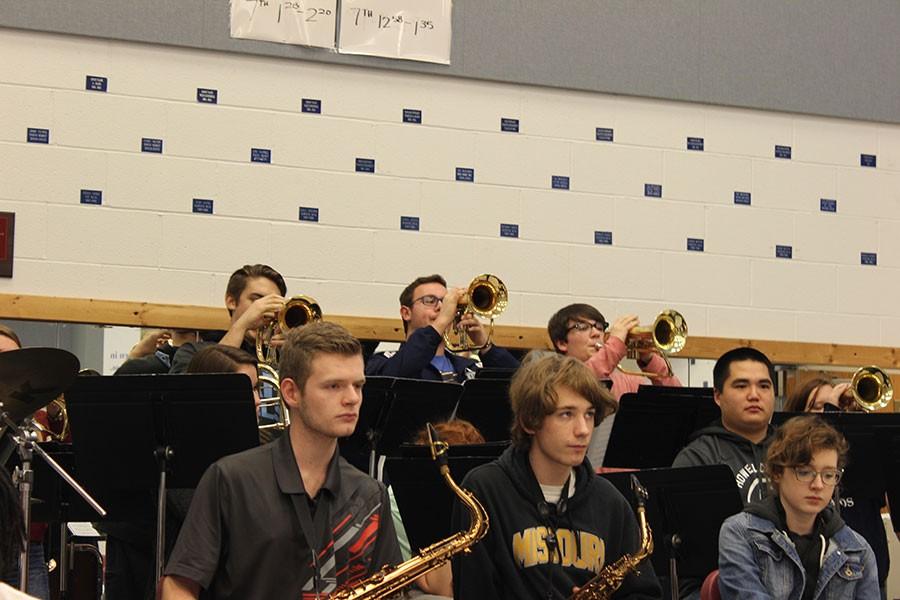 After months of working together with their fellow bandmates to perform their pieces, several members from the various bands split up to perform alone or in small groups at the district solo and small ensemble festival on Saturday, Mar. 5.
According to Band Director Nathan Griffin, the festival, which was held at Fort Zumwalt East, was for band students to show off the skills they had learned throughout the year and gain some prestige.
"It is a chance for students to perform solo or in ensembles, which are groups of two or three students," Mr. Griffin said. "They do all of their work outside of class, develop their own pieces, and perform in front of judges at the festival."
Senior Jared Tredway, who is a member of the jazz and wind school ensembles, said that after the performances, the students were assigned a ranking by the judges, which would play a part in whether they would go onto the state festival.
"We got a rating between one and five. The ones that received a one get to go to state. It is something that a lot of people strive for in band," Tredway said.
Mr. Griffin agrees that moving onto state is certainly a benefit of performing in the festival. However, he also said that there are other reasons why this event is so special.
"It is just something that we don't do very often. The students aren't normally given the chance to do things like forming their own small groups," Mr. Griffin said. "Also, for anyone who is thinking about band scholarships, this is definitely great. There's also a lot of experience that can be gained from this event."
Around 40 students from the various bands decided to participate in the festival in 32 different events, meaning that some of them teamed up to perform. Mr. Griffin stresses that the students weren't forced to participate as it was completely voluntary.
"Some schools force it, but we do not. I feel that if the students choose to perform, then they will put more effort into the performance," Mr. Griffin said.
As far as how the actual performances went, Mr. Griffin believed the students did a very good job, using their rankings as proof of their excellence.
"I was proud of them and all of the work that they put into it. Around 80 percent of them received either a one or a two, and 13 of them received ones. Most of these were solos," Mr. Griffin said.
While Tredway didn't receive a one ranking, he still felt happy for his fellow bandmates who did move onto state.
"Personally, I think that I could have done better, but I think we did have some kids who did do well. Going to state is a huge accomplishment," Tredway said.
With spring break coming up, Mr. Griffin said the bands will take a little break during that period, but they still have a great deal of things to do before and after break.
"We have the state large ensemble festival, which has a similar one to five ratings system. Break is literally break, so we don't do anything. We have a bunch of jazz events in April, and there are the end of the year concerts," Mr. Griffin said.
With third quarter ending, the bands are preparing for their final part of the year and the performances that come with it.