Girls Tennis places second at the GAC tournament
Though there were some bumps in the road, the Spartans place 2nd overall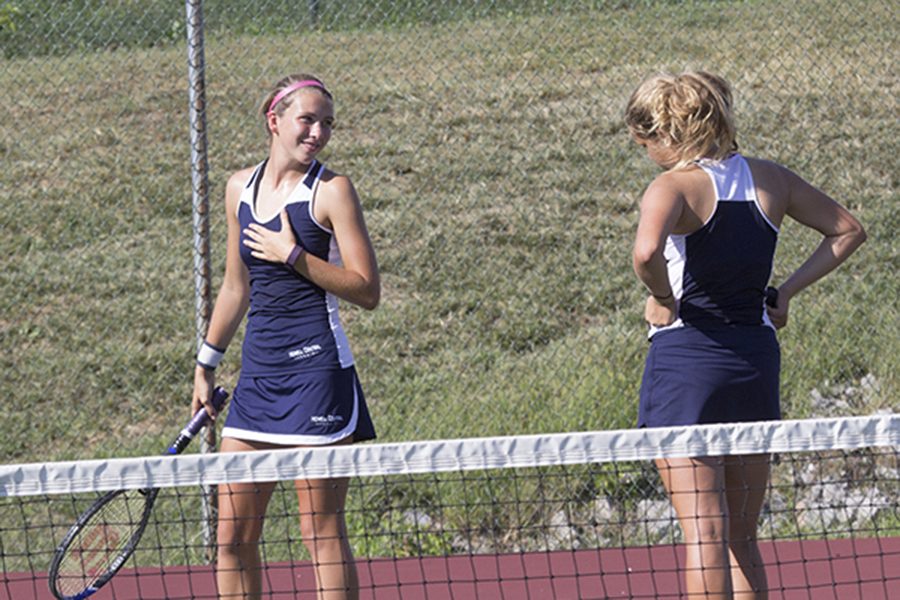 The Spartan tennis squad traveled to Francis Howell North on Saturday, September 24th to compete in the GAC South tournament.
Howell Central played their hardest, but could not overcome rivals Francis Howell.
Sophomore Tori Ikeda and her doubles partner senior Haley Anderson took 3rd place overall in number 3 doubles.
Senior Maddie Gunnell said, "We were pretty excited because we've always had trouble playing Howell and Howell North, we didn't beat Howell, but I was glad that we finally beat North in something, our coach was pretty excited for us too."
Gunnell and her partner sophomore Jennifer Ferry took 3rd place in number 1 doubles.  Like Gunnell, her teammates felt just as happy with their results from the GAC's.
Senior Angel Ikeda said, "Overall everybody did pretty good, for the most part everyone placed or got a medal so I think overall we had a very good standing."
Ikeda and tennis partner freshman Kenzie Jones took 1st place in number 3 doubles.
Although happy, there is still room for improvement.  Ikeda believes that taking 2nd overall wasn't the best that they could do.
Ikeda said, "I think we were very excited.  I feel like we could've taken first if we would've just pushed those extra games a little bit more, but I feel that overall everyone was very happy with the result and I don't think anybody was upset about it."
Taken for what it was, it truly was an accomplishment to trump one of the rival schools.  Anyone who saw how the girls played could see that they left everything out on the court that day and even with stuff to work on, the team looks promising this year.
Gunnell said, "I think this year we definitely have improved from previous years because we came out with all we had and we just wanted to do our best."
Not just focused on themselves, the girls are very supportive of their teammates and try to watch them compete in other matches.
Ikeda said, "I tried to watch my teammates play and compete and I liked watching them do their thing.  Everybody was just doing good and I felt that it was just a good day overall."
Thanks to their success in the GAC tournament, the tennis squad gains valuable confidence going into their district playoffs.  The true measure of the team will be seen here as the girls prepare to begin the final test of the season.