GAC tournament success
Boys' tennis finished 2nd overall in the GAC tournament.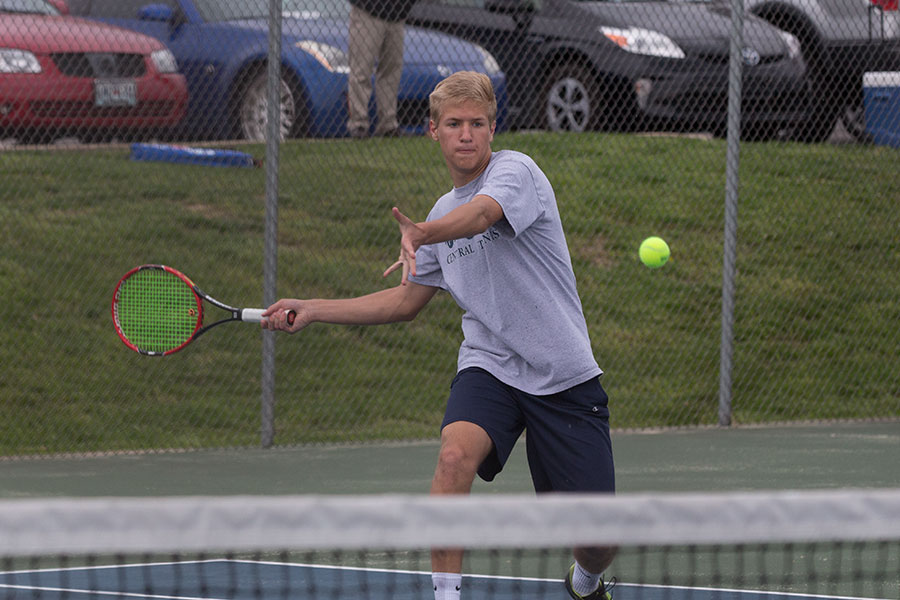 On April 26th, boys tennis hosted the annual GAC two-day tournament. The team finished 2nd overall with many individual and doubles wins. Single medalists include: 1st place Jack Pordea at number 1 singles, 1st place Austin Massar at number 8 singles, 2nd place Andrew Schrautemeier at number 3 singles, 2nd place Alex Schrautemeier at number 4 singles, 2nd place Corey Moats at number 5 singles, and 2nd place Bo Webb at number 6 singles. Double medalists include: 1st place Matt VanDiver and Jack Pordea at number 1 doubles, 1st place Tucker Jones and Sam Kaplan at number 4 doubles, 2nd place Alex and Andrew Schrautemeier at number 2 doubles, 2nd place Bo Webb and Andy Moats at number 3 doubles, and 2nd place Will James and James Bamberger at number 5 doubles.
Junior Jack Pordea is very happy with the results of his singles and doubles matches, and proud to redeem himself from the past two GAC tournaments.
"I won third two years in a row [playing singles]," Pordea said. "I wanted that first place and am really proud I walked away with it this year."
Although struggling through tough matches to win first in singles, Pordea said he and his doubles partner, Matt VanDiver, had an easy route to the title of first.
"Honestly we flew through, which was kind of nice," Pordea said. "We didn't through the season, but ended up doing really, really well."
Unlike Pordea and VanDiver, juniors Tucker Jones and Sam Kaplan struggled to get their first place medals for doubles.
"Our hardest match was definitely Howell, our championship match," Kaplan said. "They had better shots and they played really well, so we had longer rallies."
Kaplan is very proud of the matches he and Jones played, and is happy to have gotten the first place title. The boys start team districts May 8th.