Different perspectives within Student Council
With homecoming over, Student Council members reflect on their roles within the club and dance coordination.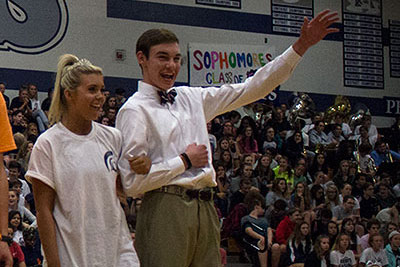 Students came, partied, left the dance, went to restaurants or friend's houses, but what about those who committed hours to the setup of Homecoming? Student Council has many roles within it; president, vice president, social media rep, as well as members. How did the stress affect them?
"Homecoming is our biggest event of the year in student council," said senior president Will James. "We do a lot of charity work throughout the year, but Homecoming is the most stressful, especially [with] it being toward the beginning of the year."
Being in charge of most activities throughout Student Council, James has to keep his head in the game and make sure everything goes according to plan; he usually takes the lead on most events throughout the club.

"This year is the best [homecoming] has ever gone since I've been in [student council]. We got everything set up and done before the football game at 7 o'clock, and that's basically unheard of," said James.
Students began working on prep for the dance since over the summer – which meant they were dedicated to being organized and having a successful homecoming.
As well as James, junior and social media rep Jordan Merli agrees.
"I think we were so organized this year, everything was a lot smoother," she said. "We've been [planning] for a long time, but actually setting up — the night of — we were all just excited for the football game, excited for the actual dance, we just wanted to get it done," Merli said. "It was fun — but really stressful — getting things done how we actually wanted it," Merli said.
Yet whilst the upper echelon of STUCO worked relentlessly, newer members like freshman Ryan Hoshaw weren't under nearly as much pressure.
"I helped [Student Council] with homecoming and building the homecoming float," Hoshaw said. "[Setting up homecoming was pretty stressful, but once we got it all done it was worth it. [Student Council] has made me feel more welcomed into the school and [has] helped me to get to know more people quicker."