Strong team battles on
Spartans push into uncharted playoff territory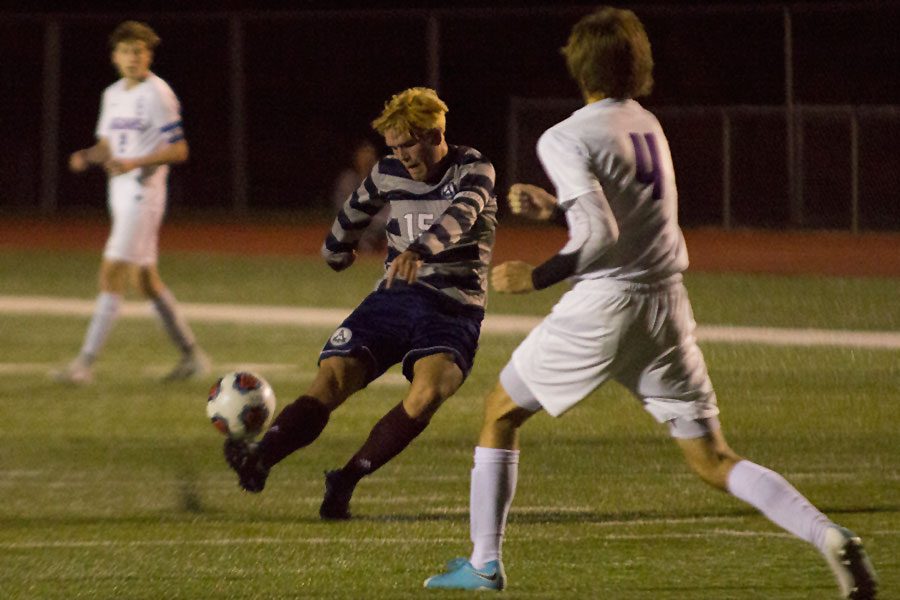 The Spartans steamrolled both Francis Howell North and Fort Zumwalt West last week, scoring six points and allowing three goals in total. Their momentum is being propelled by the fact that the team has not been this successful in a long time, which makes the Spartans hungrier for the win. The injuries that had previously plagued the team have subsided which has allowed them to truly come into their own.
Senior Evan Goodbody is ready for the challenge that awaits him and his team in Sectionals.
"The games in districts went pretty great, we were facing teams that we have before and we had mixed records towards them, but we knew that we could pull it out.Going forward, we are pretty positive about sectionals" said Goodbody, "we are on the same level as [the other teams], and if we play how we did during districts, I think that we can move on."
The great successes that have come for the Spartans came after several weeks of losses due to missing players; however, all of the crucial players that make up the team are back and ready to move on. They are ready to keep making history, says senior Armen Grigorian.
"We just won districts and it was really awesome because it's the first time our class has done it," Grigorian excitedly said, "We had an up and down season, but winning districts is awesome and I think we can keep going. [Fort Zumwalt West] was one of the best games we ever played. We came out so good and we just kept going and it was just awesome! I'm just happy to keep playing!"
Caleb Mundle, senior, is very excited with the level at which the team is playing. He knows a special team when he sees one, and this team is very special.
"We played well against Pattonville, we had possessions most of the time, which let us keep control of the game for the most part. We let a few goals in, but good teams find a way to win" Mundle said, "so we found a way to win. We are hoping the same goes into the game against CBC."
Every member of the team is buzzing with excitement looking forward to Sectionals. There is not one member of the team that is not truly excited for where they are headed. Seen walking through the halls with bleached hair, every team member is dedicated and focused on one thing: victory.