Top 5 superheroes
My top 5 superheroes based on their films and abilities.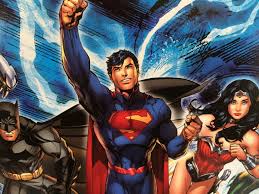 No. 1: "Superman" – From the planet of Krypton, Superman lived his life on Earth protecting citizens from Lex Luthor, a masterminded villain attempting to rule the universe, and other villains. With Superman's abilities of flight, strength, x-ray vision, cold breath, sonic hearing, heat vision, and several others, he is practically undefeatable (besides one weakness, kryptonite, which never defeated him). He died and came back to life, there is no getting rid of him. With several movies and the successful TV series "Smallville", Superman has well earned his spot at number one on this list.
No. 2: "Captain America" – Captain America is a A WWII Soldier who was eligible for a serem that would completely transform him forever. It made him stronger, faster, and near to invincible. With a shield made entirely of vibranium, the strongest substance on Earth, Captain America became more than a WWII Soldier, but an avenger. After crashing in his WWII plane, he was frozen in ice until the avengers found him, and woke to a world completely different than the one he knew. With a strong sense of humor and nationalism, you can't help but have a soft side for the American hero.
No. 3: "Spiderman" – Marvel uses Iron Man as a constant point of laugher in any movie, and Spiderman has become the butt of every Iron Man joke; and viewers love it. Spiderman started off rocky in his stand alone movies with debatably bad actors and incomplete plots, but after recent installments in the Marvel industry, Spiderman proved to be very retable for Marvel fans. With his adored humor in "Spider-man: Homecoming", his fan base became larger than ever. With the ability to climb and swing from buildings, he is able to take interesting routes to defeat enemies. Even arachnophobes can't help but love him.
No. 4: "The Flash" – His growing popularity got Flash into DC's "Justice League" movie, showcasing his speed to millions of viewers. Flash is relatively new to the cinematic production world (similarly with No. 5), yet has already shown that he has lots to offer. Besides "running fast", he can generate electricity and use it against foes in battle and run himself into other time dimensions, making time travel possible. The casting of Grant Gustin for the television show and Ezra Miller in DC movies only makes the public love Flash even more.
No. 5: "Ant-Man" – A rather new superhero to the big screens of Marvel, Ant-Man has a story like no other. His job and source of income was robbery and criminal behavior, but wants to put it all aside to care for his daughter. After several rough searches for a job, he finds himself in the famous Ant-Man suit working for a mysterious man. Ant-Man has the abilities to shrink to subatomic size, proving to be very beneficial in the super hero battlefield.