A new atmosphere
The boy's soccer team has welcomed many new sophomores to the team.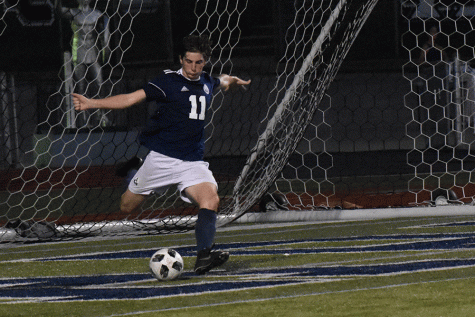 Photo by Olivia Fong
The bell rings and students flood the student parking lot and filter to the buses- except for the many spartans staying after school to participate in clubs and sports. For boys Varsity Soccer, undAerclassmen and upperclassmen stay everyday practicing for the season.
Sophomore Connor Phillips was not swayed by the amount of work he would have to put in to be on varsity. There are more sophomores on the team this year compared to years in the past.
"I think we all work well together because we're all really young, there's like eight sophomores and usually there's a big age gap," Phillips said.
Although Phillips believes having more sophomores is an advantage, Coach Beckman believes the team needs to work more to catch up.
"The seniors kind of know what's going on because they've been with us for a while, but some of the sophomores are kind of figuring things out and what it takes to play everyday and the type of competition we play against," Coach Beckman said.
As the season progresses, Senior Bobby Hubbard hopes the team can come together and improve their record. He has been playing soccer his since he was younger and has experience on the varsity team.
"This is my third year on varsity. It's my last year and I hope we can goes as far as we can," Hubbard said.