The Studs are back
The Sensations boy dance partners, the Studs, return for the 2019 basketball season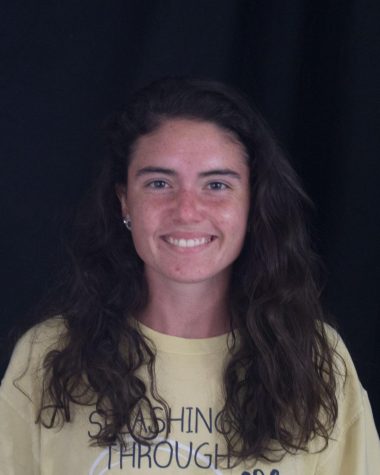 More stories from Kierigan McEvoy
Winter marks the start of many exciting events: Friday night basketball games, the end of first semester, new classes for second semester, the winter pep assembly, the winter dance, and Paint it Pink night. But, nothing can top or compare to the goofiness brought to the court by the FHC Studs. It's an event that students look forward to, to provide some comic relief in the midst of their growing piles of homework.
A tradition started in the early years of FHC, the Varsity Sensations pick a boy partner to perform a guy/girl dance with. Unlike the the Mensation cheerleaders who perform a dance at the Powder Puff football game in the fall, the Studs dance with the Sensations in matching outfits and no wigs or messy makeup. These dance partners are strategically picked based on a number of qualities. According to senior and Varsity Sensation Cutaria Morris, character has a lot to do with it.
"We think of who are good role models of the school…mostly we try not to pick people who we know are bad and do bad stuff," Morris said.
Physical ability also plays a role in picking out partners. Because there are lifts in the dance routine, the girls have to pick guys that strong enough to lift them. For Morris, picking a partner was a little more challenging since she transferred last year to FHC from Writtener High School.
"We try to pick people who are good partners to us. So with me, I don't really know anyone from the school so I counted on Sydney [her teammate] for picking someone for me and she told me who I wanted as my partner, which is Connor. She told me that he was really good and strong," Morris said.
Morris' partner Connor McGoogan, a junior and varsity boys soccer player, is also new to FHC this school year. McGoogan, who transferred from Fox High School, is familiar with the concept of Studs after having something similar at his old school. The only difference is at FHC the girls perform with the guys.
"It's pretty cool. I mean kind of nerve wracking, but it's cool; a new experience," McGoogan said.
The Studs and Sensations held their first practice on Tuesday Jan. 15 where the guys and sensations viewed the practice very differently. Senior Eion Jones provided some insight on how their first practice went and his confident dancing abilities.
"Yeah [I'm] probably the best guy dancer there… our first practice was a little rough, but it's going to turn out well," Jones said jokingly.
Morris had other opinions on the team's first go around with their guy partners.
"It was a mess because obviously the boys who we practice with aren't good dancers. So, we had to figure out how to slow down the movements and actually get them to get each step which at the end wasn't perfect but in the all around process it's still fine. So, it was a mess but it's okay," Morris said.
Overall the Studs routine looks like it will turn out to be as eventful as ever. This year's money theme, along with a mashup playlist of trending songs, and a few lifts and tricks are a recipe for an enjoyable performance. Look for them at the Feb. 22 basketball game during halftime.