Relationship Redirection
With college approaching, adjustments will need to be made for us to go the distance
Blasting "I'm Full" by Wallows, driving on 94 with the windows down and my sunroof open with a warm breeze flowing through my car, I'm on my way to my boyfriend's house. It's a good day. I couldn't think of a better way to spend my night. I know that a warm embrace is coming soon and I'll get to see him for hours, multiple times this week. A quick 10-minute drive now, but in three short months, it'll be hours between us, not mere minutes. 
Since we realized we were a real couple and going to stay together (because how would we have known going into this in eighth grade), we've been dreading that day. The day where we aren't a quick trip down a local highway from each other, when seeing each other isn't multiple times a week for long hours into the night, and a hug is separated by state lines.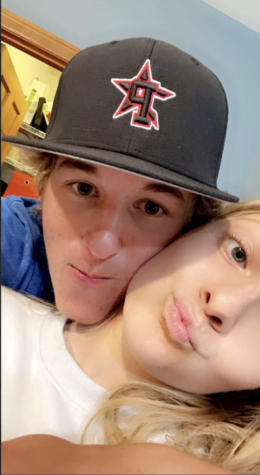 269 miles away from each other, our lives are going to completely change. Not only without the other, but he's going to be a student-athlete and will practice year-round and work toward a degree, while I plan to join a sorority, pursue a hands-on STEM major and study abroad. Our time binded, we will rarely find ways to physically be together. FaceTime, Snapchat, and Rave, an app to watch shows together, will have to suffice as contact while away from each other. 
Despite my positive outlook thus far, I know that this will be the most difficult thing I have ever done. Long distance relationships have a bad reputation, as most people say it's 50/50 whether they workout, that they're not worth the time and effort, or simply put, it just doesn't work at all. In a new environment, with blossoming friendships, I can only hope that the people around me will be supportive and helpful while I navigate this new aspect of my life. It will take quite a bit of persistent effort, but honestly, I think we can do this.
Call me naive, but at the time of writing this, we've been together for four years, seven months, and nine days. That's an incredibly large amount of time to spend dedicated to one person throughout your high school years. It hasn't been easy, sunshine, rainbows, butterflies, or anything that anybody will try and say high school relationships are or should be. We've both had influential people in our lives pass away during our relationship thus far and I account that for most of our strengths, but also our weaknesses. Trusting the other, communication, and patience has consistently been our points of weakness, all which are important pillars to uphold a healthy long distance relationship. But I don't think that will hold us back, truthfully. I've never been one to take the easy way out, when a much more desirable, yet difficult, outcome comes my way. If anything, I wholeheartedly believe that the reality of going long distance will set in and it will motivate us to do better and improve in the areas that we have difficulties with. 
We first faced issues with trusting each other when we separated from the same middle school to go to different high schools, which seems so incomparable to the distance we now face. We were unsure of what our schedules would look like and what communication would now be, that we weren't with each other throughout the school day. It took adjustments, trial and error, anger, frustration, fear, and finally just setting into a routine that worked for us. At times, one of us lost trust for the other and vice versa, as a result of some action we would do; because we were not perfect, we were learning how to navigate this new world and test the boundaries we didn't yet know we had. I can only hope it's that easy when we transition into college. However, I know that our lives will be different, we'll be around people the other won't know and in new situations, but I'm confident that with the trust that we have built, and continue to add to, that we'll be okay. 
The most difficult aspect of our relationship that we have faced is that of our communication. Both of us have busy schedules currently, and it will only intensify as we separate to go to college. Even now, we struggle to keep up with each other, trying to balance a full schedule without leaving each other in the dark is difficult in itself. While we haven't quite figured out the best type of communication that works for us, we are working towards a better understanding of what works and what doesn't. When we are further apart from each other, I know that our communication will be the one factor that will hurt us the most. Seeing what each other is doing, yet not being able to talk about it right away will feel personal and painful, as memories and moments will be shared with people that aren't each other. It's all a part of this journey that we're embarking on together, and I hope that we can learn to handle each challenge with grace and persistence. 
Patience will be the most important virtue of them all. We have been each other's rock and safe place for our four-and-a-half years thus far, and the separation will be jarring to our routine, to say the least. Uprooting the tree of our relationship that we have nourished and loved for nearly five years, will be anguishing, yet we will need to rely on each other for it to continue to grow out of the soil we are used to. Reassurance, time, and understanding will be our key components to successful patience, and it will only happen if both of us are all-in.
For this to work the way we are dreaming of, to come out together on the other side of this long distance journey, we have to embrace the obstacles we face and be intentional about how we deal with them. Trust, communication, and patience are all pillars that lean on each other to uphold a strong long distance relationship. We have the foundations of all three, the love, and the drive to build up each pillar, but we aren't quite there yet. I truly believe we are just scared of what's inevitably to come, and not accepting it. It's understandable, but it's the truth. It's our relationship on the line, and if we want it–we'll have to fight for it, and I'm ready to fight. 
Leave a Comment
Your donation will support the student journalists of Francis Howell Central High School. Your contribution will allow us to purchase equipment and cover our annual website hosting costs. FHCToday.com and our subsequent publications are dedicated to the students by the students. We hope you consider donating to allow us to continue our mission of a connected and well-informed student body.