'Centuries'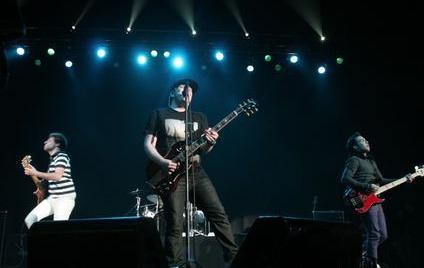 Fall Out Boy's new single 'Centuries' will be remembered for centuries.
Though the 'Save Rock and Roll' era has come to an end, it is nowhere near the end of punk-pop and alternative rock band Fall Out Boy. The band is entering a new era now, with their new single 'Centuries, ft. LOLO,' released yesterday, premiering on BBC Radio 1 with host Zane Lowe, following an exclusive interview with bassist Pete Wentz.
I love this song more than my hypothetical first born child. There are fans who have been with the band since the beginning, in 2003. For them, this is like a baby. They have watched this band grow and change, and, while I haven't been a fan since I was 3 years old (it would've been difficult to blog about a band as a toddler), I have been a fan for a while, and I am incredibly proud of what they have accomplished. This just makes the single even better for me.
Rocksound later interviewed Wentz for the lowdown on what's happening and what's coming. 'Centuries,' is unique track because while Wentz is usually the lyricist, vocalist and guitarist Patrick Stump wrote this track.
"Well, the way things usually evolve with us… we'll write a bunch of stuff, and when it gets cooking, we'll bring it to a simmer! When things really start happening, we want to get some momentum building. We're always writing," Wentz said in the Rocksound interview.
An album will essentially be built around their new single, which will be released in early early 2015. Nearly 5 songs are written already, but yet to be recorded, according to Wentz in the BBC Radio 1 interview. The band plans to write and record two more songs for the album for a grand total of 7 songs on the album. Fall Out Boy is a band that cares about albums, unlike many other popular artists of late. They will be releasing an album, not just songs.
I don't think I have ever been more excited for a release of a song before. I also don't think I've ever been more disappointed about the release of a song than when my phone told me I couldn't tune in to BBC Radio 1 to listen to it during. All because I couldn't download a BBC Media Player because it 'isn't available in your country,' and bad release timing (1p.m., when I was in Algebra 2, uselessly learning about graphing inequalities).
The song itself is currently No. 2 on iTunes Music Charts. It is outside of Fall Out Boy's usual genre, and an adventure to see where they are going with their new album. Their style has greatly changed from hit albums such as their first, "Take This To Your Grave," and Stump's personal favorite, "From Under the Cork Tree."
The song is a personal favorite of mine. I like every direction they have gone with their music, and support them completely. 'Folie à Deux' is a personal favorite album of mine, but I am also head over heels in love with 'Save Rock and Roll'. I am thoroughly confident that I will be more than satisfied with the new album.
"I want us to be the biggest rock band on the planet. At the moment, people seem to put rock bands into one of two groups. Either you're dinosaurs waiting for the meteor cloud to wipe you away, or you're not a 'real' rock band, you're considered to be some sort of sham. I want to cut through the noise of those, to be a rock band that can be played on the radio, who can play these big shows, but also inspire kids to pick up guitars," said Wentz in the Rocksound interview.
A lyric from 'Centuries' is "And just one mistake is all it will take, we'll go down in history, remember me for centuries, remember me for centuries, and i can't stop until the whole world knows my name." This is exactly what the band aspires to do. they want to be remembered, and to inspire kids long after they are gone. They want to be heard, like groups such as One Direction and 5 Seconds of Summer, but they also want to inspire people and mean something. They want to inspire to make music, and a difference, themselves. This is a great thing to want to aspire to because it shows a certain amount of humanity to want to make it big not for yourself, but for your fans and audience.