Frantic fall
The fall season has begun and has plagued the sports with cancellations and busy schedules.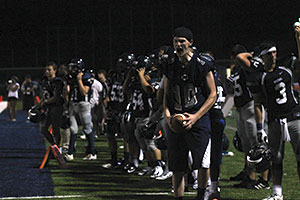 The beginning of the school year marks a hectic time for Activities Director Mr. Scott Harris, who has to oversee eight programs that take place during the fall season. With at least five events held each day, it makes the activities hallway a busy place after school.
Unfortunately, 51 events have been cancelled or postponed due to the weather we have had, as of Sept. 15.
"This makes the office very hectic because for each event, we have to notify the students, coaches, parents, opponent, transportation, officials, and event workers," Mr. Harris said.  "Then we have to find a date to reschedule that event and notify everyone again. You basically have to do the same job over two more times, on top of your normal day-to-day responsibilities."
Varsity softball player and senior Alyssa Mathis is frustrated about the number of cancellations and her busy schedule.
"It's frustrating because we've had 17 games in a row, and no time to practice," Mathis said. "The cancellations make it hard to play our conference games, and it cuts down practice time."
Mrs. Annette Herdt, assists Mr. Harris in the activities office, is adjusting well to the business of the fall schedule. She started her job in the midst of the spring season last year.
"It's very busy in the activities office all the time," Mrs. Herdt said. "There is never a dull moment. The fall is way busier than the spring, but it was good that I started in the spring because I got an idea of how everything works."
Mrs. Herdt has worked for the Francis Howell School District for 12 years as a substitute teacher, and as a secretary and an administrative assistant before that.
Mr. Harris thinks that Mrs. Herdt has done an awesome job adjusting to the teeming activities office.
"She had done an amazing job getting adjusted to her new position. She is extremely organized, a great communicator and able to do several things at one time which is a necessity in her position," Mr. Harris said. "She has built a great relationship with all of our students, coaches, parents, officials and transportation coordinator. She is truly an asset to our office and she is the main reason we have been able to get everything rescheduled in a timely fashion and the information communicated out to everyone."
Many good and bad things come from having such an extensive schedule, along with the number of cancellations.
"The best thing is that it is our busiest time of the school year with the start of school and start of practices happening about the same time and it very exciting to have over 600 students participating in a sport or activity at one time," said Mr. Harris. "Almost 1/3 of our student body is getting involved and becoming attached to our school and we all know great things happen when you are involved in some way at school."
There is also a drawback when during the fall season.
"There is just so much going on and I feel bad when I can't make it out to watch practices as much as I like or get off campus to watch some of our groups and teams as much," Mr. Harris said. "I love it being busy and exciting, but I hate the fact that I can't spend as much time watching our students practice and compete."
This is probably the worst fall in a long time, according to Mr. Harris.
"After 14 years of coaching softball and now eight years of being an A.D., this is the worst fall I've seen as far as severe weather and canceled events. From the extreme heat, to lightning storms to several inches of rain falling numerous times," said Mr. Harris. "We are only four weeks into the fall season. It has made to an interesting and hectic start to the school year but I still feel like I'm the luckiest guy around, I get to be an A.D. at an amazing school with amazing students, coaches, parents, and support staff and with my personality, I need to stay involved and stay busy."