New coach brings new hope
After a tedious hiring process, Francis Howell Central announced the hiring of new head football coach Pete Eberhardt.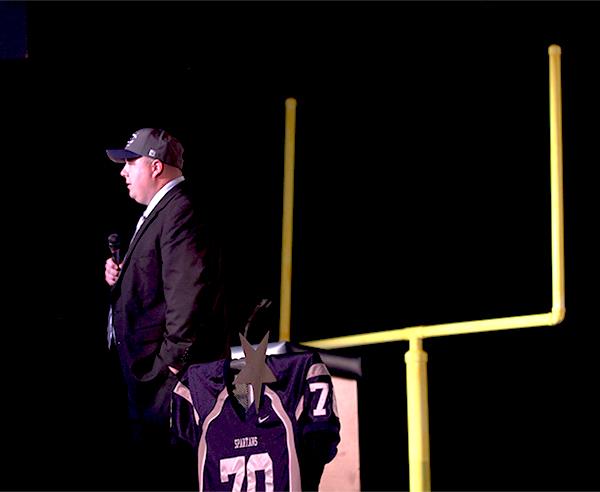 Francis Howell Central announced the hiring of Pete Eberhardt as the new head football coach as of April 3. Coach Eberhardt was introduced to the Spartan community in an informational meeting on April 7 at FHC in the auditorium.
Coach Eberhardt begins his Howell Central career with 15 years of coaching experience. He served as Timberland High School's assistant football coach since 2013, serving as a safeties coach and defensive coordinator. Prior to that, he was a part of Francis Howell Vikings coaching staff, serving from 2009 to 2012 in various positions such as a running backs coach to the offensive coordinator of the Class 6 state runner-up team.
Activities director Mr. Scott Harris believes Coach Eberhardt was the best choice for the job, having 15 years of experience, and serving both sides of the field.
"We felt that he was the best candidate," Mr. Harris said. "We had an extensive interview process and we had a paper screening of all 38 of the applicants. Having 15 years of experience is really good, and being an offensive coordinator and a defensive coordinator, he's been on both sides of the ball. He's worked at large schools being at Francis Howell and Timberland."
Coach Eberhardt graduated from Francis Howell High School and worked as a paraprofessional in the district after attending Culver-Stockton College. He received his masters degree in teaching from Lindenwood University.
"It has always been a goal of mine to be a head coach. I really enjoyed my time as a paraprofessional and coach at Francis Howell," Coach Eberhardt said. "After I earned my teaching certificate I want to come back and teach and coach in the district again."
The football team has been in search for a new coach after the previous coach was relieved of his coaching duties due to an incident during the season. The hiring panel, which included junior Tyler McDonnell, was excited to have Coach Eberhardt as the new head coach.
"(Eberhardt) had different ideas; he brought a new feel to the program," McDonnell said. "We're really excited to have him. His plans show us that we're probably going to have a successful season with him."
Coach Eberhardt is excited to join the family atmosphere that our school shows off. He's also ready to see how he can impact the team.
"I am excited to work with the students, staff and administration. From an outsider looking in, there is a great sense of family here at Howell Central. I can't wait to be a part of that family," coach Eberhardt said. "I am most excited to be working with a great group of young men and coaches. After meeting them once and seeing their work ethic in the weight room, I can't wait to get to practice and see what we can do on the football field."