Players staying optimistic, despite 0-2 start to season
Spartans fall to Bulldogs 41-7 in the second game of the season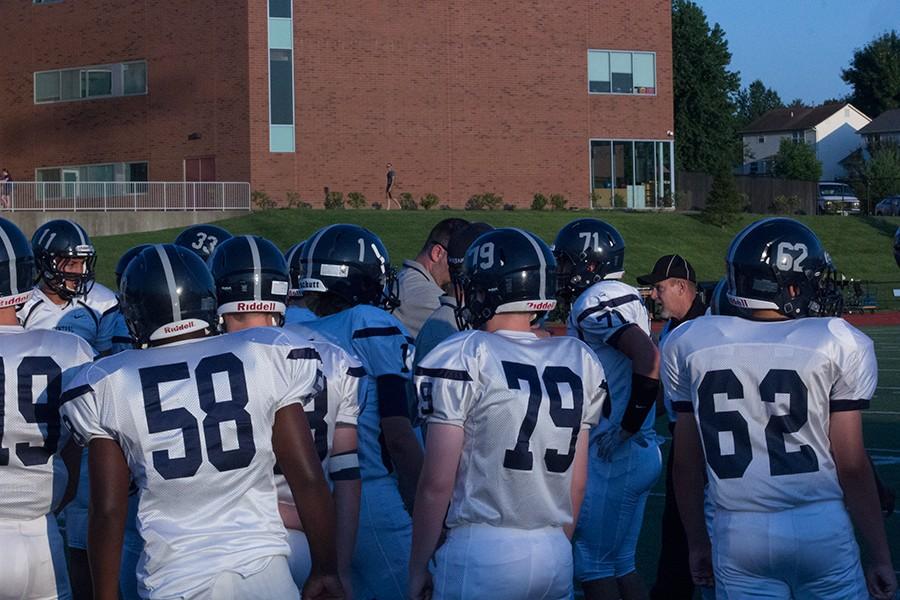 The football team traveled out to Fort Zumwalt South for its second game this season and fell to the Bulldogs 41-7. The Spartans single touchdown was scored by senior Devin Puni, receiver, in the third quarter.
South scored the first touchdown of the game at the opening kickoff, followed by an 80-yard touchdown run which left Spartan's down 14 by the end of the first quarter. The Spartans were able to turn the ball over as it neared the end of the first half, but missed a 44-yard field goal leaving them down 21 at half.
After half, junior Jackson Berck completed a pass to Puni, resulting in a touchdown for the Spartans. The Bulldogs return though and score, ending the game 41-7 and a loss for the Spartans.
"We did pretty good offensively, moving the ball," Puni said, "we just couldn't score, that was our big problem."
The football team fell last week as well to Fort Zumwalt East, but senior Tyler McDonnell, captain and left tackle, stays optimistic about the season, despite its 0-2 record.
"I think we will get better as the season goes on," says McDonnell. "Our schedule does get tougher, but I think our coaches will make adjustments."
According to both Puni and McDonnell, the crowd has a real impact on the team.
"The energy is a lot better than last year," Puni said. "Just knowing there's people there supporting us helps a lot."
"We all love to see everyone there," McDonnell said, "we enjoy that they stay through it all."
The Spartans will face Fox for their home opening game Sept. 4 at 7 p.m.
Leave a Comment