Runners perform well at districts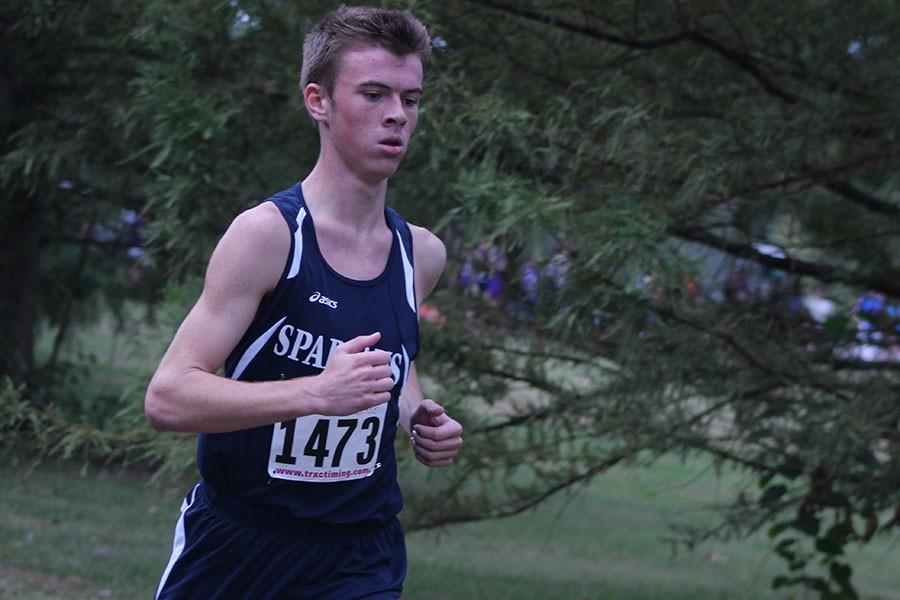 After months of hard work and determination, junior Zach Painter and senior Devin Hatten performed well enough at the Class Four District Four meet to advance to sectionals. For the rest of the team, who failed to qualify for sectionals, the cross country season is over.
At the district meet in McNair Park on Oct. 24, Painter and Hatten qualified for sectionals, with Painter coming in at 22nd in a group of 84 runners and Hatten coming in close behind at 28th, which was only two spots away from not qualifying. Hatten was particularly proud of his performance as he wasn't sure if he could make it into sectionals.
"I was surprised. I didn't think that I was going to make it because I was in the middle of the pack, but I pushed through and was able to do it," Hatten said.
Painter was also fairly enthusiastic about his accomplishment as well as that of his teammate.
"I feel great about making it. My time was ten seconds better than last year. The run was pretty fun, and I'm happy for Devin that he was able to make it," Painter said.
According to Head Coach Michelle Breuer, Painter and Hatten were two of her best runners, and she expected them to have a good chance of advancing past districts. The coach was impressed with how the two ran at districts along with the performances offered by the rest of the varsity boys.
"The team did great. Even if they didn't make it to sectionals, many of the runners did well and set personal records for themselves. The boys exceeded my expectations," Coach Breuer said.
The varsity girls also put up a strong showing at districts. However, they were unable to advance beyond to sectionals, with sophomore Bailey Beeler missing the cut-off point and coming in at 37th out of 81 runners. According to Coach Breuer, the girls could have done better, but she was still proud with how many of them ran at districts.
"I had hoped one of the girls had gotten to sectionals. They still did okay, and a few of them set personal records," Coach Breuer said.
With sectionals on the horizon, both Painter and Hatten are going to continue their training. Coach Breuer said that despite the looming presence of sectionals, they will continue running a fairly regular routine.
"They'll run the same stuff as they have been running before. We prepare all season for districts and sectionals. They might not run as far during training just to keep from becoming too tired," Coach Breuer said.
If either Painter of Hatten run well enough at sectionals on Oct. 31, then they will make it to state championships. When asked about the prospect of advancing to state, Painter said he was hopeful this would happen.
"I hope that I can make it to state. It's a long shot, but it's my number one goal in cross country," Painter said.
Hatten offered a similar response as to whether or not he thought he could qualify for state.
"That's the goal. I don't know how good my chances are, but I just take these things week by week, and, hopefully, they'll turn out for the best," Hatten said.
Leave a Comment