Spartans beat down Bayless High in Washington 81-34
Spartans break their previous four-game losing streak with two wins in a row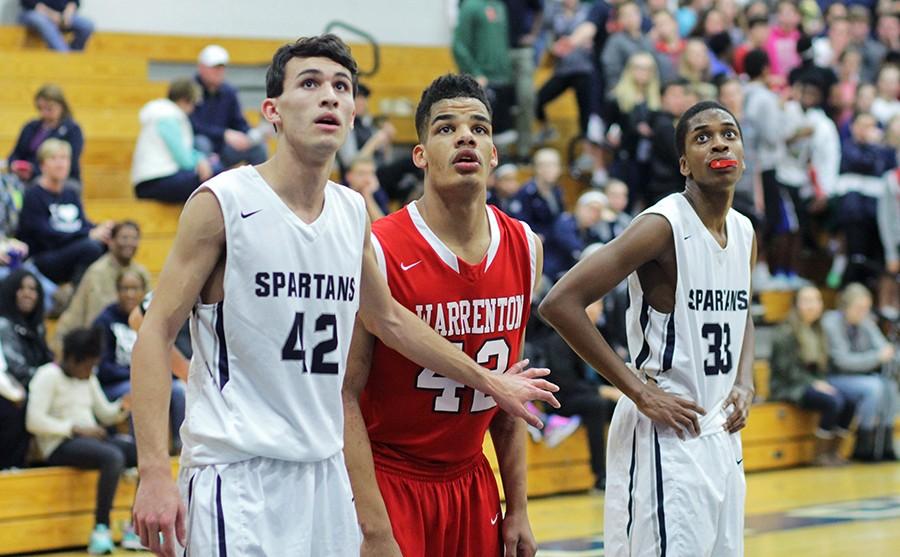 Following a four game skid, the Spartans have now won two games in a row, culminating in their 81-34 shellacking of Bayless High in Washington, on Tues. night. With the win, the Spartans improved upon their record, now sitting well above .500 with a 7-4 record.
Even with their recent successes, the team currently sits in third place in the GAC South, behind Timberland (11-1) and Francis Howell High (10-4).
According to senior Abe Gonzalez, the team isn't too worried yet, he amongst many believe that they can still win it all.
"We can absolutely still win the South. There are still a whole bunch of games left and if we work hard, anything is possible," said Gonzalez.
Many of the players believe that their worst play is behind them, and that the best has yet to come.
"Our practices were getting pretty lackadaisical," said senior Cameron Lundberg. "These practices led to us losing two or three games we should have won. However, that happens to everyone at some point. I'm just happy that it happened now and not at districts."
Senior Antonio Wyatt added to Lundberg's comments citing that selfish play was also a strong reason for their early struggles.
"We were playing really selfish for those four games. The past two [games], however, we started playing as a team again," Wyatt said.
Both Wyatt and Gonzalez agreed that part of the reason they have played so well recently is because the team does not have any one single leader, but an entire team of these leaders who can step up when needed.
"It seems like someone new steps up every night, in both practice and games," said Gonzalez. "So, in a way, everyone is carrying the team right now."
The resurgent Spartans test their new found teamwork tonight against St. Charles High, who are currently 8-6 on the year.
Wyatt believes that if they are able to defeat their presses, then they will win tonight for their third in a row.
"They really like to press a lot. If we can push the ball up the court on them, then I think we will win," said Wyatt.
Tip off tonight is 7 p.m. in Washington as the team looks for their eighth win of the year.