Wrestlers find success at Winnetonka
After much preparation, the varsity wrestlers have success at the Winnetonka Invitational with five wrestlers placing.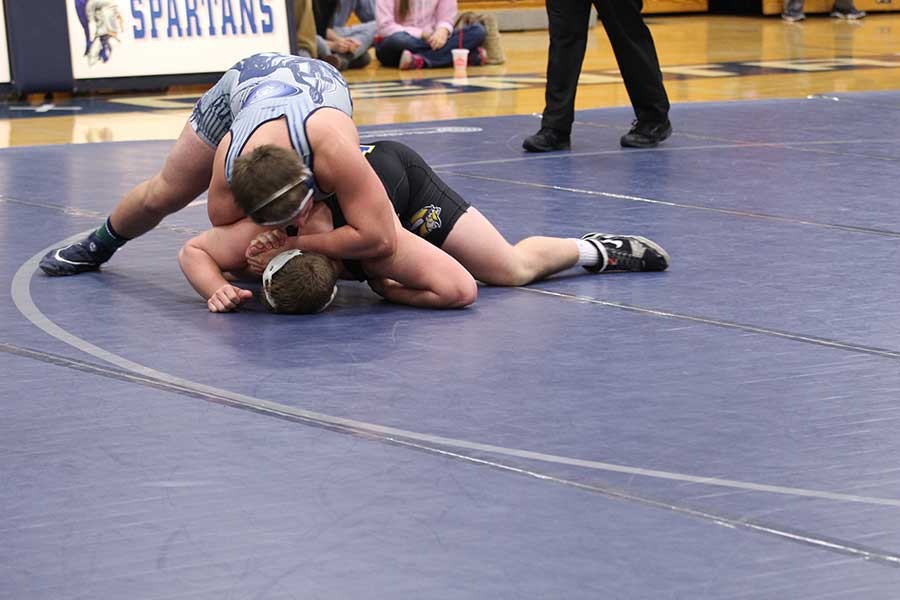 The weekend of January 22-23, the FHC varsity wrestlers were successful at the Winnetonka Invitational. Leaving Friday after first hour and staying until Saturday evening, the wrestlers who made it to the final round wrestled a total of eight times in those two days.
Four of the Spartan Wrestlers placed. Dylan Gillette placed first in the 220 pound weight class, Bryce Bachowski and Devin Schwartzkopf both placed second for the 138 and 132 weight classes respectively, and Andrew Godier and Jonathan Floyd placed 4th for the 113 and 152 weight classes.  
The wrestlers' success came from their dedication to the sport and the preparation that goes into each match, according to Gillette.
"We have a warm up before the wrestling starts and then before our matches we bounce around a bit, maybe stretch," Gillette said.
" I get my mind mentally ready, " Bachowski said.
The boys also find a great joy from wrestling.
"I like to work hard and it's fun to go out and compete," Bachowski said.
Gillette on the other hand responded that winning is is favorite part.
"You put in so much work for practice and winning is just the best feeling ever," Gillette said.
So far the season is going well for the wrestlers winning all but two of the dual meets they compete at weekly. The next dual meet will be Wednesday, Feb. 10.