Spartans lose close game to Zumwalt West
FHC falls to 12-7 on the year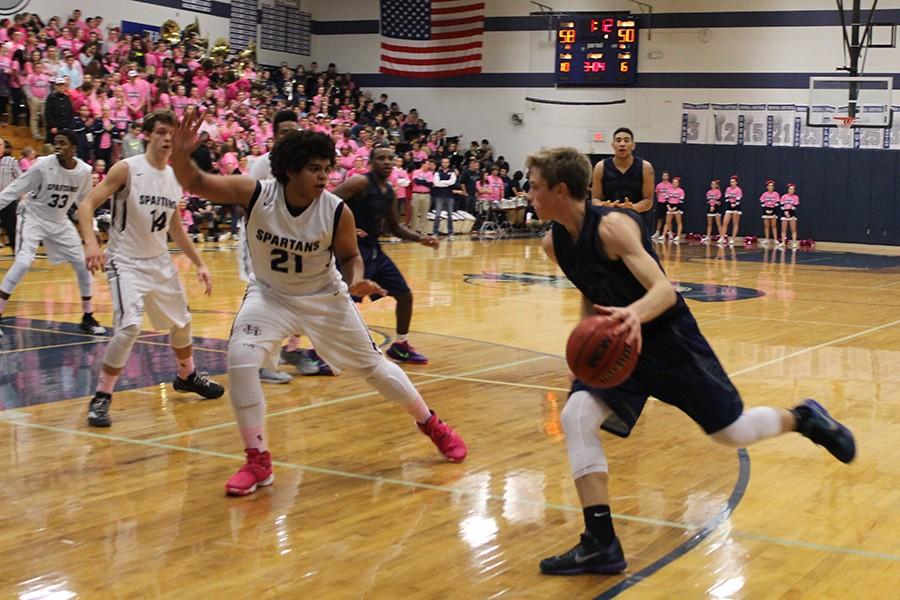 On Feb. 5, the Spartans boys basketball team fell to Fort Zumwalt West 59-56 on a buzzer beater at the end of the fourth quarter.
The loss keeps the Spartans stuck in third place in the GAC South standings behind both Francis Howell High and Timberland, respectively.
In losing such a close game, the team definitely felt a certain amount of regret following the emotional loss.
"We were playing a pack defense to keep them out of the paint by allowing them to take good three point shots. Last game [against Francis Howell North], they didn't make a single three. West made nine," said senior Dominic Horace. "On top of that, we missed a lot of our free throws, had too many turnovers, and we really didn't score in the fourth quarter at all."
While disappointed with the loss, the team seems to be ready and prepared to face off against their next opponent, the Pattonville Pirates.
According to senior Tony Wyatt, the key to winning revolves around the rebounds.
"We really need to come up with rebounds this game. If we do that and work our butts off out there, then I think we will win the game," said Wyatt.
If the team does pull off the win against the Pirates, its record will improve to 13-7, keeping them alive in the hunt for a GAC South title.
Senior Colton Schweigert still believes in the team's chances of winning the South, however he also stresses the importance of winning out.
"We still have a sliver of a chance, so I believe we can do it. We pretty much need to win out, though. Howell and Timberland are tough, so we definitely can't help them out with a loss down the road," said Schweigert.
The 12-7 Spartans face off against the 13-5 Pirates tonight, Feb. 2. Tipoff will be at 5:30.
Leave a Comment