Striving towards a state title
The wrestling team's drive to win at District and State tournaments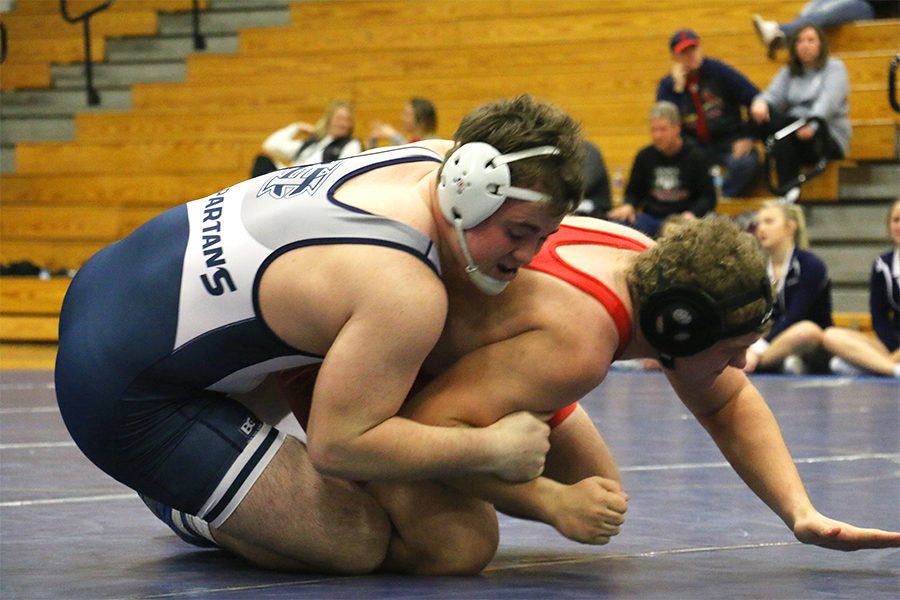 The wrestling team is driven and ready for districts this weekend on Feb 11-12. Although the varsity team has been struggling this season with the recent suspension of a sophomore Devin Schwartzkopf, as well as the multiple injuries that key wrestlers have been overcoming, the team is striving for a district, and ultimately state title.
The coaches have long since stopped teaching new techniques and have started intensely drilling the players to better prepare them for the end-of-the-season tournaments.
The team has a lot at stake in the upcoming week. If the team doesn't qualify at districts, they won't make it to state which is being held in Columbia, MO on Feb 16-18.
Senior Dylan Gillette, who has wrestled for seven consecutive years and plans on attending Truman State University to wrestle, predicts that the team has a good chance of qualifying over half of the line-up at Districts. Gillette credits his motivation and drive to the wrestling coaches.
"The way the coaches push us keeps us motivated," Gillette said.
Sophomore Jonathan Floyd has been wrestling since kindergarten and has a personal record of 27-11 this season. Floyd's drive all season has been to exceed his older brothers' reputations by placing a state title.   
"My brothers wrestled and they never placed [a state title]," Floyd said. "I want to be the only brother to place at state."
Captain of the team, senior Jackson Berck, won an individual State title championship last year, and has expectations that have only grown. Berck doesn't find his drive in a mere title, but in something much greater.
"I work hard for the people who got me here," Berck said. "I'm working for my coaches, my parents, my family, and my friends… I want to make them proud."
Whether it be pure competition, the motivation of coaches, the desire for a title, or to make the people they love proud, the wrestlers have to dig deep in tough competitions and be ready and prepared to claim victory at districts and state.
"It's about doing the impossible," Berck said, "Doing whatever you can to win."
Leave a Comment