The 28 headed to state
DECA members placed very well at districts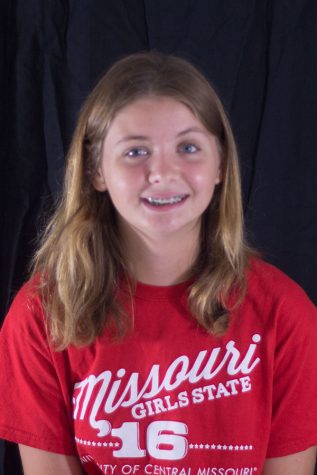 More stories from Elaine Mallon
Eighty-eight Marketing 1 and 2 students, clad in ironed suits with ties and heels and pearls, traveled to the Chesterfield Mall for their DECA District 17 competition on Feb. 6. From writing a 30-page paper analyzing business operations to practicing for role-play simulations, DECA members have prepared all year for their chance to compete at state. This year, 28 members qualified for state.
DECA advisor Steve Cross couldn't be more pleased with the number of state qualifiers at this year's competition.
"I felt really good about it. Last year we only had about 12 qualify, kind of what I consider a down year. I was very happy to see us get back to where we need to be as far as the number of qualifiers. Now our job is to get as much of those people to Anaheim, Calif.," Mr. Cross said.
For junior Austin McKinley, competing in internationals is already sealed in his fate. Competing as a leadership delegate from our school, McKinley won first place.
"I had to first write a 250-word essay, and one student was elected based upon it, and it was me. All I had to do was answer a few questions on what leadership meant for me and my future," McKinley said. "It was unreal, knowing that I get to go straight to California. It was awesome, a dream come true. It might be the highlight of my high school career."
After his interview, McKinley spent the rest of his day eating O'charley's, and walking around the mall with friends.
"I actually got stopped by the judge who interviewed me. He stopped me in the middle of the walkway just to let me know how great of a job I did. It was cool," McKinley said.
For seniors Bailey Vanbeers and Lauren Lynch placing third in financial team decision making, earned the duo their second opportunity at competing in Internationals.
"We are very excited, but we know we need to study if we want to make it to internationals in Anaheim. Last year we made it to state in the same event, but we were one spot from going to internationals. So this year, we want to make sure we get to internationals," Vanbeers said.
Along with performing a role play in a specific field, student's rankings are also determined by their score on a one hundred question test. According to Mr. Cross, students can compete in any area that has to do with marketing. Students also have the option to compete in both a role play and a written event; however, students can compete in only one event for state. Due to this rule, many students who didn't place in the top six now have the opportunity to compete at state.
Senior Matt Creely is one of the students who was bumped up to state, after placing seventh in Business Financing.
"As the awards ceremony went on, I was really disappointed that I didn't place in the top six. However later on when they told me that I was going to state I was really excited. I was really surprised because I didn't expect to go to state," Creely said.
Despite not placing, senior Nathan Garthe stilled enjoyed his time at districts. However the day was quite a daze for him, as he participated in the hypnotist's show.
"It was crazy. You kinda just zone out everybody, but it was a weird feeling. I remember falling asleep, getting shot by a sleep gun, and dancing with people," Garthe said.
With the state competition set for March 12-14, students have a month to prepare. According to Cross, it is imperative for students to set aside time outside of class to ensure a spot at nationals.
"We are very excited that the students qualified for state. However, to make it to nationals, they are going to have to work hard, between now and state. We are in a very competitive district, so we are always sitting pretty good to qualify. But there is going to be a lot of good competition down at state," Mr. Cross said.