Getting back in the swing
The boys' tennis team experiences changes in the roster going into the new season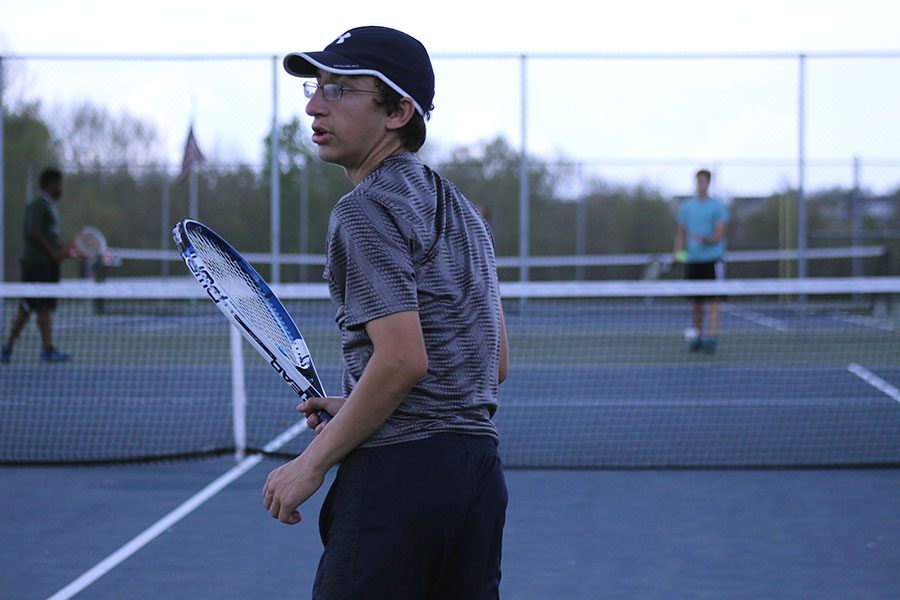 The boys' tennis team, led by Head Coach Jeremy Rohrbach, has begun practicing for the upcoming season. They have started playing challenge matches to determine the rankings, and expect to be done by next week. The team, composed mainly of juniors, has several new faces, and Coach Rohrbach is happy to see some new boys taking an interest in tennis.
"It's been fun," Rohrbach said. "They've been a really cool addition so far."
One of these new players, junior Will James, joined the tennis team alongside several of his friends from the baseball team.
"This year I wanted to so a sport where I would get to play a little bit more and just have fun," James said.
James says that the tennis team is more relaxed than baseball, and he has enjoyed the change in atmosphere.
Senior Andrew Schrautemeier, who is going into his last season with the team, sees the benefits of having a large number of juniors and underclassmen on this year's roster.
"I know this year we have a lot of juniors, and we have a lot of younger people and not as many older people on the team, so that will allow for a stronger team in the coming years," Schrautemeier said.
Another significant change in the roster is the loss of a valuable top six player from last season, but Rohrbach is glad to see other players stepping in to take his place.
"That will hurt a little bit, but we have a lot of guys that are going to step up and take in slack," Rohrbach said.
Overall, the team is expected to do well. They have many eager new players ready to step up, and Coach Rohrbach sees a lot of potential and is optimistic about the coming season. The boys will play their first match on Tuesday, March 21 against Lutheran.