Spartans finish off St. Dominic in PK's
The boys soccer team defeats the Crusaders 3-2 in penalty kicks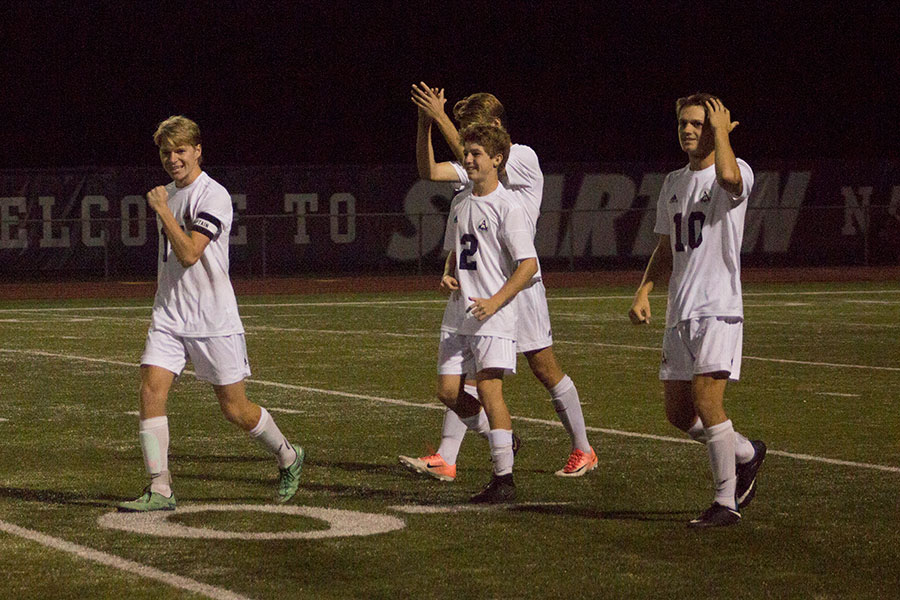 It took two forty-minute halves, two ten-minute overtimes, and six rounds of penalty kicks. But Spartan Soccer gained a check in the W column after defeating St. Dominic 3-2. St. Dominic holds the second spot on the Small School Soccer Rankings for the St. Louis Area. The win shows just how much quality exists in a team with close losses riddled through the schedule.
The match began with the Crusader's heavy attack yielding a goal in the fifth minute. The Crusader's Connor Chrun hit the ball with his right foot and snuck it just past the Howell Central goalkeeper, Logan Morris.
Just before halftime, holding midfielder Joey Mueller made a tackle in the box and a Crusader player fell from the contact. The Crusaders were awarded a penalty kick and Chrun finished it for his second goal.
As the Spartans went to halftime, it appeared St.Dominic was the stronger side. The backup goalkeeper, Junior Mason Thode, said the team had a more optimistic outlook on how the game could play out.
"We knew we were in the game and we could come back in the second half because we were all over them," Thode said.  "We went more offensive and we started going into space and driving at the goal. Most importantly we finished our chances."
During the second half, the Spartan attack pressed on but could not find the net. Then, with 25 minutes remaining in the match, the ball fell to the feet of Holding Midfielder Mueller, and he scored a volley to the top left corner.
The floodgates were now open and the Spartans looked in full control. Right Midfielder Brendan Baumgartner capped off the comeback with a first touch strike off the outside of his right foot into the bottom right corner of the goal
The Spartans had drawn even at 2-2.  
Throughout overtime, both sides had multiple chances but could not finish.  The game headed to penalty kicks and goalkeeper Logan Morris saved one out of five shots. Tony Nicastro missed the first kick for the Spartans.  Senior winger Caleb Mundle was next to step up to the spot.
"We wanted to go out there, take the kicks, and just try not to be nervous because you can't be nervous during penalty kicks," Mundle said. "We were just focused on giving our team a chance to win."
The Spartans made all of their kicks, the sixth kick was the decider. Morris saved the shot from St. Dominic and senior right midfielder Kurtis Ralston finished them off.  
The team is now 5-3 and they have a newfound confidence coming off of the huge win.
"It was a morale booster, which we needed after the two tough losses against Howell and Howell North," Thode said.  "We got it back on track against Troy and finally got a win against a tough team."
Spartan soccer will go up against Fort Zumwalt West tonight at 7 p.m. at home.
To view the boys soccer Twitter, click the link below