A killer production
Agatha Christie's exciting novel "And Then There Were None" is being adapted to our school stage.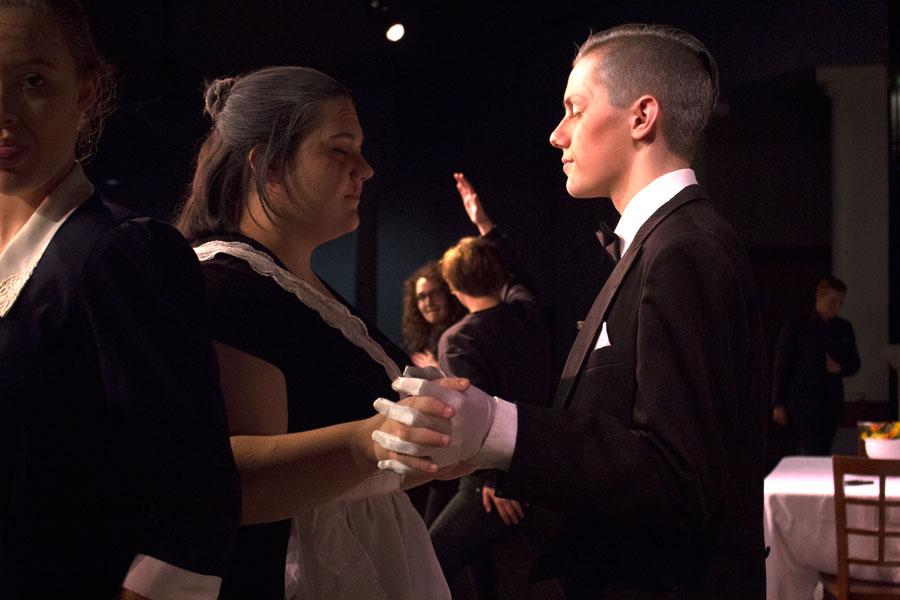 Spotlight players are back at it again with an exciting fall play that will keep you on the edge of your seat: And Then There Were None. This play is based off the book of the same name, for those who've not read the iconic mystery novel, Theatre supervisor Mrs. Cori Stallard supplied a summary of the play,
"Ten strangers are summoned to a remote island, all that the guests have in common is a wicked past they're unwilling to reveal and a secret that will seal their fate, for each has been marked for murder. As the weather turns and the group is cut off from the mainland, the bloodbath begins and one by one they are brutally murdered in accordance with the lines of a sinister nursery rhyme," Stallard said.
While the play holds a dark, mysterious air, the rehearsals, cast, and crew have maintained an upbeat and positive atmosphere in their hectic schedule of rehearsals with it being production week. They are trying to complete this play about a month sooner than they normally do in order to put it on while Mrs. Stallard goes on her maternity leave, though the original goal was to premiere the play before Mrs. Stallard left. Senior Shelly Murray, who is Troupe President, is proud of the efforts her troupe has made to not fall behind.           
"Since Stallard's due date is early October, we have to squeeze in an entire production in 2 months. But I'm really impressed with the actors and the crew," Murray said.
Mrs. Stallard is not worried about her troupe, confident that they will be able to make up for lost time.
"Our time is a bit shorter, 8 weeks instead of 10-12 weeks, due to my maternity leave, but the students are working so hard so far that it won't negatively affect it," Stallard said.
With the time crunch and the sheer amount of work that must be done to get the play out earlier than normal, it's easy to see how passionate everyone in theatre is about what they do. It's something immediately felt as soon as you enter the auditorium on show night, and seen on the proud faces of the actors and crewmembers. For junior Janelle Klos, the Troupe Communicator, the best part of theatre is coming together as a group after they've put so much time and effort into their production.
"We become close since we're with each other so much during rehearsals, and the stress of show nights bonds us even more. There's nothing like working together on a show and being proud of what you create as a department," Klos said. 
As for the actors, this is the first time many of them have played such dark characters. Lexus Smith, playing Emily Brent, is excited about the change of pace and loves the darker tone of the characters and the play as a whole.
"
My favorite thing about Vera is her kindness along with her bravery. She has a lot of empathy for other people, but is ready to take action in a scary situation"
— Samantha Shanely
"Each character has their own story and is guilty one way or another. It's such a contrast from the stereotypical 'good or evil' characters," Smith said.
Beyond stereotypes, there's more about these characters to love. For senior, Samantha Shanely, her character Vera is a compassionate and emotionally vulnerable woman who does her best in a high-stakes and less-than-likely situation.  
"My favorite thing about Vera is her kindness along with her bravery. She has a lot of empathy for other people, but is ready to take action in a scary situation," Shanley said.
With complex characters and plot twists that will keep the audience on their seat, this fall's play is worth the watch. The show's opening night for general admission is Oct. 5th and it runs through Oct. 7th.