Esports: the climbing trend in schools worldwide
Electronic sports are climbing the ranks as teens favourite ways to compete, game and make friends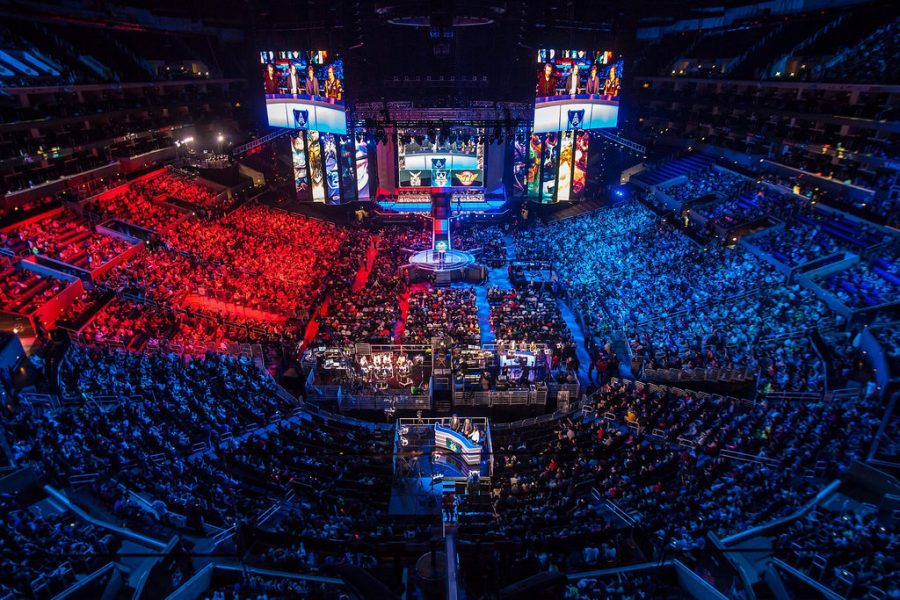 The last bell of the day goes off at 2:20 PM on August 30th. Mr. Kris Miller heads to Conference Room C so he can go to the ESports club meeting. This meeting is with one of the two groups; the CSGO gaming group. Kids are spilling into the halls, running for the buses while eight or ten kids duck into conference room c for their meeting waiting to choose their team captain and discuss what Miller is going to do about setting up a GoFundMe page so the club can get newer, better computers to play the games on.  The meeting only lasts fifteen to twenty minutes as the boys choose senior Eric Wickenhauser to be their captain and discuss what they expect out of Wickenhausers leadership. The same happened the previous day but with the Overwatch team and instead of a one captain leadership, there is a co-captainship in which junior Jeremy Murray and George Schlotzhauer are both captains of the team.
"Ever since high school started kids have wanted an ESports club and some had tried to start one last year but it had ended up being a club where kids played video games and socialised with one another non-competitively" said Miller. "As a person who loves gaming and found out that colleges give out scholarships for ESports it gives another area for engagement in schools; it hit a unique population in the school like it's not just video game lovers, it's athletes too" said Miller.
  Senior Logan Davis was invited to the club through a friend his junior year. He wanted to help make this club a possibility for everyone to enjoy and wanted to make his last years in high school the best.
"Mr. Miller had told a friend of mine and my friend had told me about the idea of starting an ESports club last year and I told [my friend] I was interested so he gave Mr. Miller my name and got us both involved" said Davis. "I thought it would be interesting and fun; All the clubs kids don't feel comfortable to join in and it helps get everyone competitive. It could bring both people who play games inside and play sports outside find something in common" said Davis. "I no longer play on the schools Overwatch team. I stopped because I have my own stuff to worry about and my own team away from the school" said Davis. "I had brought it up last year and I found it interesting and I wanted to leave a mark on my senior year this year" said Davis.
Junior Jeremy Murray was approached not by a friend but by a teacher of his his sophomore year. The teacher had taken a notice that video gaming was Murray's passion and enjoyed it.
"I was contacted by Mr. Reed last year over Remind during second semester about starting an ESports club. I had accepted and immediately tried to get as many people interested as possible and I knew a few people and it took a ton of talking to people to get it started" says Junior Jeremy Murray. "I always loved playing video games and I know people who love doing the same thing. I knew of one college scholarship but I didn't think it was as big as it is until I looked it up" said Murray. "A lot of people play video games casually with friends and athletes play competitively and we want to try and find the middle ground just so we can have fun" said Murray.