A fan is a fan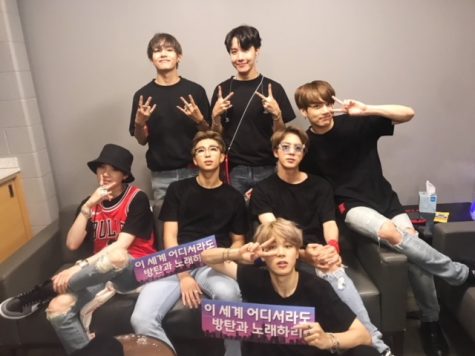 Recently, as I was procrastinating doing my homework, scrolling through snapchat stories, I stumbled upon iHeartRadio's. There, I was pleasantly surprised to see a set of seven familiar faces: 방탄소년단 (bangtan sonyeondan), better known in America by their acronym, BTS. This seven-member group is based in South Korea, and produces music that falls under the genre of Korean (K) pop. This snap was labeled "15 Times BTS Broke Huge Records". Immediately, I had to send the story to my other BTS-loving friends.
I shared it with them to say "Look what the boys have done! Even iHeartRadio is acknowledging them now." And this got me thinking; why is it that BTS has gotten so much recognition in the U.S.? In addition to their recent performance at the billboard music awards, their worldwide tour (of which the U.S. leg sold out in under ten minutes after going on sale), and their numerous appearances on American talk shows, they have gained recognition by everyday people across the country, and collaborated with several American artists such as Steve Aoki, Nicki Minaj, and Wale.
While thinking about this I was overwhelmed with an odd sense of pride that anyone who is emotionally invested in a certain public figure could understand. I'm not sure how to explain it, or why it occurs, but even though I've neither conversed with nor influenced this group in any way other than enjoying their videos and music, I feel as if I've traveled alongside them throughout their journey to international stardom.
Much of that I attribute to their extensive use of social media. BTS is extremely tentative on constantly updating their fans on what they're doing and how they're feeling. In teenage girl lingo, they keep their fans "well fed". They recently created a docu-series on YouTube Red title "Burn the Stage" where they expressed the hardships that are typically hidden behind the cameras. For those of you who don't know (which is likely the large majority), BTS consists of seven members. Given the fact, especially when they practically spend every waking moment together, there are bound to be fights. And with the harsh training system and regulations Korean idols are put through, as well as their insane schedules, there will unmistakably be instances of poor health. However, they feel as if they have a duty to share those hardships with those who support and care about them, and that's something I find extremely admirable. Unlike other artists in their industry, they have spoken openly about mental health, and are even working in joint with UNICEF on their "Love Yourself"campaign, which promotes anti-violence and self-love.
That being said, the group widely appeals to the more fluid society present in America, as opposed to the more conservative country of South Korea. Their self-empowering message, innovative fashion sense, and dashing good looks have stolen the hearts of teens, young adults, and even parents all around the world. Thus creating an exceptionally large fanbase
In the world of what what many refer to as "fandoms", there are is an unofficial hierarchy of fans. The longer you've supported a group, the higher up you are on the social ladder. Thus, the recent skyrocket in the size of BTS's fanbase, or ARMY, has caused much controversy. Most of which I personally find illogical.
It is fair enough to say that someone who has followed an artist for a longer span of time, and is more familiar with the content, is considered more educated or "hardcore" than someone who is new to the fandom. However, I don't believe it is a crime to casually enjoy a artist's music. Just because they may not have each member's favorite color, birthday, hometown, and first pet's name memorized, does not mean they are a "fake fan". I believe it's enough to simply enjoy the music the group produces. As someone who is in multiple fandoms, I would say that Kpop fans are especially guilty of "fake fan" shaming. I believe this is simply because the genre produces such a large sum of content and information and, especially in America, is all categorized under one category. Every pop group, hip hop group, indie group, rock group, even solo artists are commonly categorized into the Kpop category.
Knowing this fact, many fans of BTS are also fans of several other groups. I myself could go on and on about the numerous groups I consider myself a fan of. But many extreme fans consider those who follow only one Kpop group fake fans. First off, in my opinion, it seems ridiculous to categorize such a large variety of music under one category in the first place. Let alone, administering an "all or nothing" policy when it comes to who a person is allowed to be a fan of. That's like saying someone who likes Troye Sivan, but not Justin Bieber isn't a true fan of the pop genre. Or that anyone who listens to NF, but not Tyler the Creator, isn't allowed to say that they like rap.
It's one thing if a person refers to Kpop as "those Chinese boys" (just to clarify, they're not Chinese) or "the ones that won the thing", or only wishes to belittle them. But if an individual genuinely enjoys and is interested in BTS, or any other artist for that matter, and wishes to show support for them, let them.
Despite all of this talk, I genuinely believe that BTS' ARMY is also one of the most supportive fanbases in the industry. Without the unconditional support the boys have received, they would not have been presented with the opportunities that have allowed them to achieve what is now global stardom. I was fortunate enough to experience this sensation  in person. On October 3rd, I attended BTS' second to last concert date on the U.S. leg of their tour in Chicago, Illinois, the last being in New York.
I can say with confidence that the concert is easily in the top five events to take place in my life thus far. I talked to numerous people, every single one of them showing me nothing but kindness. It was easy to tell that they were all genuinely interested in our conversations, and were more than willing to help when I had questions, and it was my first Kpop concert, so I had many questions. I met people from several different states and backgrounds, and although we were all vastly different, one thing alone was able to bring us together: our love of BTS. No one cared how long the other had liked the band, no one paid any attention to who had the most merch, everyone was there to enjoy themselves, scream their lungs out, show support for a group they love, and maybe even cry a little.
In conclusion, it seems to me that it's almost a basic human right to like what you like without fear of being told you don't like it enough. That's like saying you can't consider yourself happy because someone else is happier. Similar to saying a person can not be diagnosed with depression, solely because someone else is more depressed. Almost as if you are claiming that someone does not like pumpkin pie, for no other reason than that another person likes pumpkin pie more. The logic isn't exactly concrete, but it proves a solid point.