In the dark
An electric spark in the school cafeteria caused power to be shut off in half of the school.
Early Monday morning, much before the clock struck seven, something strange happened at FHC. Those who were entering the building at the time were presented with quite the issue: the school was without power. The entire classroom wing was dark. And nobody knew why.
Students were gathering in the cafeteria, awaiting an explanation when they noticed the ceiling had started to cave in above their heads. Upon noticing this, all students and faculty in the surrounding area were moved to the gym, the place they were told to wait until further instruction.
Sophomore Jace Morrissey was taken aback by the blackout and described the event as somewhat eerie.
"The entire building was dark. When I walked in, all the doors to the wings were shut," Morrissey said. "I just waited in the cafeteria, but no one was talking. There [were] two people at the front. I couldn't see anybody else. I heard someone earlier describe it as a haunted house."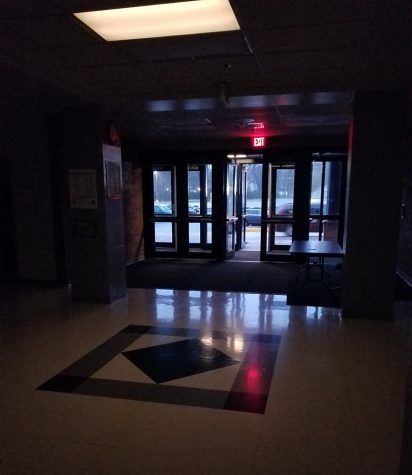 In fact, this was not the first time FHC has encountered a blackout. In 2017, the entire school's power went down after a transformer was hit at a construction site close to campus. The day that happened students were sent home at 11:40, so some kids were predicting the same thing to happen. However, the issue was handled in a timely manner with Dr. Sonny Arnel explaining the situation in an email sent to the entire staff.
"We quickly discovered that a steamer in the kitchen area had run all weekend," Dr. Arnel said. "That caused a buildup of moisture in that area and caused an electrical spark which forced a shutdown of power."
The lights were turned back on around seven, and since the problem was fixed so fast, many students did not even know there was a blackout to begin with. One of these students was Junior Maddie Dumas who was completely unaware of the occurrence.
"I got to school around 7:10 and I had no clue until now," Dumas said. "[I didn't hear anyone talking about it] at all."