10 things you don't know about theatre
Our school's theatre department is home to many traditions and is part of a nationwide organization; it's time you learn more about it.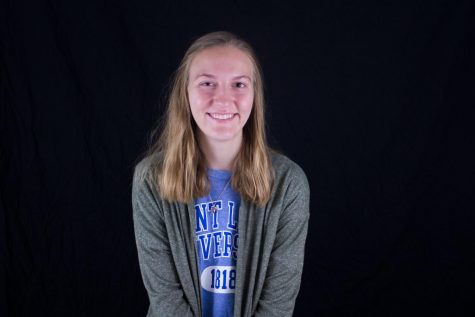 More stories from Gabby Buchholz
1. Traditions 
If there's one thing a theatre kid is, it's superstitious.
Our own theatre department is home to multiple traditions- from ways to celebrate people who have worked hard on the show to dancing in a dressing room to a Queen song.
Traditions are ways for us to get excited about the show. They bring us together and are a way to get new people more involved.
They are held by seniors, who were selected by the seniors before them, and on closing night of the musical, they will pick juniors to carry the traditions on.
Want to know what exactly the traditions are? Sorry, you'll have to join theatre to see why dancing to Queen is the most intense thing we do all show week.
2. Officers are kind of a big deal
Like any large, organized group, theatre needs leaders who meet year-round to make sure the troupe is always doing its best and improving in any way it can.
That's where the officers come in.
For theatre, there are six: President, Vice President, Secretary, Treasurer, Historian, Communicator (formerly known as the Web Master). While the others are self-explanatory, the Historian documents all troupe outings and the shows. They make a Historian video that chronicles an entire show in several minutes and present it at Strike (the day after closing night where everyone who worked on the show comes up to school and takes down the set and cleans the stage as if the show never happened). The Communicator runs all theatre social media and make sure everybody is up-to-date on news and what's going on.
Elections are held after the spring musical, and campaigning is rampant (but posters go up only around the theatre and backstage areas). Only Thespians and soon-to-be Thespians can run for an officer position.
3. There's a difference between Student Tech Director and Stage Manager
Student Tech Director and Stage Manager. Two student positions that are the highest on the theatre totem pole. But what's the difference between the two?
The Student Tech Director oversees all of the crews involved in the show. They direct the crew heads, give advice on any technical problems that arise, and even get involved with the work by helping crews.
The Stage Manager oversees actors. (That's the big difference.) SM keeps track of all of the blocking and cues, gives notes to actors during rehearsals, and runs the show during tech rehearsals and show nights.
Though they're in control of different areas, the Stage Manager and Student Tech Director are equal. Whenever the Director isn't there, these two are in charge.
4. Signing names on walls
Like the Traditions mentioned above, there are signatures all over the theatre department that are time-honored.
There is space all across the backstage of theatre for members of Paint Crew, Props Crew, Production Staff, Makeup Crew, Costumes Crew, and everyone in between to leave their mark on the bricks that make up the department.
One wall is especially unique, reserved for the Presidents of theatre. Simply called the President's Wall, each President–during strike of the musical–paints a quote and their name on this wall, forever leaving their mark as holder of such a high position.
5. Improv
On early release Wednesdays during PLC time (1:35-2:30), you've probably found yourself with nothing to do to kill time.
Another hidden gem of theatre is our improv team, Improv Central, which meets during each PLC time in the auditorium. (hint, hint) It's a laid-back group of kids who try to make each other laugh with crazy scenes they come up with on the spot.
You don't even need to be a part of theatre to join the improv team– it's open to all! To join, all you need to do is show up, and be ready to try something new. It's a great way to meet new people, get out of your comfort zone, and is good for some laughs.
6. What's a Thespian?
The theatre department is comprised of two groups. The FHC Spotlight Players, which includes anyone who has been involved in a production, and Thespian Troupe 5743. But what is a Thespian?
It is defined as an actor or actress, but it can relate to anyone who works on a show. Every show worked on earns points, which are determined by a list from the International Thespian Society (ITS). One point is equal to 10 hours; so 10 points, 100 hours.
Certain amounts of points come with rewards. 10 points allows you to be inducted into the Thespian Troupe; 60 points is an Honor Thespian, which earns a cord and medal to wear at graduation; and 110 points is a Double Honor Thespian, which earns a stole and medal to wear at graduation.
7. Induction week
Once you earn 10 points (the equivalent to 100 hours) you are able to be inducted as a  Thespian. Becoming a Thespian allows a student to run for an officer position, go to Thescon, and work towards becoming an Honor or a Double Honor Thespian.
Induction Week is typically held the first week of May (and sometimes coincides with Senior Spirit Week) and is a fun way for Thespians to have some fun with the inductees. Those who are already Thespians pick those who are being inducted and choose what they will wear, say, and do for that week. Each day has a theme, and in the past we've had theme days like Line Day, Prop Day, or Wacky Wednesday.
Going through Induction Week as an inductee isn't the most fun, but it's worth it to make your friends go through it after you when you become the inductor.
8. Thescon
Thescon is a yearly conference for all theatre troupes in Missouri, held every January. It begins on a Thursday morning with the opening ceremony, and closes Saturday afternoon. Thescon switches every two years to be hosted in either Kansas City or St. Louis. (2017 and 2018's Thescon were held in St. Louis, and the upcoming one will be held in Kansas City.)
There's so much to do at Thescon. There are classes on choreography from Broadway shows, improv, acting, building characters, special effects makeup, building props, and everything in between. There are two shows, on Thursday and Friday night, which were chosen by judges from any school who submits their show for a chance at this opportunity. Besides classes, one could even see a One Act (short play only about 20 minutes long).
Colleges are also their to meet with prospective students. There are scholarship opportunities held by the specific colleges or by Missouri Thespians.
There's a million more things you have the chance to at Thescon. There's almost not enough time to do all that you want to.
9. The differences between the play and the musical
Every year the Spotlight Players put on two shows: a play in the fall, and a musical in the spring.
While there is one MAJOR difference between the two, there are some smaller ones people may not even realize.
The plays are typically smaller, especially in cast. The fall show typically calls for a cast of 10-15 people, whereas the musical can call for up to 45 people. The plays can also be, sorry to say, not as fun as the musicals. The show itself is less exciting than musicals, which can make the rehearsals a bit less exciting as well.
The musicals are bittersweet. It's the seniors final show, when they pass on traditions, and it's close to Induction Week and officer elections. The musical is what signifies the end of a four-year journey.
The musicals can also be a bit more fun due to more creativity with technical aspects. Take the two shows from last year; for "And Then There Were None", set crew build a minimalist set with a deck, window frames, and pieces like a bookshelf and bar. But for "Little Shop of Horrors" they got to experiment with puppetry in creating the 3rd and 4th versions of the man-eating plant, Audrey 2.
10. What we do in between shows
Theatre is a year-round club. But unlike other full year activities that have a long break in between seasons, theatre has a large break in the middle of its season.
The play typically ends around the halfway mark of first semester; anywhere from mid-October to late November. Auditions and interviews for the musical don't begin until the end of January. This leaves students with around two and a half months of more freetime.
Some spend this extra time gained working on other productions outside of school. Many students here at Central are involved in the Young People's Theatre at SCCC, and some are involved with other local theatre companies.
Overall, students in theatre still enjoy seeing each other despite a show not currently going on. Improv still goes on, and people still hang out in the greenroom in the mornings.
Mostly, theatre kids are just waiting (impatiently) for the musical to start. They begin planning what they want to do for the show, picking out their audition monologue and song, and get excited for what could become their favorite show they do.
Leave a Comment
Your donation will support the student journalists of Francis Howell Central High School. Your contribution will allow us to purchase equipment and cover our annual website hosting costs. FHCToday.com and our subsequent publications are dedicated to the students by the students. We hope you consider donating to allow us to continue our mission of a connected and well-informed student body.