My Musical Journey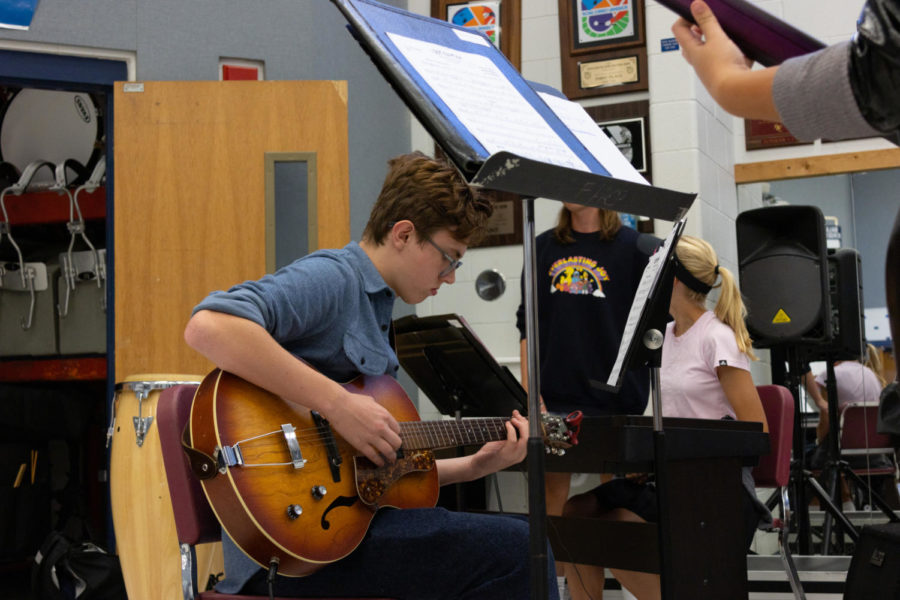 Ever since I was a kid, I've been obsessed with music, I've always wanted to make music and perform music. It was a part of me from the very start. I grew up with a stay-at-home dad so instead of listening to nursery rhymes in the car I listened to Led Zeppelin. I grew up listening to all of the music he listened to and those songs, by bands like The Beatles, U2, The Who, Pink Floyd, and Led Zeppelin, to name a few, were the soundtracks to my early childhood. 
When I was seven years old I started playing piano and my musical journey began. It was a rocky start because I never wanted to practice. My mom made me sit at the piano practicing for hours much to my disappointment. But even through the tears and pounding of the keys I got better.
I was new to FHC last year, for most of my life I lived in Avon, Indiana, a suburb west of Indianapolis. My hometown was very famous for its marching band program. They won many BOA championships and even marched in the Rose Bowl parade. When I found out about this as a little boy I was so excited for high school. In middle school, the music teachers would begin to recruit young musicians to join their marching band. I wanted to join the band so I started playing the french horn and although I didn't practice much, but I was pretty good at it. 
But soon after starting to play the french horn I would receive a Christmas gift that would change my life. I opened all of my gifts and my parents gave me my last gift, an acoustic guitar. Since then I've gotten my fair share of guitars that I cherish and play all the time. 
My days of playing the french horn at school, taking piano lessons and guitar lessons lasted most of middle school. Then at the end of eighth grade, everyone had the opportunity to sign up for the marching band. In the summer between eighth grade and freshman year rehearsals began. The freshmen began learning how to do marching band. At first, I was very bad at it, I am a slow learner but marching band is for fast learners. Before I could get better I was already written off as someone who couldn't do it that well. And I had to quit piano lessons and guitar lessons to accommodate the marching band.
When we started putting together our marching band show they made me alternate for someone else which really meant  I wasn't going to march in the show. From July to November of 2019 I spent them watching everyone else march while I sat on the sidelines. It was not good for my mental health. I found myself more depressed and less likely to play guitar. 
We finished second in the nation, but I always felt like I never finished second. All I did was push a prop around Lucas Oil Stadium in downtown Indianapolis. Although I was in the band I never felt a part of the band. People would congratulate me even though I felt like I accomplished nothing. Towards the end of the season, I got cold so I would sit in the bathroom either just to avoid the embarrassment of sitting on the sideline or just to keep warm. On one such occasion, I watched all three hours of Avengers: Endgame uninterrupted during a rehearsal. That's how much I contributed to the program. The marching band was never something I really wanted to do but only felt obligated to. 
With sophomore year came a chance for a new beginning in the marching band. COVID would mean a shorter season. When it came time to put together the show again I was once again relegated to the sideline. I had many thoughts of quitting, but when someone else went virtual and had to leave the band I'd take their spot and march in my one and only show. 
But my musical dream was never to be caught up in the nuances of marching band, it was creating music. Since I was given a guitar I knew all I wanted was to play music. Soon after getting my first guitar one of my best friends got a bass guitar and soon after we started a band. And I have made a few albums that I have released that are available on all major music streaming services. I did 100 percent of the work over a few years.  Many of my inspirations come from experiences in the marching band being told I wasn't good enough.
Moving from Indiana to Missouri in the summer of 2021, I knew I had a new beginning where I wasn't obligated to do anything. I am able to play the music I want and I am way happier doing so. 
I love music. It's helped me through the bad times and made the good times even better. I have no idea what the next step of my musical journey will be but I know it will be great. 
Spotify: https://open.spotify.com/artist/6XPf0W5BkuEpBnFhl4s5eK
YouTube Music: https://music.youtube.com/channel/UCGVyI4CZ9wfwck_1M_9EeXA
Leave a Comment
Your donation will support the student journalists of Francis Howell Central High School. Your contribution will allow us to purchase equipment and cover our annual website hosting costs. FHCToday.com and our subsequent publications are dedicated to the students by the students. We hope you consider donating to allow us to continue our mission of a connected and well-informed student body.