Teamwork Makes the Dreamwork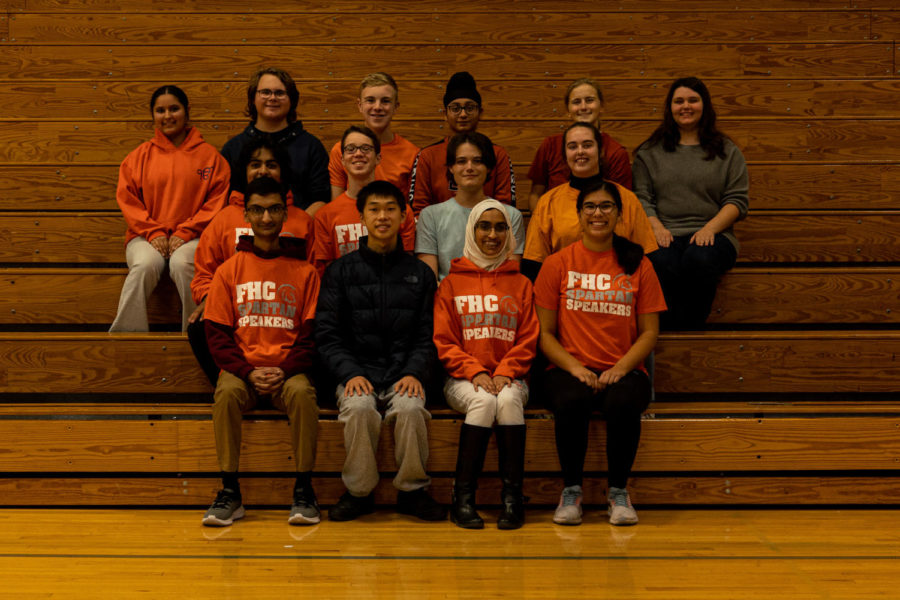 Argumentation. Domination. Emotion. All of these words represent what goes down during a typical Speech and Debate tournament. Seniors Zain Bari and Platinum Liang express unique teamwork in various events in the club. Meetings are held after school from 2:30 to 4 p.m. in communication arts teacher Mrs. Sheri Baize's room on Mondays and Thursdays, and Bari and Liang can be found practicing for events such as Duo Interpretation and Public Forum Debate and helping the newer members. 
The Speech and Debate Team, having been sponsored by Mrs. Baize for 10 years, competes with other high schools in the eastern Missouri region. Usually, these competitions hold debate events on Friday nights and speech events on Saturday. Finals for both are held on Saturday as well. Bari and Liang have both improved themselves in areas such as their confidence, friendship between themselves, need for preparation, especially for public speaking assignments, and the ability to help others because of their competition experience.
Debate is a great way to improve one's self-confidence and speaking skills. Bari says debates have made a pretty big impact on his life.
"I think it's probably the biggest impact I've had since starting high school. Four years ago I would be too scared to speak out and even say something on the spot. But now I have classes where I can do a presentation and not have to worry about planning a script out. So it's helped me be able to make a large conversation and even in a situation like this interview, I would have stuttered so much back in the day. I still stutter now, but it's gotten way better," Bari said.
Liang's participation in debate allows him to help his teammates that aren't as experienced as himself. Liang says helping others on his team makes him happy.
"I don't need to win or anything. I just want to see the people around me get better," Liang said. "I don't see myself getting better, so that's the most important thing."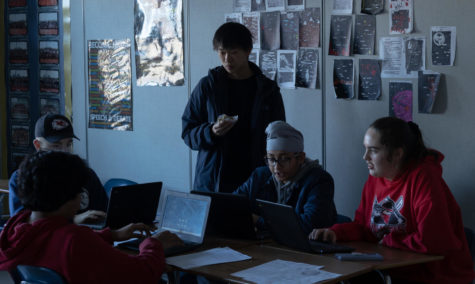 Liang and Bari have both worked with different people before, but mostly they have been working together. Liang says that Bari and he work well together because of their differing approaches to debate.
"Well, within debates, for example, I'm more of a mellow, more methodical person. He's more of an aggressive person. Whenever the opponents are speaking, I can find a counter to their points, and then Zain can perfect it and be aggressive. Little stuff like that, that just works well together," Liang said.
Since Bari and Liang know each other's strengths and weaknesses so well and are comfortable critiquing each other, they can use that ease to flourish when they compete. Additionally, Mrs. Baize says Bari and Liang have been able to loosen up and have fun as opposed to debate.
"So when they do something like Duo, they already know what role to play, and how to lift each other if they're struggling. I feel like Duo is more laid back and fun and kinda for them something a little sillier. They've been serious for so long academically; they have high expectations in every aspect of their academic life and within debates, it's following that academic track, whereas Duo has allowed them to let loose a little bit," Mrs. Baize said.
Bari and Liang have undertaken Duo Interpretation to have fun, as it is much less intense than the debate atmosphere of constant arguing. Duo interpretation includes making sounds and clever transitions to act out a certain script that a team finds from a play for example, removing boring parts that don't add to the story and adding on details to make it more interesting and more theirs. The hardest part is that they can't maintain eye contact or touch one another. Bari says that his experiences in Duo Interpretation sometimes have been implemented subconsciously into his daily life.
"I've noticed this recently, but when you practice Duo you have to make a lot of sounds. So even during my normal conversations at home, I'll just start making sounds, for example, opening up a zipper, and making a zip. Something like that, it's a little bit of a personality shift. It's small things I've noticed over time, but it helps me make fun of myself fondly," Bari said.
Duo Interpretation is a great event to express yourself through acting. Liang says that their duo is doing very well in competitions.
"Oh, well, it's kind of funny because surprisingly, we're winning competitions with our duo. So we originally planned to do Duo to goof around, but now we're like, dang, people actually like our duo. So now we want to work hard to make it better and see if we can win more competitions," Liang said.
Bari says that Duo has given him less free time, but it's really beneficial.
"I think that the confidence aspect just kind of plays into it. It's like, I'm so much more willing to make a joke out of myself and play into stereotypes just as a joke," Bari said.
Despite all the challenges, Bari and Liang have improved their skills exceptionally well because of their trust and comfortability working as a team. Mrs. Baize says Bari and Liang are the leaders of the whole Speech and Debate Team.
"They're our seniors. I feel like they have modeled that from day one. They always have each other's backs. They are so trustworthy, consistent, and honest with each other. They're honest with the team; they're honest with their coach. It's transparent and exceptional, and I feel like those are life skills that you have to have if you want to be a good human; you have to have that character," Mrs. Baize said.
Leave a Comment
Your donation will support the student journalists of Francis Howell Central High School. Your contribution will allow us to purchase equipment and cover our annual website hosting costs. FHCToday.com and our subsequent publications are dedicated to the students by the students. We hope you consider donating to allow us to continue our mission of a connected and well-informed student body.