Desir's draft journey
The publications staff talked with Pierre Desir and received an inside look at how parts of the draft process work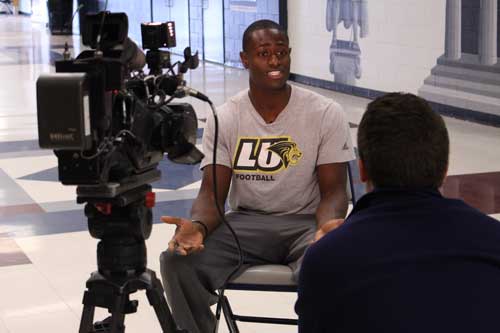 On May 10, Spartan alum Pierre Desir was drafted to the Cleveland Browns in the fourth round of the NFL draft. Prior to his draft to the Browns, however, the publications staff got a chance to interview Desir about being at the professional level of football and received insight into how some of the draft process works.
Beginning at his time at Washburn University, Desir described how he made his way into the NFL spotlight. Desir gave credit to his game-changing plays for helping him turn the heads of professional teams.
"I gained attention by having a lot of interceptions, making sure I was not only the best in my conference, but one of the best corners in the nation, and making a lot of plays which people then started noticing when I played at Washburn," Desir said.
Then, along with the rise in his popularity, Desir had scouts observe him at his games at both Washburn and Lindenwood University. Desir explained how scouts plan out who they're visiting.
"Scouts just call and then they come to visit. What helped us was that we had guys previously get put on teams and they played on teams, so as long as you keep doing that, they keep coming back," Desir said. "They watch film, they read your stats, and so they just contact your coach and they'll come to your school."
Following being observed by scouts, Desir was then invited to an East-West Shrine game, and would then go on to play at a Senior Bowl. Desir went into detail about the experience and process of going to an all star game.
"If you're lucky enough to get invited to some all-star games, you go there for a week of practice, and basically you wake up at six in the morning, and you're not done until 12. You have practice, you have interviews, similar to [school interviews] but with weird questions, and then at the combine it's the exact same thing, but with all 32 teams and it's all football questions with a little bit of background," Desir said. "It's a lot of work, you get drug tested, you have to wake up early in the morning, [and] you have to see doctors all day. That's the part that people don't see, and it's just a long process, but it's all worth it."
With all the training and stardom, however, comes the expenses of traveling and renting hotels. Depending on the expense, Desir described, bills could be paid by either the player of the agent.
"There are some things your agents purchase, but there's other things – it's not free, if I'm going to give you $10,000, I'm expecting to get $10,000 back," Desir said. "There's some things you have to pay for, some things your agents pay for. It's just a 50/50 thing, they might pay for it, you might pay for it."
When Desir finally arrived to the '4th and Inches' training facility in Dallas, Texas, he was surrounded by many alike and those with even more experience than him in the sport. However, this did not deter Desir's determination to perform well.
"The reason I wasn't intimidated [by the D-I players] was because I was prepared. I was training for about three weeks before I went into the East-West game, so I went against some guys from bigger schools at my training facility in Texas," Desir said. "So I wasn't really nervous or intimidated; I was more prepared, so I came in there confident and ready to play football."
Despite now being at the professional level of football, looking back on his organized football career and all the success he's had, Desir still gave credit to FHC and its football program for preparing him for achieving his goals.
"For me, I'm proud [to have been a spartan]. Every time someone else is like 'they're vikings' or 'they're knights', I get a little upset just because I love this school, I love this community. I think because of the pride that I've had transitioning has helped me transition from high school to college because I'm able to respect others," Desir said. "I learned respect [at FHC], I learned how to treat people [at FHC], and I learned how to carry myself in a well manner that others see as pleasant. So I'm proud to be a Spartan, and will always be a Spartan."