The powerful "Sicario"
Blunt, Del Toro, and Brolin shine in Villeneuve's drug epic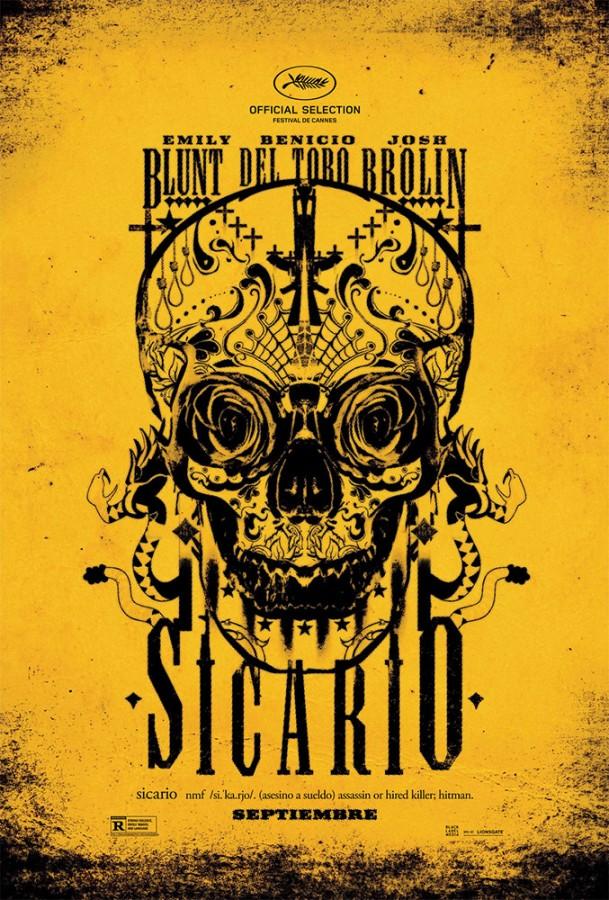 The highlights out of Hollywood right now are the Ridley Scott sci-fi epic "The Martian" and Steven Spielberg's "Bridge of Spies" starring Tom Hanks. The film slipping under the cracks is "Sicario," the latest film from "Prisoners" director Denis Villeneuve. While the film has received widespread acclaim, the film's box office intake as of now has been nothing short of average. Considering how great the movie is, that is an outrage.
The film follows FBI agent Kate Macer (played by Emily Blunt) as she joins a drug task force aiming to end the war on drugs on the United States-Mexican border. As she spends more time with her team, especially Matt Graver (played by Josh Brolin) and the ghoulish and mysterious Alejandro (played by Benicio Del Toro), Kate begins to suspect that the task force is breaking laws and breaking procedure.
This is not an action-oriented film, but instead a character study upon three separate and completely different characters. With strong writing from Taylor Sheridan and brilliant acting from Blunt, Del Toro, and Brolin, the film succeeds at being one of the strongest character pieces in the last decade.
Blunt absolutely thrives as a hard nosed FBI agent, bringing to mind Jodie Foster's Oscar-winning performance as Clarice Starling in "The Silence of the Lambs." Brolin is also very good here as he continues to prove his capabilities as a potential Oscar-winning actor. It's Benicio Del Toro, however, who completely steals the show. His character is commonly referred to as a "ghoul" throughout the movie and I feel his presence is very much like one. He commonly lurks around, showing up at random times with his quiet, eerie stare that could make Freddy Krueger shiver in his shoes. Del Toro's character is what gives the film its name (Sicario means assassin in spanish, referring to the character of Alejandro), yet even with that title, his character is still a mystery. It would be easier to figure out a college-level calculus problem than to figure out who this guy is.
With a movie centering around a sensitive topic such as the border war, it would be easy to make one side the good and the other the bad. In this case, however, we are presented with both good and bad on both sides. There is no clear cut good guy, other than Kate and her FBI sort of boyfriend Reggie (played by newcomer Daniel Kaluuya). We don't know if Graver and his team are good, and we definitely don't know about Alejandro. While we see several of the sadistic members of drug cartels, we also see and follow Silvo (played by Maximiliano Hernández), a family man and police officer who is caught up in the drug mess.
The filmmakers allow us to decide who to root for and who not to. That being said, while Silvo seems like a pretty decent guy for a drug smuggler, for every Silvo is at least five cartel members that are ruthless murderers.
Director Denis Villeneuve helms the film with deep rooted questions and strong emotion throughout, in addition to a strongly intense style. This is Villeneuve's best work since 2013s "Prisoners" and is far better than "Enemy," a film that also tried to have a deeper meaning yet came of more or less as an S&M erotic thriller. This one is far more in line with "Prisoners" than "Enemy." Everything from the intense opening shootout to the final shot of the film just reeks with beauty and genius. The film isn't as good as "Prisoners," but it's pretty darn good on its own.
"Sicario" is definitely no "Avengers," nor is it "Mission: Impossible;" it is a unique piece of work that is the best of its kind that I have ever seen. Some flaws in the screenplay along with a somewhat erratic pace is the only thing that keeps the film from being a strong A+ in my book, but regardless it is a well acted, beautifully directed film that deserves to be seen from a wider audience. If it is playing in a theatre near you, I highly recommend checking it out.
Grade: A-
Director: Denis Villeneuve
Stars: Emily Blunt, Benicio Del Toro, Josh Brolin, Daniel Kaluuya, Maximiliano Hernández
Runtime: 2 hours and 1 minute (121 min.)
MPAA rating: R for strong violence, grisly images, and language
Leave a Comment
Your donation will support the student journalists of Francis Howell Central High School. Your contribution will allow us to purchase equipment and cover our annual website hosting costs. FHCToday.com and our subsequent publications are dedicated to the students by the students. We hope you consider donating to allow us to continue our mission of a connected and well-informed student body.