Getting involved
Students and administration encourage all students to get involved.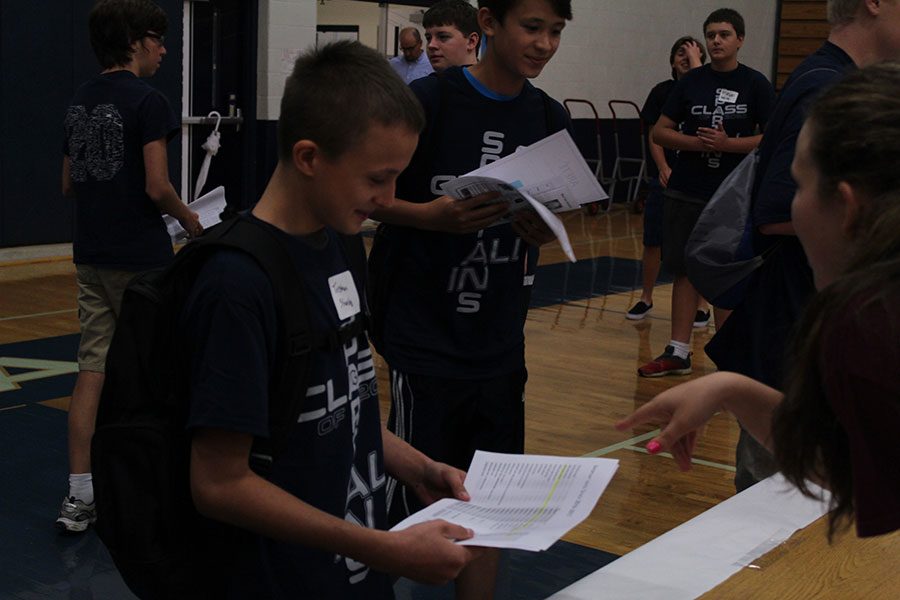 At the beginning of the school year, all students, freshmen included, have the opportunity to join school activities. Students participate in these activities as an alternative to leaving school at 2:20 everyday, and participation helps to attach kids to their school. Starting on the first day of school, a variety of sports and clubs are made available to the student body to increase the probability of easy adjustment to the new school environment.
Multiple studies have shown that joining activities causes students to be more attached to their school, leading to a more rewarding high school experience. Club participants tend to receive higher grades, have a higher attendance rate, higher chance of getting into college, and a lesser chance of doing drugs. At FHC, the activities program offers 20 different sports, five activities, and over 50 clubs. Students, especially freshmen, are encouraged to join these to become more involved with the school.
Freshman Rachel Deason plays volleyball for the school. To start off the school year, she had already met new people through attending camps over the summer and joining the team. Playing volleyball at the school has caused Deason to feel more comfortable at school, and she is interested in playing basketball in the winter as well.
Because she has met more people through the sport, Deason has had a much easier time adjusting and finding her way around school. She became friends with upperclassmen who have helped guide her.
"I met more people through volleyball to where I wasn't as worried on the first day," said Deason.
Attending gatherings associated with the school's volleyball program caused Deason to meet several new people. These people were able to help her get through her first few days of school.
Jaden Zerbolio is a freshman at the school just like Deason; however, he is not currently involved in any school activities. He has felt comfortable at the school so far, but he does believe that joining activities will raise his comfort level. Zerbolio has recently decided to join the bowling team, and he is planning on trying out for volleyball in the spring.
Although he is not participating in any activities at the time, he does hope to meet new people when he participates in the future, and he encourages future incoming freshmen to attempt to join an activity at some point as well.
"I think future freshmen should participate to meet new people," said Zerbolio.
Zerbolio feels that meeting new people can help create a more comfortable setting and spark the beginning of a more content high school career.
Scott Harris, the activities director, has been observing the school's activities for seven years. He monitors all of the sports, clubs, and activities and is able to see first-hand how participation affects the students.
Eighth graders are mainly targeted when it comes to persuading students to join activities. This causes more freshman participation and leads to the students becoming more attached to their school.
"We talk to all of our students, but we really, really talk to our freshmen," said Harris.
The high school reaches out to the middle schools in the springtime to inform eighth graders about the variety of clubs that are available to them. Sports, clubs, and activities are also acknowledged at freshman transition day to attempt to convince newcomers to join.
Kids from three different middle schools and various private schools all combine and attend the high school. Activities allow students to meet these new people and even find a peer group previous to or during the start of school.
"Getting involved allows the transition to go more smoothly and meet new people," said Harris.
Six years ago, the activities department began to track the percentage of students' involvement. At that time, participation was about 63 percent. Since then, participation has gone up about 8 percent. This is hoped to continue.
"We want all of our students involved and attached to the school," said Harris.
Getting students involved with the school helps students to feel more comfortable and attached to the school and the people within the school.