Hockey season overview
Players discuss this past season and what they're going to miss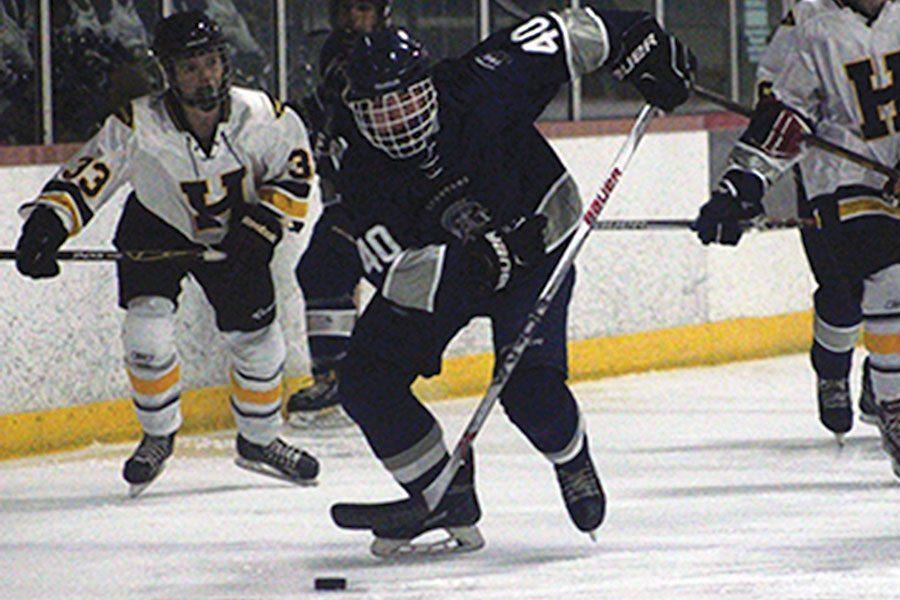 The season just ended for the hockey team with a record of 5-14-2 and a devastating end of the season loss on March 24th. In an intense battle against Holt High School, FHC was up the entire game and with a few minutes left in the third period, Holt scored two more goals to tie the game. At the end of the regulation time, FHC fought hard to get the win they had been working so hard for, but despite their efforts, Holt scored in the first ten seconds of overtime.
Junior, Corey Moats, who is a key scorer on FHC's team with two out of three goals in the last game explains his feelings about the their hard loss against Holt.
"It was a fluke," Moats said, "It was a terrible way to lose."
Although the team lost a significant amount of seniors this past year, that didn't stop Howell Central from putting forth their best efforts.
"[Our team] didn't have as much skill as a lot of the other teams," Moats said, "But we had the heart."
Another key scorer on Central's team is senior, Gabriel Vendetti. Vendetti has been playing hockey since he was eight years old, and he's finally throwing in the towel.
In Vendetti's last game of hockey, he recalls his feelings of sadness and nostalgia.
"I was feeling depressed," Vendetti said. "I was in awe because I've played for ten years and now I'm not going to play anymore."
Vendetti has been playing on Central's team for the duration of his high-school career and has come far from where he began. He reflects on this years team and how they did.
"We need to not play the skill of our opponent. There would be times when we would play a team that's a lot worse than us and we barely beat them, if we beat them at all. When we played better teams, we would play a lot better," Vendetti said, "We need to find a balance."
As the team looks forward to next year, they hope to gain more skills to put them towards state.
Vendetti offers his last words of advice for the team's future.
"Keep chugging away!" Vendetti said. "[Our team] is small, so don't play to your size, play bigger than you are."