Bringing college to the forefront
"We're hoping… that you go away, and have fun," said Janet Pelletier, Amanda's mom, with a laugh.
Going into her senior year, Amanda Pelletier's family hoped for her to be able to have the full experience that every teenager desires.
However, in the past seven months, her social life – and almost every other aspect of her life – has taken a backseat to her very intrusive health issues. Now, Amanda's schedule is filled with the challenge of trying to keep up in her schoolwork and extracurricular activities as she fights through near-constant headaches, vision that blurs at a moment's notice and an inability to get restful sleep. The thought of picking a college and making post-high school plans are only another added burden to her already heavy load.
Pelletier's future has always looked bright. Being vice president of StuCo, a varsity volleyball player, a Central Focus staff reporter, and taking four AP classes, along with piano and voice lessons, have all made Amanda's future success a sure thing. Although the future is far from bleak, there is a tremendous difference between now and a year ago in both her college plans and the difficulties that come with them.
Despite all the challenges and roadblocks that she faces, Amanda is striving to have the college experience that she always looked forward to.
"I'm really interested in [Johns] Hopkins, which is in Baltimore," Amanda said. "But if stuff changes, I'll probably go closer, like Mizzou."
At this point, all the Pelletier family can do is hope Amanda's health will allow her to go away for college. However, they have made the best of the situation and are looking ahead with a great sense of optimism.
"If [Amanda has] to stay here, we were thinking she would take a class or two at Wash U or SLU, so she has the classes that she can transfer to another school," said Mrs. Pelletier. "But we're hoping that [she] is able to go away."
While her poor health has certainly made the making of college plans more difficult, Amanda has found inspiration in both her unique situation and that of those around her.
"I want to double major in pre-med and neuroscience," Amanda said. "It kind of has to do with me, but my grandma had Alzheimer's, and I'm really interested in research on that. I already knew I wanted to do pre-med, but I didn't know about neuroscience. This has kind of led me toward it, because not a lot of the neurologists I've talked to know much about it."
When deciding what she will do with the next few years of her life, Amanda seems to almost ignore the challenges that she will possibly face. Looking ahead, she plans to get everything possible out of college.
"I'm in AP Psych right now, and the neurotransmitters — learning about it — I have some ideas for research. At Hopkins, they have the Woodrow Wilson scholarship — you get $10,000 for your four years, and you get to spend it on research of your choice … so, I really hope I can do that," Amanda said.
As she reflects on the past seven months, Amanda is able to find the good that will come out of her struggles and how they will prepare her for her future as a doctor.
"As a doctor, I would want to be compassionate and to believe [patients], because doctors can act like you're making things up," Amanda said
Although her ability to look past her current circumstance into the future may seem baffling, Amanda makes it clear that she won't let anything hold her back from pursuing her goals.
"I feel like I have such a better understanding for other people," said Amanda. "When it's really hard I just know that it's going to get better. I just focus on that."
Leave a Comment
Your donation will support the student journalists of Francis Howell Central High School. Your contribution will allow us to purchase equipment and cover our annual website hosting costs. FHCToday.com and our subsequent publications are dedicated to the students by the students. We hope you consider donating to allow us to continue our mission of a connected and well-informed student body.
About the Writer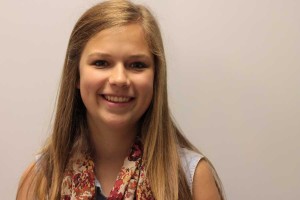 Erin Schroeder, Print Executive Editor
Erin Schroeder is a senior member of the FHC publications staff, and has been on staff for a year. She was the Delve editor for the 12-13 school year and...