Faith sees her through
"Though he slay me, yet will I hope in him; I will surely defend my ways to his face." Job 13:15 (NIV)
Like Job from the Biblical Old Testament, senior Amanda Pelletier is braving a trial she did not wish for or ask for. The cyst in her brain causes many medical conditions: a rare, precarious situation. However, both Job and Amanda decided to look at the positives of their situations.
"I see this opportunity as a chance to get closer to [God] and a chance to be more compassionate with others," said Amanda.
At the beginning of the process, Amanda was more unsure of the situation. Senior Anna Killpack, who has been friends with Amanda for two years, suggests this is because the facts and details of Amanda's situation were unclear.
"At the beginning, [her attitude] was more nervous, because she had no idea what was going on, no idea what could happen," said Killpack. "She didn't know how to feel."
Senior Danielle Lorenscheit saw Amanda's attitude progressively become more positive. Amanda is a person that is always looking up and never fails to be optimistic, Lorenscheit, a close friend since eighth grade, said.
"It hit her hard when she found out about it, but she's a strong girl and she's been positive about it the whole way," said Lorenscheit.
Many things have contributed to this positivity, but the most dominant reason is her faith. The people in Amanda's life all see this, including friends, family and teachers. All agree that the strength of her character is so rare because of the situation she is going through, which also makes it hard to miss.
"She has a good environment; her family is very supportive and she has a great group of friends," said Lorenscheit. "Everyone builds her up, and she is strong in her religion, which helps her as well."
It is hard for Amanda to frequent church in her condition, but even harder for her to have to miss church. Although she is unable to attend church during this time, she still reads her Bible and prays every night. Recently, she has studied the book of Job.
"I can relate a lot to what's going through it," said Amanda. "It helps me to know how to pray, what to pray and how to approach this."
Amanda sees the growth she has received in her faith as a positive result of this situation. The cyst has allowed her to become closer to God and to gain a better understanding for other people.
"I was strong in my faith before this, but this has let me be that much closer to Him," said Amanda.
Another contribution to Amanda's positive attitude is her family, who Amanda says help her to be the best person she can be. Her sisters, Meagan and Caitlin Pelletier, lift her spirits when she is down and have encouraged her throughout this process. Even while they are away at college, the sisters find ways to communicate frequently.
"They always help me stay positive," said Amanda. "My sisters will send me goofy texts if I'm having a bad day."
Amanda's mom, Janet, has also been encouraged by their family. Although Janet's mother has Alzheimer's, Mike Pelletier's parents and siblings call to check for updates on Amanda.
"Mike's mom and dad call and make sure everything is okay," said Janet. "His family encourages us."
Amanda is described by her parents and friends as one who always sees the glass half full. There is a common theme in every person's observations of Amanda: that her attitude has continued to be positive. Instead of letting her optimism slip, Amanda has chosen to become stronger.
"She's always been a really positive, upbeat kid," said Janet. "She always sees the good in things."
Killpack sees Amanda still trying to balance all her activities, a result of her strong-willed, optimistic behavior. Even though it is impossible for Amanda to participate in everything she used to be involved in, she still pushes herself to continue what she can.
"She still tries to do everything she can as far as going to school, doing homework and staying active," said Killpack.
Amanda's teachers — and counselors, such as Mr. Kris Miller — notice her strong spirit as well. They interact with Amanda frequently to keep her education on the right path.
"I think one thing this has taught me is that her strength of character and her resiliency is amazing," said Mr. Miller. "She has kept a great attitude and to see her go through this is just amazing."
Many other people, including Amanda, have also learned from her experience. She has inspired people through her strength and faith, which is just one proof that good things have resulted throughout the process. To Janet, seeing Amanda on many prayer chains across the country is a positive result for her. One prayer chain is set up by Amanda's eldest sister, which includes people in Europe.
"There's people from all over that are praying for Amanda," said Janet. "The only thing I know to do is to pray; there is nothing else that we can control."
Amanda chooses to see this experience as something good, instead of something bad. She asserts that the growth in her faith and ability to see things in a new light are positive results in her life.
"I see it as an opportunity for me to grow and not as something tragic," said Amanda.
Now, looking ahead to the Dec. 20 surgery date, Amanda is more positive than ever at the outcome. To be able to return to her normal life is a thrilling thought. After many months of side effects caused by the cyst, the ability to live normally again is enthralling.
"When she told me about her surgery, she told me that she was nervous, but that she was looking forward to it, because she knows she'll be better afterwards," said Lorenscheit.
This has been Amanda's attitude all along: positive and optimistic, always expecting the best.
"She's a strong kid," said Janet. "Really strong."
Leave a Comment
Your donation will support the student journalists of Francis Howell Central High School. Your contribution will allow us to purchase equipment and cover our annual website hosting costs. FHCToday.com and our subsequent publications are dedicated to the students by the students. We hope you consider donating to allow us to continue our mission of a connected and well-informed student body.
About the Writer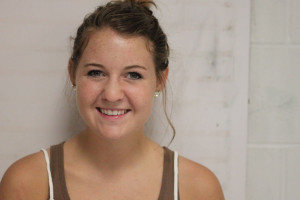 Jessica Mugler, Copy Editor
Jessica Mugler is a senior on staff this year. This is her third year as a newspaper staff member and second year as an editor. She is also involved in...