Food, art, community
The sense of unity could easily be felt at the Festival of the Little Hills over the weekend.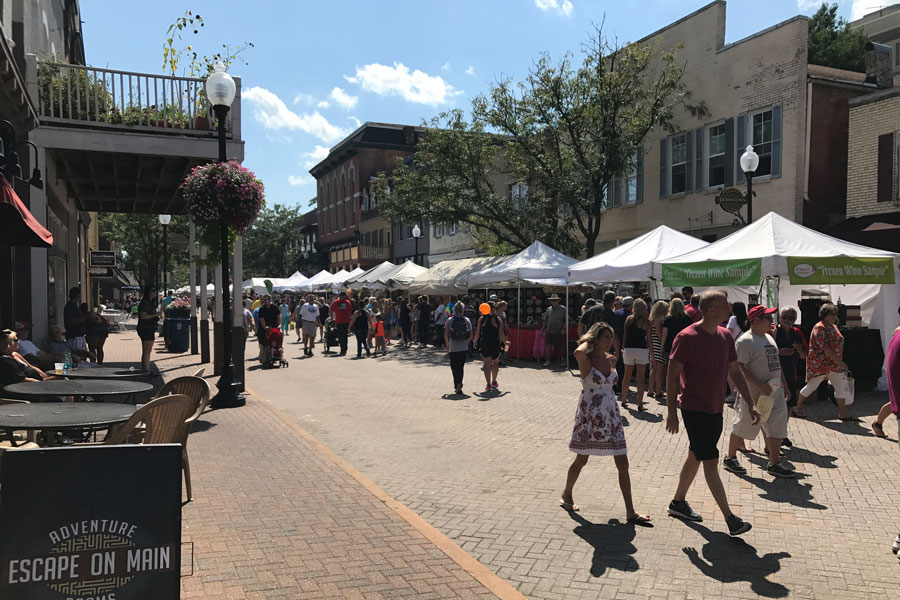 On Aug. 19, the annual Festival of the Little Hills took place in historic St. Charles. The festival is a three-day event filled with crafts, artwork, food, and live entertainment. With over 300 booths and more than 200 thousand visitors every year, it can easily be described as one of the biggest St. Louis festivals of the year.
To many, the festival brings good memories, beautiful artwork, and delicious food. But what makes it so successful?  Why do people keep coming back every year?
Cameron Zalmanoff, a senior, believes the answer is tradition.
"I think it's a nice part of the town," Zalmanoff said. "It's a great place to just come out."
Whether it's your first year at the festival or your 40th, it's hard to disagree that the festival is a crucial part of St. Charles' history. Everyone has something they associate with the festival and that brings them back every year; for Zalmanoff, it's the homemade potato chips.
Even those who are new to the area recognize the significance of the festival. Sarah LaRue, an English teacher at FHC, visited the festival this year, though she only moved to the area about a year ago.
"This was actually my first time going as an adult," LaRue said. "As a child, I remember going all the time."
She described some of the memories she associated with the festival that influenced her to return as an adult.
"Every year, my dad would come with my mom, sisters, and me. The only reason he would come, though, would be to get a large bag of kettle corn that we'd all share," LaRue said. "The other memory is as a child, my sister and I got to bring our own money to spend. We decided on buying those ribbon crowns."
While a lot of visitors associate the festival with food and art, some visit the festival with intentions of fundraising. Gene Feldmann, troop leader of Boy Scout Troop 28, has been a vendor at the festival for two years now. He explains why vending has become an annual fundraiser for the troop.
"We're hoping that it will basically fund our program for the entire year," Feldmann said, "So that way our scouts are doing more scouts related things instead of fundraising."
As a visitor, he associated the festival with unity, thus causing him to return every year for several years before eventually starting a booth for the troop.
"With everything that's going on in the news…It was nice to see several thousand people all get along for three days in the midst of being told nobody's getting along," Feldmann said.
Leave a Comment