A Night to Remember
An overview of how students felt before and after prom.
 Junior Zariya Robertson runs her fingers against the hangers that are showcased on the rack, the metal of each one clinking together, creating a rhythmic beat of indecisiveness. Which one would be the one? Dresses that consist of v-lines, short cuts, long sleeves, short sleeves, a puffy dress, an elegant one, maybe a tail that follows her whenever she walks? All of those thoughts disappeared when she saw a purple, dazzling dress hung right in front of her. 
This is the process of someone who's excitement goes into preparing for prom before it all happens, especially with all that occurs during the thrilling event. Robertson is all about it, as she prepares herself for all of the appointments that are absolutely necessary for her planned look. As she sets up hair and nail appointments, buys jewelry and finds the perfect shoes to tie it all together, she feels that it makes the ending all worthwhile. However, when talking about feelings of prom, under all of that excitement, there's more emotions laid underneath a blanket of overwhelming spirals.
"It's honestly so stressful, and I know a lot of other people think the same thing," Robertson said, "They're probably like 'I just want to be over with it', and I get it, it gets to be so stressful; but. I'm excited that it's this Friday and I'm excited to see all of my friends and everyone."
Despite the stressful worries that plague most students' minds, including Robertson, there are more important things to look forward to: having fun at the event, and looking forward to what may or may not happen.
"I think I'm going to have fun at prom because of the music, and I like dancing with people," Robertson said, "I'm gonna be wearing my crocs, no heels, and I can't wait to just dance to the music and have fun."
In contrast to that budding excitement when preparing for prom, there's some who have more feelings than what meets the eye. Junior Kassie Etter looks forward to prom just as most would, especially since it's her first year attending. Alongside those feelings, there's also the feeling that maybe plans won't be checked off of the list by the end of the day.
"I'm scared that I'm still not ready for it, and leaving school early to get ready for it seems weird to me," Etter said. "It's also happening on a Friday, and my sister went to me saying that it's also the same day as the 8th grade dance; but I'm not ready, and I won't be ready until I'm [actually] ready for the dance, which Lord knows if that'll ever happen."
As the fear of being unprepared for the dance seeps into Etter's mind, she makes sure to stay positive on some of the aspects of prom as well, such as making sure it'll be a night that's forever memorable.
"I believe I'm going to have fun at prom, especially since I get to go with my best friends; we're going to make it a night to remember," Etter said. "I've always been excited for prom as well, because I have a lot of older siblings; so every time I saw them get dressed up, it gave me something for me to look forward to."  
For the students who attend prom, they may see it as an opportunity to go on the dance floor and admire the setting as they enjoy a night with their friends; but there's some that organize the event themselves, with the help of others. Senior Sierra Brumme had the opportunity to be a part of Prom Court, as it also put a weighted responsibility on her back.
"It's very stressful- I'd say it's fun, but stressful because you have to make sure that everything is ready and perfect," Brumme said. "I enjoy being on Prom Court though, especially since it's my senior year,  it's a good way to end off the year with my boyfriend, all of our friends, everything; however, it was really open and social, which gave me anxiety in some moments." 
As the famous phrase says, everything good comes to an end. As a senior, this makes it Brumme's final prom, and this fact welcomes a box full of emotions now that prom is right around the corner. 
"I would say it's a very bittersweet feeling, knowing that this is the last time we get to do this before college," Brumme said. "We have to venture off into college and everything, but there's not much you can do about it; you got to enjoy it while you can."
On Friday, April 14th, it seemed like prom was over in a flash of a camera; a night of dancing, hyping other's outfits up, and enjoying the night with close friends and loved ones, the curtains were drawn; prom was officially over once everyone went home. The following Monday, the three girls had remaining thoughts about how the night had gone for each of them.
Brumme had mixed feelings about what happened during her final prom of her high school career.
"I feel sad that it's over, considering that this is the senior's last prom, but I'm also a little disappointed; I felt kind of rushed over everything," Brumme said. "I'm just glad that I got to be with all of my friends, and then get to hang out."
There's the one popular phrase that everyone finds themself saying after a long day of enjoyment: "Time flies when you're having fun." For Brumme, prom didn't have that case whatsoever; in fact, her experience was quite the opposite.
"I think for me, everything felt really fast; we had so much to do in such a little amount of time, and then we had grad practice the same day- it felt like we didn't have time to do anything," Brumme said. "I was then disappointed because the music was just so bad, because they kept replaying the same songs over and over, which is extremely disappointing."  
With disappointment rising within students all around who went to prom, Etter's experience was one that she'll forever remember in her heart and in her memories.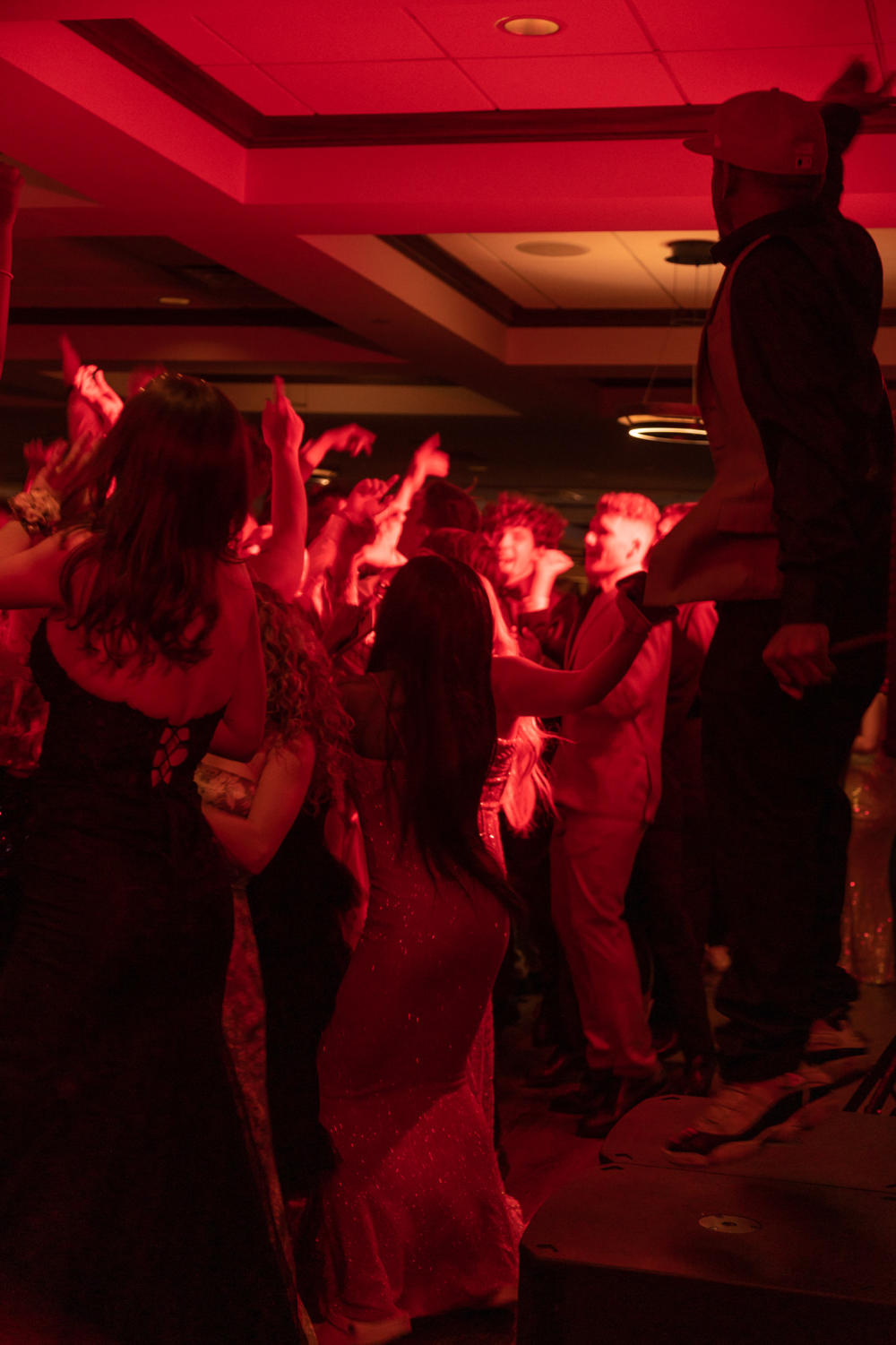 "I'm just glad that it's over with, but I'm also glad that it happened," Etter said. "My favorite moment during the night though, was when 'Mr. Brightside' came on; my sister passed away and it brought back memories."
As though the night wasn't full of energy that filled the room with excitement, there was one turning point for Etter that she saw as one of the best moments during the night of dancing and partying. 
"The turning point for the dance was when they started playing this one Bruno Mars song," Etter said. "I don't remember what song it was, but that's what got me; that moment was when I really started to have the most fun."
With Etter jamming to music and partying with her friends, Robertson finds herself on the other side of the dance floor as she listens to the music that she dreamed would be good. Along with that, she enjoys the company of her fellow classmen as she dances the night away. 
"I feel like it was so much fun, and the music was so good," Robertson said. "I feel like the music was better than last year's."
For Robertson, she's one to hold onto the memories and keep them close; as she reminisces on the night, she remembers one moment that fulfills the number one spot as her favorite memory. "My favorite memory has to be where everyone was dancing to 'Hotel Room Service' by Pitbull, and it was honestly super fun since we're all singing 'It's Getting Hot in Here' because it actually was super hot." 
Leave a Comment
Your donation will support the student journalists of Francis Howell Central High School. Your contribution will allow us to purchase equipment and cover our annual website hosting costs. FHCToday.com and our subsequent publications are dedicated to the students by the students. We hope you consider donating to allow us to continue our mission of a connected and well-informed student body.