The bell rings to dismiss students to their next class; the once lethargic students slumped over in their seats jolt up and quickly shuffle out of class. The teacher watches them leave, not a single person stopping by to tell the teacher goodbye, to have a good weekend, or to thank them for the lesson. Instead, these students choose to ignore their teacher and continue their day without a second thought. Some would argue that there is no need to make polite conversation with a teacher because they never did the same for them. And while I do think this may be true for some teachers, this is not the attitude that we as students should apply to all teachers. Forming some sort of relationship with our teachers is not only needed but is extremely beneficial for our learning and development of social skills.
I have had firsthand experience of exactly how forming a relationship with my teacher improved my overall experience in a class. Over the past year, I have gotten to know my choir director, Mrs. Solverud more. Choir is different from many classes, it takes a lot of vulnerability because it is a performance-based class. Choir is focused on our voices, something very intimate and personal.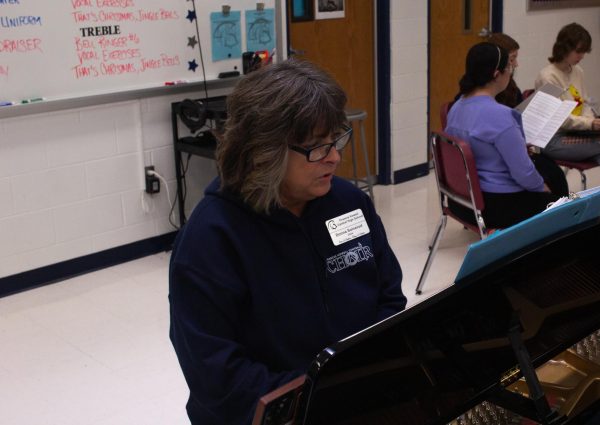 Forming a relationship with Mrs.Solverud has made the choir room a safe place to make mistakes and learn, which overall makes us a better choir; Ava Drury, a junior who is Choir Council Vice President, agrees.
"I think having a relationship with a teacher is very important because it makes it easier to ask questions, suggest ideas, and overall keeps a welcoming and safe environment in the classroom," Drury said. 
Not having any sort of relationship with a teacher can even negatively impact our learning. This may seem like a bit of a stretch to connect our ability to learn, whether or not we make actual conversation with our teachers, but I strongly believe that these two things are connected. Many people learn or understand a concept that is being taught better if we ask questions to clarify and further our understanding of the topic. If we do not feel comfortable with a teacher, we are less likely to ask questions. If we form a personal relationship with a teacher, we become more comfortable with them and more likely to ask questions in class.
Drury then dives deeper into how having a personal relationship with their choir director has positively impacted their music education and time in choir.
"Having a personal relationship with Mrs. Solverud has absolutely affected my experience in choir," Drury said. "It makes me feel more comfortable in the space and like I have a teacher who I can count on to listen and [not quickly dismiss my ideas because] they are the teacher and what they say goes," Drury said. 
Drury then explains another way having a relationship with their choir director changed how the class is run. 
"In Room 5 we pitch different ideas to Mrs. Solverud and if she turns those ideas down, she makes sure to say she appreciates the thought and gives us an actual reason why we won't move forward with it. She also builds on our ideas to incorporate them in a way that works for the class," Drury said.
The purpose of school is not only to educate us, it is also intended to prepare us for our adult lives. A huge part of our near future will be social interaction, especially with those in a position of power over us. If we are taught to treat those in a position of power as people who are only there to dictate to us, our generation will contribute to a toxic work environment. We will form an unhealthy relationship with our bosses if we look at them from this negative viewpoint. If we instead learn how to respect and form a personal relationship with those in charge of us, we can learn what a healthy boss and employee relationship can look like, and carry this experience into our adult lives. 
Another huge part of developing social skills that can be used in the future is learning how to brainstorm and pitch ideas to those higher up than you. If we as students are scared to converse with a teacher about how something is going in class, how are we going to form the skills we may need in the future to have a conversation with a boss about how something in the workplace needs to be changed? If we want to be able to have these tough conversations, we need to learn how to properly have them now.
Drury explains how their experience on Choir Leadership Council and their relationship with Mrs. Solverud has taught them how to speak up and not be afraid to make suggestions.
"I am pretty vocal in the choir room, and it's mostly because I know my voice will be heard, and it's not like that in other classes. In the choir room, there's no such thing as a bad question, and ideas will always be considered," Drury said.
Finally, Drury explains why their choir director's effort to get to know every choir student has had such a huge impact on the choir's overall performance. 
"I think Mrs.Solverud bonding with her students has overall made us a better choir because we feel more like a family than a class," Drury said. "During rehearsal or after a concert, for example, we can take constructive criticism better because we know it's not to hurt our feelings or because we're bad singers, but it's because she genuinely wants us to improve as singers."
All in all, students, myself included, need to take a step back and set aside our preconceived notions about how we should treat teachers, not only for our benefit but for theirs too. Not only can forming a relationship with a teacher change our experience in the classroom and help us possess social skills that we may use later on in life, but a student taking the time out of their day to have a polite conversation about the weather could genuinely brighten a teacher's day. So if the personal benefits aren't enough motivation, go tell that teacher to have a good day, simply just to put a smile on their face.