Everybody say soccer, keep it goin'
Girl's soccer remains undefeated as their season comes close to an end.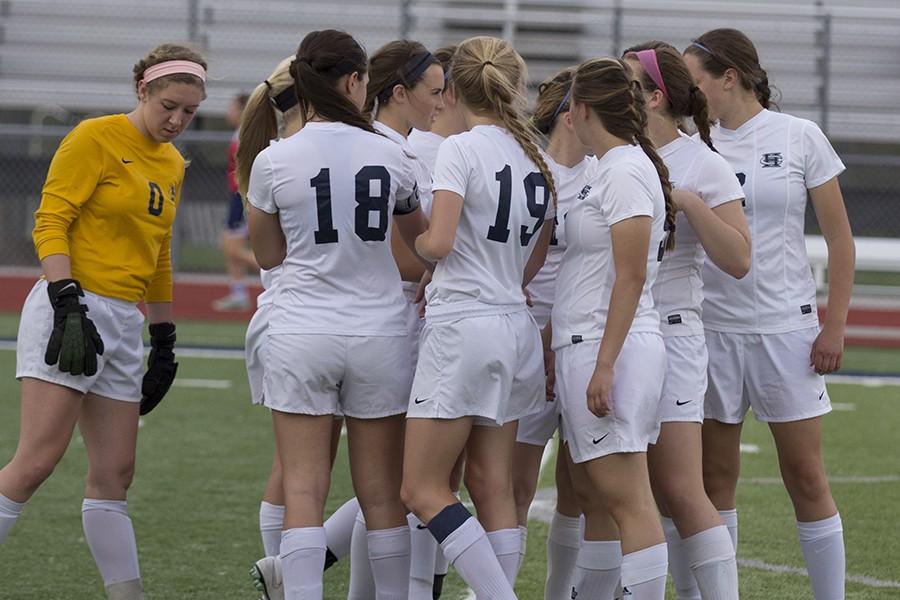 "The vision of a champion is someone who is bent over, drenched in sweat, at the point of exhaustion, when nobody else is looking." -Mia Hamm
Passion. Strength. Determination. All characteristics of competitors and athletes. With an undefeated record of 12-0, including beating our rivalry school Francis Howell, the girl's soccer team shows all of the listed characteristics not only on, but off the field as well; transforming Central into "the soccer school."
Immediately following the boys season from taking third overall in the state, the girls' mentality going into this spring season has been focused on proving that they are just as skilled and as competitive as the boys and that coming to their games are worth it just as much now as it had been this past fall, according to junior second year varsity player, Madelyn Kreienheder.
In her first year on varsity, Kaitlyn Strauser, definitely feels the pressure of the new season as well as confidence and determination.
"We definitely feel like we have something to live up to especially since we have such a great team this year," Strauser said.
A successful team doesn't happen overnight. It involves not only copious amounts of practicing but also a special bond between teammates. Junior and varsity player Emma Farley notices the strengths of the team.
"We work the ball around very well, our communication to each other on the field is pretty good, and I think we finish and get the job done as a whole which is awesome," Farley said.
The success of a team can't only be looked at through the players. It should be looked at through the coaches as well; those who helped developed those players and increased their hard work and skill. The bond between coaches and players also plays a role in the performance of the team. According to Kreienheder, Coach Mulholland and Coach Phillips ("mom and dad" as called by the players) are very strong leaders and work well together.
"I think we have great coaches. They are always pushing us to do our best and give 100 percent at all times. They don't allow us to let our record get to our head," Strauser said.
Although the girls hold a standing record of 12-0, just like any sport or club, there are complications and as it looks for the girl's soccer team, injury is the biggest according to Kreienheder.
"We have had one girl who has had a concussion since the beginning of the season and we had two starting defenders hurt and unable to play at the same time, but they are finally back to playing," Kreienheder said.
Although there has been challenges through the season, the girls have showed hard work and determination, ultimately becoming the vision of a champion.