Mary Hendricks-Harris named new superintendent
As current superintendent nears retirement, a new superintendent for the Francis Howell School District is chosen.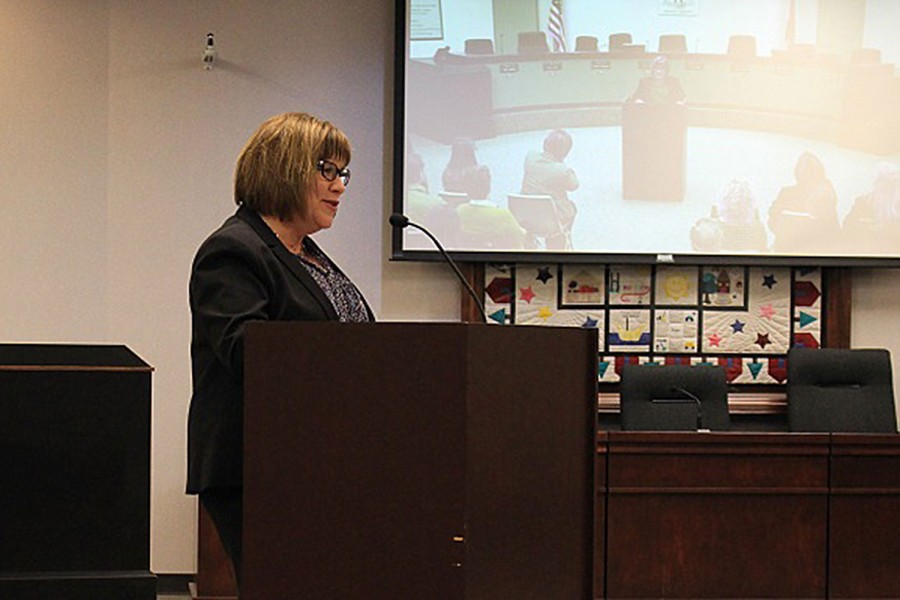 The Francis Howell School District's new superintendent was named in the board meeting room at Central Office. Dr. Mary Hendricks-Harris will be taking over as the new superintendent, starting July 1, 2016 and moving forward, in place of current and retiring Superintendent Pam Sloan. Dr. Hendricks-Harris's three-year contract was approved by the board at a special Board meeting tonight.
The district went about finding the new superintendent over the course of several months, involving many people and staff members, as well as a national search coordinated by McPherson Jacobson. Last Wednesday evening, Dr. Hendricks-Harris was chosen out of the more than 20 completed applications and three finalists.
"
I think immediately we have got to take care of three things, [number] one is taking care of our finances…we need to get our financial situation stabilized."
— Dr. Mary Hendricks-Harris
"The board [has] been at it probably since October or November, probably November. They hired a firm to help them do the work, they did a nationwide search," Dr. Sloan said. "We had several community meetings where they sought feedback from the public about what do you want in your next superintendent. They had some interviews that involved community members and then the board ultimately is the one who makes the decision."
The new superintendent has been within the district for 10 years, and has had experience in working as a director under Dr. Sloan. Once Dr. Sloan became the superintendent, Dr. Hendricks-Harris took the role as chief academic officer, a role Dr. Sloan previously held. Dr. Hendricks-Harris beat out three other running candidates, and is excited to be the new superintendent.
"I was really excited, I've known for a week…difficult it has been to keep a secret for a week. But very excited, it's very humbling to think of all the candidates being selected to run a district like this. It's such a great district and you don't necessarily go into that thinking that you are going to be the person that is selected so it's humbling " Dr. Hendricks-Harris said.
Dr. Sloan is sad to be leaving the district, but has faith in her new successor.
"I will be quite honest it is hard to leave, I have been a part of the school district for 23 years … from a teacher, to a building administrator, to a chief academic officer, and now superintendent," Dr. Sloan said. "So yes it is going to be hard to leave, I have built great relationships with families and students and our teachers and other staff of course, so yeah, it's going to be really hard to leave."
To ensure a smooth transition Drs. Sloan and Hendricks-Harris will begin having meetings, but as of now Dr. Sloan does not see any immediate changes.
"[Dr. Hendricks-harris] is very steeped in the work we have been doing, I don't look for there to be any dramatic changes, especially in these first couple of years. She has been a part of creating the direction we are going so I see her continuing to move forward in that direction," Dr. Sloan said.
Dr. Hendricks-Harris already has two main focuses going into the next school year in terms of success for the district, and hopes to have them accomplished as soon as possible.  
"I think immediately we have got to take care of three things, [number] one is taking care of our finances…we need to get our financial situation stabilized. We will being that strategic planning process [by] getting the community together to talk about a plan for the next  five years," said Dr. Hendricks-Harris. "[Also] one of  the things we have learned in the last year is that we need to engage our community more, regardless of how we settle that finance, we need to reach out to people who don't necessarily have kids in school or who aren't our students and get them involved in our school district."
You can watch video of Mr. Mark LaFata announcing Dr. Hendricks-Harris as the district's new superintendent below.
Elaine Mallon
Leave a Comment
Your donation will support the student journalists of Francis Howell Central High School. Your contribution will allow us to purchase equipment and cover our annual website hosting costs. FHCToday.com and our subsequent publications are dedicated to the students by the students. We hope you consider donating to allow us to continue our mission of a connected and well-informed student body.