New talent on swim
Varsity boys swimming finds new talent in their journey to state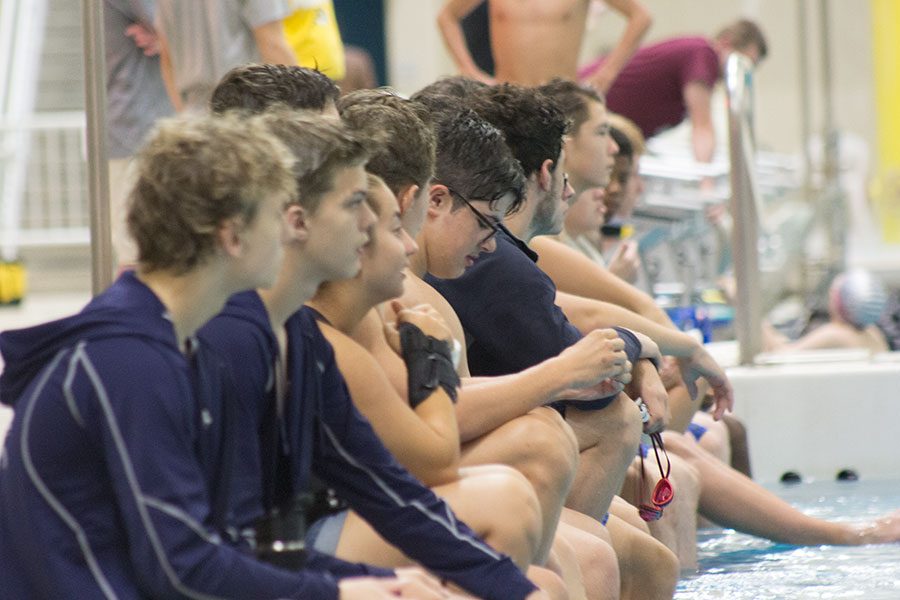 Drenched in cold sweat, standing on a tall block angled into colder water, nervousness fades to raw determination as Dominic Prince, senior, braces for the brief singularity of pain and technical skill that is the 100-meter butterfly, at a local boys swim meet. He, as well as underclassmen Alex Anderson, freshman, and Colin Williams, sophomore, race this season with one dream in mind: state.
With MSHSAA state qualification times increasing in intensity every year, the path to state involves a herculean amount of effort, usually seeing only seniors (or occasionally juniors) making the cut. Qualification happens not through a district-to-sectional circuit, merely a single perfect race – a time that dips below the notoriously high state-set standard.
This year, however, bringing up the vanguard behind senior state hopefuls Jacob Baxley and Dominic Prince are two "phenom" underclassmen, with notable potential for the future.
They are the night warriors, heading out to practice at 8 p.m. on the daily to two or more hours of cold water work, and this year, it may lead to big gains on the clock.
There is perhaps none more chief in importance among them than Alex Anderson, a freshman already making near-state times in the 50-meter freestyle.
The 50 free is the shortest and fastest event in the sport, a no-holds-barred sprint. Drops in time are caused by miniscule changes in technique and strength.
"You get to a certain point and you think you're doing everything right, but there's tiny things which can drop or gain you tiny increments in time," Anderson says, with his current personal best resting one second off MSHSAA time.  
Contrary to most other race-style sports, chiefly track and field, technique (over raw power) is one of the guiding elements of victory in competitive swimming, and is well known as the deciding factor in state, national, and olympic qualification.
Certified U.S. Masters Swimming and USA Club coach Fares Ksebati considers it the most important facet of the sport, saying: "In swimming, your success as an athlete hinges on how efficiently you can move through the water."
"It's a medium that's nearly 800x as dense as air, and requires an entirely different set of technical skills than any other land-based sport. For this reason, any flaw in form is magnified exponentially in water," he said.  
Similarly skill-dependent in his event, and only slightly older than Anderson, is Colin Williams, a distance swimmer in the 200 meter IM medley and 200 meter breaststroke. The perfection of technical skill is no alien to him in his own near-achievement of state.
"It's really all about technique and endurance, it's about practice, and practice, and I'm putting in that time," Williams said. "It's really hard to get to state times because they're just so fast at the top of the age group."
Williams recently turned 15, which now finds him racing in a group of boys up to 18 years of age.
Well known to the boys, the rigors swimming at the intensity of state times often threatens to push them past the breaking point.
"You have to push past the pain, because you know it'll pay off in the long run," Anderson said.
"I race because I love it; it's the most demanding sport in the world," commented Williams.
With state at the St. Peters Rec-Plex coming up in a little over a month, the boys run on intrinsic motivation – every day being a long one. As well as swimming for FHC, Anderson and Williams put time in for their private team, the Rec-Plex Sharks.
"It's about getting excited when I swim and not saying 'Oh, I have to swim this', but 'Oh, I get to swim this,'" Anderson said. "When you get that certain time that you've been working months or even years for, that sense of achievement is totally fulfilling."
On the old lion side of the team, Prince has hope that they can make it, in the end.
"They get support from everyone – from coaches, parents, team members," he said.  "You have to stay with the people who will encourage you, and when you think you can't get it, put the thought out of your mind, and keep going."
Leave a Comment