Disappointing loss
The girls basketball season ends before expected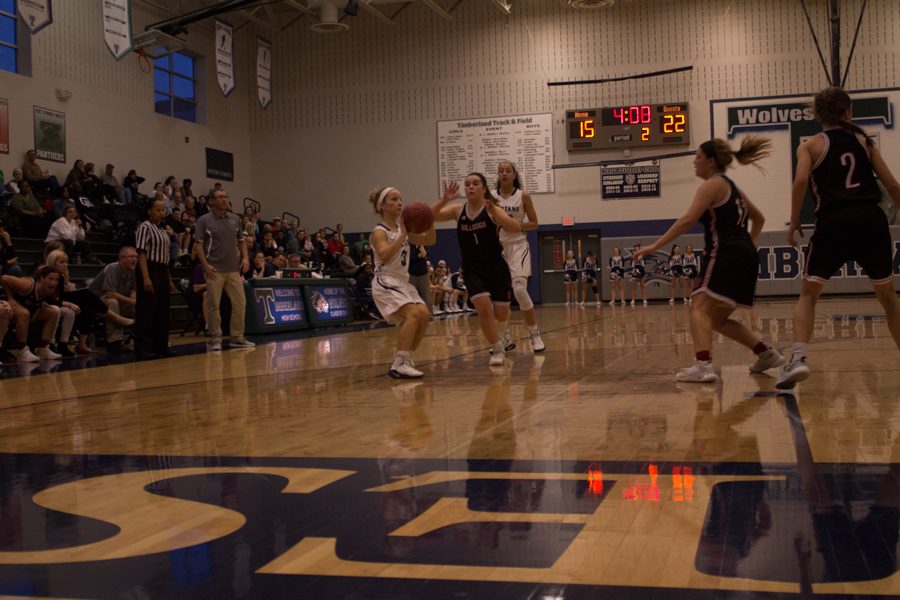 Even as the buzzer rang with the score down 53-48 with Fort Zumwalt South in the lead, 
the girls basketball team was not deterred. After a winning season with an 18-8 record and conference championship under their belts, the loss did not ruin the great season.
For junior Amanda Henderson, the loss did not affect the attitude of the team, although disappointing.
"We didn't come out as strong as we expected to," she said. "I didn't get in last night, but my team had a lot of energy and a lot of our team's shots weren't falling, but I think we stayed aggressive and stayed confident, no one had bad attitudes or anything. It just didn't happen for us."
Junior Payton Kolb agreed that the team played well; the win just did not happen.
"I feel like we played well, we played strong, it was just not our night," she said.
Overall, the season was a particularly great one for the team, the best one they have had in a long time. Kolb attributed a lot of this to the people involved.
"I think our team made it a really good season, all of our hard work, all of our practice, our coaches, the staff members, all of that," she said.
This bodes well for the team next year, as most of the team is comprised of juniors who will return next year. One returning junior, Ashley Roland, has high hopes for the team next year.
"Next year, we're definitely gonna have a whole new fire to us," she said. "I think we're gonna go a lot further than we did this year."
Kolb agreed, even going so far as to predict a district win in the coming year.
"[Expect a] district title," she said. "That's what you're gonna expect."
This will come from hard work and dedication from the team; Henderson was already ready to start preparing for the next year.
"It's been a fun ride, but I'm ready to start the next season and train for next year," she said.
All in all, this season was a memorable one not only because of its winning streak but the bonds made between the girls on the team.
"The best part of our season was, I think, just getting to know my players more and more every day and getting to play what I want to play," Kolb said.