Love is blind
Love of music transcends sight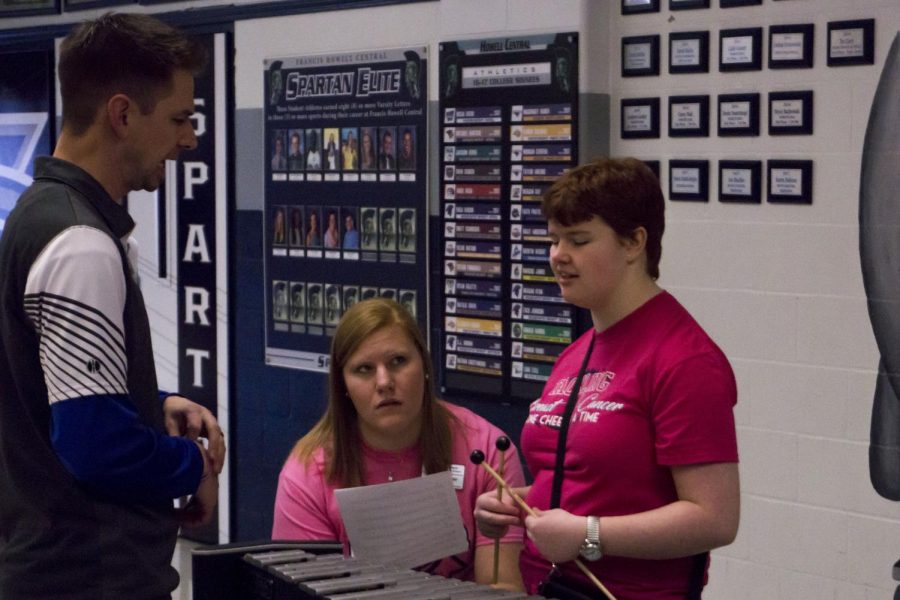 Music resonates through the room as the Concert band plays through one of their pieces, sound filling the room. The percussion section is in the full swing of the piece following their sheet music and the rhythm. In the back of the room, freshman Claire Wright is listening intently to the beat. She doesn't have the sheet music for the song they are playing. She listens because she can't see. Being blind can't stop the music from flowing from her fingers to the xylophone.
"I've been playing since I was little," Wright said, "I really enjoy playing [music]."
There is a definite passion for music while she plays. The other musicians don't need to help her move around the room to where she needs to go or to help her with her instrument. Concert band teacher, Nathan Griffin is ecstatic about her performance in class.
"[She is] great in class," Mr. Griffin said. "At school she is always playing [her instrument], always working hard."
Although Wright is very independent in class, she still needs some help with reading her music and knowing where she is during the piece.
"We use Google Classroom to help post materials, then those who are helping her are moving some of that stuff to braille, some of it can be read electronically to her," Mr. Griffin said. "She also has a para that has also helped and is a musician or has some musical background, so we do some stuff through her in terms of kind of helping her in the rehearsal setting, like letting her know where we are or when we start conducting a piece. There is some non verbal communication that goes on in rehearsal or in the actual performance and she can pick up on those cues; we have someone there to also help with that."
While she works hard in band, she works hard outside of class as well to perfect her musical technique.
"I can tell you it takes some work at home to listen and practice," Mr. Griffin said. "The other thing that we do is, I play through a lot of her parts and then record them and then send them to her."
She has also done extra musical activities outside the classroom playing several instruments for her friends and family.
"I have done fun piano recitals at grandma's house," Wright said.
Even though she is blind, her fellow musicians are always ready to help her out with whatever she needs.
"At the fall concert they helped her on stage off stage," said Mr. Griffin. "It's been great, it's been fantastic."
Wright also gets help from the many people in the percussion section.
"They're very nice people," Wright said. "I feel really good about the section."
The paras help Claire when she needs help with moving around the classroom and learning the music.
"If there's a student not around, the paras will help with whatever I need help with," Wright said.
Even those not in the percussion section admire her work ethic and her drive to learn the music. Freshman Seth Thompson is another musician in concert band and has also seen Wright's enthusiasm for the class.
"I think it's kind of cool even though she's blind to still be in band and have a normal life," Thompson said.
There are some things that Wright needs to be told to help her play the music, and the directors are trying to get used to this new change.
" [I] just [have to make] sure I get the recordings to her," Mr. Griffin said. "I just have to be mindful of some of the cues and things I would normally do non verbally."
The changes that the directors have made keeps Wright up to speed with the rest of the band and keeps the rhythm going in the classroom as well as the music. Wright has worked hard for her love of music, even branching out to different instruments.
"I play the piano, harmonica, and I'm just starting to learn violin," Wright said. "[In concert band] I am currently playing the xylophone."
There is nothing to stop her from moving forward with her music. Even without sight she has found a way to find the beat, play the instrument, and read the sheet. Next year she will be in Symphonic band to further her musical career at FHC.
"
It feels really good having a lot of help"
— Claire Wright