Serengeti Central
Serengeti Steve brings scaly collection to Central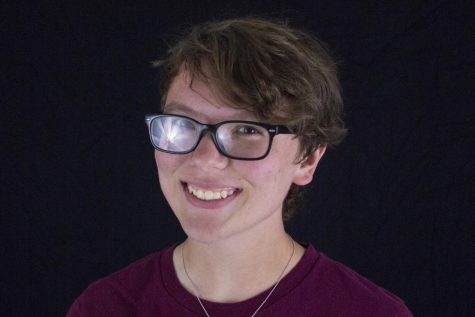 More stories from Skylar Laird
His boots pacing the ground, Serengeti Steve smiled slyly at his audience, a diverse group of students and teachers alike, all grinning right back at him in anticipation for what he would pull out of his bucket next. He pulled two members from the audience and instructed them to stand on either side of him.
"Now you," he said to the boy to his left, "you get to decide if you want to hold this animal and how you want to hold it. You," he turned to the girl on the other side, "face that way, and I'm going to put it on your head." The audience dissolved into laughter, watching the girl, senior Sophia Calignoan, as she turned, her face lit with nervous excitement. Serengeti Steve turned to the buckets behind him while informing the audience that this animal was named Sweetie Pie before pausing and telling them he made a mistake – this was the wrong bucket.
"I still have one that will fit on your head, though," he reassured Calignoan, then quipped, "I call this one Killer." Out of the bucket came a lizard, which he dropped deftly onto her head before spilling facts about it and all the other 46 animals he owned – most of which lived in his personal herpetarium, some of which he uses to put on approximately 600 shows a year.
All the while, Calignoan stood still, rolling her eyes up in an attempt to view the reptile perched in her hair, laughing along with the rest of the audience at Serengeti Steve's antics as he lifted it up and brushed her hair with its nails before putting it away in fear that it would urinate on her head – not before dousing her with water in an attempt to make her worry that he moved it too late, though.
"It was really scary because I thought it was a spider [he was going to put on my head]," Calignoan said. "I kept mouthing, 'Is it a spider?' I [enjoyed the show]. It was really fun."
This show was able to happen thanks to All of Us Club sponsor Missy Holloran, who had seen Serengeti Steve perform once before at a benefit and thought this would be a great way to help special education and general education students connect.
"In the All of Us Club, we have a steady group of kids who come, and I wanted to explore the possibility of having more gen ed kids spend time with our special ed kids, so I was trying to think of ideas of fun things to bring in," she said, "and a few years ago Serengeti Steve was in Rock Hill for a fundraiser for a friend of ours, Officer Matt Crosby, who was shot in the line of duty, and [Steve] was so entertaining and so good with the kids, so I contacted our sponsors, the St. Charles Recreation Counsel, and asked for some funding to would pay for this and they said absolutely. They were thrilled, they thought it was a great idea, a great way to bring in an audience and bring all the kids together as one, and the turnout today was phenomenal. I am thrilled. He's very entertaining and it was very fun to see everyone interact."
Swinging reptiles around and performing exuberantly but naturally, it's obvious Serengeti Steve is a veteran of this career; he began 30 years ago as a veterinary student before switching his focus to herpetology and extracting venom for cancer research. This was a lucrative career path, a perk that outweighed the potential dangers of the job.
"I'll be honest, it's not about money; you always gotta find something you enjoy to do in life, but I thought, 'Wow, that would be interesting, wow, would I wanna be that stupid, though, and extract venom for a living?' I'll be honest, though, [my professor] told me what cancer research labs were paying for venom, and I was like, oh my God," he said, laughing.
This monetary benefit did not last too long, though, once Steve had a near-death experience after an eyelash viper came off the extraction table and bit him on the inside of his right foot, causing it to swell quickly as he got compartment syndrome and the doctors had to slice his foot open to relieve the pressure.
"When you're in college and you're younger – I'm 48, I've been there – we have a tendency to think we're 10-foot tall and bulletproof, and back then I thought, 'what are the chances of me screwing up?' Uh, I screwed up. Inside of my right foot, if I were to take off my boot, there is a cut that goes from the top of my foot down to here. Eyelash viper came off the extraction table, hit the ground, got me on the inside of my foot," he said. "I mean, the pain was excruciating. It's like a hot dagger stuck in your foot… Yeah, that's when I started going, 'Hey, wait a minute, those checks were nice, but I'm missing a little piece of my foot and I could've died. Yeah, maybe it's not all fun.' Maybe that's why they paid so much for all of that stuff, because you gotta be stupid enough to do it."
The real end to this career, though, was when he promised his wife that, after they started having kids, he would quit this job and find one at the herpetarium at the St. Louis Zoo because, despite a significant pay decrease, he would be much less at risk for losing his life and leaving his wife to care for their children alone. Although he failed to follow through with this promise after their first child, 17 years ago, once his son was born, he obliged, quitting his work in cancer research. Before he could resign himself to the zoo, however, he heard of a person doing simple reptile shows at schools and birthday parties and the like. With the support of his wife, he decided this was something he wanted to pursue, so he began a marketing campaign consisting of offering free performances to local schools.
"I walked in [to schools] with my degree in one hand, my licensing in the other, and a brochure in my back pocket. And I walked in, the first school I went to, it was one of the Rockwood schools, I walked in there and I walked up to the principal and I said, 'I've got 30 seconds, ma'am, that's all I wanna take of your time. Here's my brochure, here's my degree, here's my license, I used to extract venom for a living, I've changed my career, I now want to do shows. I would like to come into your school and do a free show for all your kids.' And she goes, 'well,' – it was an elementary school – 'we've got about 900 kids,' and she said, 'what's the catch?' And I said, 'it doesn't cost you a penny, it's free, but the only catch is at the end of the program, I want every kid to go home with one of those flyers that I will supply to you in their folder saying I do birthday parties.' I had 800, 900 kids that day going home to mom and dad saying, 'I want him for my birthday party,'" he said. "I did like 3 or 4 free shows at big schools, and [they] didn't cost me anything except an hour of my time. Next thing you know, my phone's ringing off the hook, and then I got hooked up with Disney – somebody on YouTube saw my thing, just saw a silly clip of me, next thing you know, Disney's calling me."
From there, Steve went to California to perform at Disneyland before getting a gig at Planet Hollywood in Las Vegas, where his simple demonstration of his reptile collection became a stunt show that included him kissing highly venomous cobras and holding scorpions in his mouth – a feat he holds the Guinness World Record for at over 17 minutes, which shattered the former record of two minutes and three seconds. Eventually, Steve auditioned for "America's Got Talent," where he made it to the Vegas round before getting eliminated, but not before kissing an incredibly deadly cobra and almost losing his life as a result of it, its bite which no one has yet survived barely missing his face.
This daredevil nature has not been lost as Steve casually told stories about his life and adventures to those who stayed after the show in the auditorium with a 40-pound, 12-foot long albino reticulated python wrapped around his body as though it was nothing more than a scaly fashion accessory, though he no longer performs quite so daring stunts because, as he so simply puts it, "I'm getting old." This, however, did not detract from the audience's enjoyment of the show as they laughed along with his jokes and marveled at his deft skills handling reptiles most people in the auditorium wouldn't even dare touch for more than a few moments.
"I loved [the show]. I absolutely loved it. I didn't really want to hold anything, but I think seeing the joy in everybody else's faces and the laughing it just made it so worth it," Mrs. Holloran said. "I really had reservations, I wasn't sure how the kids would react, but, [as the audience] saw during the interaction, Karlie Reams, our president, who's been around for four years, came up and held her hand under one of the other kids' hands while they were holding the reptiles, so you see there's that partnership and looking out for one another and just the way she kinda treats the other young lady as a sister was just kinda neat. So yeah, it worked out really well."
Calignoan agreed that the show was a success, due mainly to the fun nature and inclusiveness of Steve's show.
"I've been to other reptile shows, but he did more scare things and he interacted with people who were scared… it was just really cool. Even though people were scared, he still included them," she said.
Visit https://www.reptileexperience.com to learn more about Serengeti Steve and book him for parties.
America's Got Talent
Leave a Comment
Your donation will support the student journalists of Francis Howell Central High School. Your contribution will allow us to purchase equipment and cover our annual website hosting costs. FHCToday.com and our subsequent publications are dedicated to the students by the students. We hope you consider donating to allow us to continue our mission of a connected and well-informed student body.