'I am able to punch something and not get in trouble for it'
9Round offers clients a unique workout, focusing on boxing and kickboxing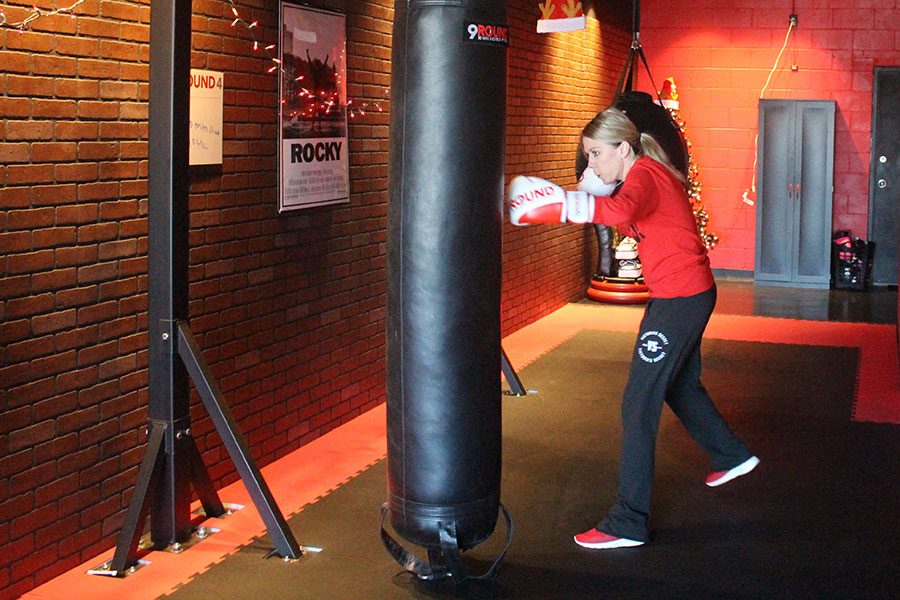 Many people try to lose weight but just can't seem to find the motivation to go to the gym and dread the upcoming workout. Many sit around wanting to lose weight but making excuses for why they can't do it. To show others that they can do whatever they set their minds to, Marlene and Joe Twehous, parents to senior Gabe Huette, opened a kickboxing franchise known as 9Round.

9Round provides a 30-minute workout including nine kickboxing workouts or rounds, hence the name. Each round lasts three minutes with a 30-second active rest transition to the next round. There are no classes at this facility and a different workout each day; members are allowed to work out whenever and however many times they would like to each day as long as the times are within the hours of operation. This activity will keep you moving at your own pace with the support of the trainer and the other members around. Members burn upwards of 400 calories per workout on average.

Marlene decided to open the gym after realizing between the adoption of Gabe and his brother Alex and driving 25 miles to work in a dental office she was never able to make it to boxing classes on time.

"My time was no longer my own. Spending time how you want to is important because life's too short and you should do what you want," Marlene said.

She follows this motto every day with the mindset that she loves her job and never works a day in her life. With the vast amount of support from her husband Joe, Marlene's first location was opened Oct. 21, 2016, just one year after making the final decision to follow her dreams of opening a 9Round franchise.

Marlene has boxed for seven years and Joe has boxed for five years.

"I started boxing because I was super thin and wanted to gain strength in my upper body," Marlene said. "My previous marriage was an abusive relationship and working out, specifically, boxing, is the one thing in my life that I have 100 percent control over. Boxing makes me push my limits and it has made me realize that I am stronger than I think I am and allows me to see what I am capable of."  

Jenni Johnson, a senior, is a member of 9Round who works out at Marlene's gym. Looking for a fun way to be active, but staying indoors while doing so, Johnson signed up for the first free workout at 9Round. She soon found Marlene to be everything she could ever ask for from a trainer.

"She is my gym mom. Before she even truly knew me she treated me as if she has known me her whole life and has been there for me with any problem I needed to talk about. Marlene gives you the inspiration and motivation to push yourself and shows up each day," Johnson said.

"

She is my gym mom. Before she even truly knew me she treated me as if she has known me her whole life and has been there for me with any problem I needed to talk about."

— Jenni Johnson, senior

Members are able to release pent-up aggression on each round. One thing Marlene constantly reminds her members is that she is cheaper than therapy (an inside joke at the gym) and they can go to her at any time they need.

"For those 30 minutes, I am able to punch something and not get in trouble for it. It is nice to know that I have somewhere to go to take out my aggression on a bag where I just as easily could have taken it out on a person. Boxing really is a life-changing experience," Johnson said.

Marlene is not just at the gym to train and make money, she does it because she has a passion for it and makes a connection with every single person who walks in the door.

"I have 250 members and there is not one member that walks through my door that I do not know their name. We are just one big happy gym family," Marlene said. 'It is very cool to see members develop relationships with each other. Everyone is welcome as long as you play nice with others because I feel it is important to empower others and build them up."

Although Huette does not have much involvement with the gym, he says, "I fully support them in their decision to do what they love to do, but boxing doesn't strike my interest as much as it does theirs. I support them to do what makes them happy and they do the same thing for me".

Her business is currently doing well and she plans to open her second location on Oct. 21, 2017. She will continue to train at the first location while Joe will be in charge of the second location. As much as she trusts Joe, she will still keep a close eye the training going on at the second location through a two-way video camera broadcasted on the television which allows Marlene to see Joe's members and for Joe's to see hers.
Leave a Comment