Trial by Fire
AP Student-athlete Zach Miller overcomes all challenges to secure a future in science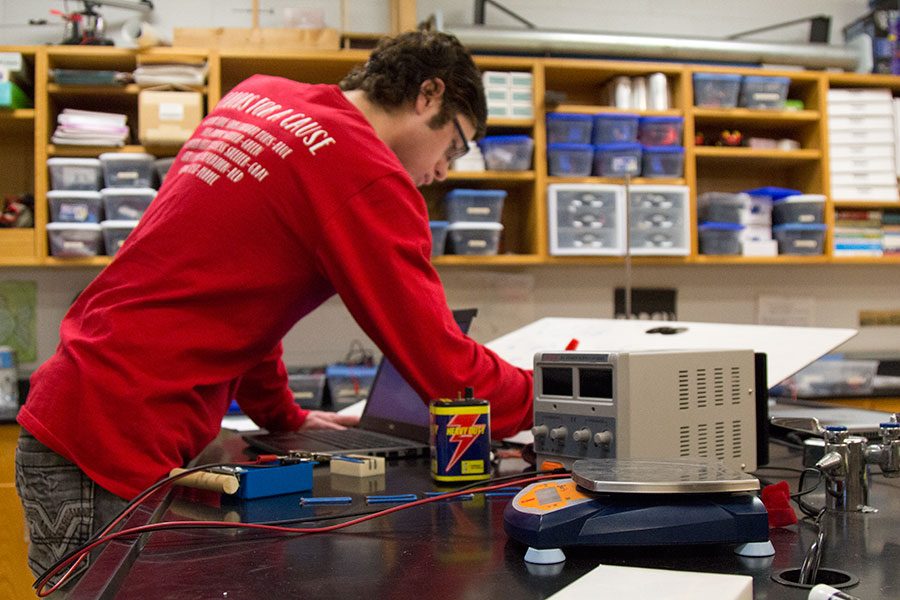 Fall. The overcast Monday sky at the crack of dawn casts a shadow over his face as he closes the side door to his small house. Another one. He lets out a breath. One half of an hour later, he walks briskly into his first classroom of the day; by the end, after four AP sessions, he is in the most challenging of them: AP Physics II. The lecture is novel and challenging, but he is unfazed. This is where his future is. I belong here. A short time following, now in full sweats, earbuds in, he braces himself for what he has to do.
The lecture has vanished; he's standing on the long starting line of a varsity 5000 meter cross country race. Heat. Another one. He lets out another breath. He stumbles back through his door, exhausted, long after sunset, drops his backpack, and immediately gets to work on over one and one half hours of housework. There is nobody at the house; his mom is finishing a twelve hour shift; he hasn't seen his father for over a decade. He wonders if this will be another month when his work savings will go toward supporting him and his mom, but the thoughts get pushed out of his head as the lecture returns – they all do – and the three hours, at least, of homework and study begin again. Sleep. Repeat.
There is no aspect of life in which Zach Miller, senior, is not challenging himself or being challenged otherwise. Hits come from all directions – academically, socially, athletically – at school and at home. For his entire life, adversity has been a constant presence. Few successes have come easily. Still, through all four years of his career, scholarship has been one of the biggest mountains.
Academia
One can easily see Miller's tendency toward challenge in his field of focus, physics, taught for the fourteenth year by Mr. Ryan McCoy. According to Mr. McCoy, it requires a unique mind to succeed in his room.
"It's a thinking class; there's not a lot of facts that we learn, or even procedures like in math class," Mr. McCoy said. "In here, it's a lot of application – here's the basic premise, here's the problem, here's what happens when you look at it in a different way. It's just all critical thinking, all the time, every day."
Under Mr. McCoy's direction, physics has taken a centerpiece role in Miller's rigorous academic life.
"I love learning about nuclear mechanics and astrophysics, and in AP Physics I solidified my direction toward [the field]. Physics is really interesting to me," Miller said. "Mr. McCoy is a real baller of a teacher. He really got me to enjoy physics, taught me how to look at things and understand that reality doesn't always work the way you think it does. That class really pushed on the path to a life in [the field]."
The struggle, though, overall, comes largely in his course load, one demanding three hours or more of homework from him on a nightly basis. The demands and expectations of his high school career have been unrelenting.
"My course load has gotten increasingly difficult every year; my freshman year I took four honors courses and three regular courses, but every year I pushed myself to go farther," he said. "My second year, I had four honors courses and an AP course; junior year I had two honors courses and four AP courses."
The breadth of the AP courses has led to an enormous amount of sacrifice in his life. With his dreams in mind, all priorities fall to success in school, but the cost thereof, on the daily basis, is enormous.
"I would say that mentally it's very tolling; it's very taxing. There's a lot of effort you have to put in…in ways that don't just drain you, that don't just make you feel like you want to give up, but in ways that actually cause pain sometimes. It's difficult, but I just try to get through it," he said. "It's cost relationships with those around me…[strained] relationships with my family members. I don't hang out with people nearly as much as I used to."
Nevertheless, however, he tries to remain a powerhouse in the classroom, devoted more to gaining knowledge than earning numbers.
"He's been academically involved as long as I've known him; he's one of those special kids who wants to learn as much as he possibly can,"Mr. McCoy said. "He has a really good intuition about what's going on. He always has some strategy to start off with, [and] he has the ability to just jump right in and try."
A critical component of Miller's daily gauntlet is far outside the realm of complicated information. It's racing. A four-year cross country and track runner, his experience as a student-athlete makes life both significantly easier and harder.
The Trail
Of all the events in track, the least desirable on any occasion is the 3200m two-mile run. The sheer length and arduousness of the race turns nearly all athletes away from it. Miller, however, embraces it as a test of all his abilities.
"It's eight laps, which doesn't sound incredibly significant until you run it; you'll realize it's not just a long physical task, it's a mental task," he said. "You have to have the mental fortitude to be able to run it. I love it, and I do primarily because it's so difficult."
Perhaps none have watched Miller's growth over the course of his academic-athletic career more than his friend Nate Limbaugh, sophomore at Missouri University of Science & Technology, prospective geology major, and past cross country and track captain. They met on the first day of Miller's first year, fall '14, and have since co-authored a novel together.
"He was a rebel from the very moment I saw him; I could see his energy, a man willing to surpass any and all obstacles to get what he wanted," Limbaugh said. "He was definitely an overachiever; he made that apparent no matter what he was doing; he was always talking about his goals, where he wanted to be."
Miller, though, used track as his only break during the day, a time during which to see friends and let free academic pressure. It's pushed him to grow as an athlete and a person.
"I would definitely say that my freshman year I was overly energetic and annoying, but cross country and track have [disciplined] me in a way that helps me to socialize. It's kept me focused on why I'm pushing myself so hard in school," Miller said. "When you have so many AP classes, and so much work to deal with, track and cross country are great ways to see my friends. It's important that you have some way to relax, and track and cross country are exceptional ways to do that [whilst] staying productive."
Keeping himself productive is a constant focus for Miller. He knows that when he gets home, his stressors only begin.
Fractured
Many of the hours Miller spends working in his house are in solitude; he's lived with only his mom his whole life, and she works over 50 hours per week to make ends meet. He speaks only of his father through tears of anger and sadness.
"My parents are not divorced, they just simply never married. It's been challenging," Miller said. "My contact with my father has been nonexistent. I absolutely understand [that] having divorced parents is incredibly difficult, but simply having no contact, just nothing, is something different."
Finding words for the situation is difficult for him.
"There's an image in my head, from when I was five, of me holding my mother's hand…but the other hand is touching nothing. It's been very, very difficult," he said.
With his father gone and his mother working, Miller takes a principal role in maintaining the household, doing hours of chores per day. He's maintained a position at Shop N' Save to save funds that could potentially be used to support his family.
"About five to ten percent of the money I make goes to [my pocket]. The rest is either savings or money for the household; if we need money I help us," he said.
When his mom is home, expectations on Miller are high, due to her longtime disability, late-stage rheumatoid arthritis. Advanced rheumatoid arthritis is characterized by one's own immune cells attacking the synovial membranes around the joints of the body. It creates a constant, chronic stiffness, swelling, and heavy pain, treatable only by heavier anti-inflammatory medication.
"My mother has rheumatoid arthritis, and it's really bad. It makes every day difficult for her. She used to have to take steroids in order to combat it, and those severely affected her mood, which was really difficult. Thankfully, she's off them, which is fantastic, and more modern medicines have helped her a lot. She still hurts, but it's better than it used to be," he said. "She is definitely there to support me, and that's one thing I'm very happy about; it's just that one person cannot support that weight. I never agreed with the Greek story of Atlas, because one person cannot hold up the weight of the world."
In dealing with such high levels of stress at home, Miller has only one thing to give in advice to all others who struggle with the same things. It echoes the embrace of challenge through his life.
"In life, you are given a bad hand, but you can get rid of the cards you don't like and keep the cards you do. You can make a great hand out of nothing," he remarked. "The best thing that I could say to anyone who is in a situation like mine is to pull yourself up by your bootstraps; I have struggled my entire life, and while it's been so difficult, I'm so happy that I've put so much effort into everything, pushed through. Don't let yourself come to barriers and tell yourself you're satisfied. When you give up, your story ends, but if you break through it, your story continues on."
Limbaugh concurred.
"He deals with the struggles in his home life day in and day out, and to do that takes a kind of character that pushes who you are. For Miller, he saw it as a challenge; he saw it as a way to grow positively. He never turned away; he only pushed harder," Limbaugh said. "With Miller, he was dealt a hand of cards, and he said, 'No. Hit me again. Hit me again.' Until he was able to make a house of cards. He didn't just want to win the hand, he didn't just want the chips, he was out to make something."
At the end of the tunnel
Zach Miller, it appeared, was out to create a legacy in the physical sciences. Last year, he applied for the prestigious Questbridge full-ride scholarship for low-income, high achieving students. With a 34 ACT and nearly perfect grades, he was granted it, but not paired with a school; as such he awaits acceptance from any one of the eight Ivy League universities to which he applied. When he gets there, his plans are set.
"I'm going to try to major in physics and minor in astronomy, then go to graduate school to get a Ph.D.. At that point I'll hopefully attend another school and study astrophysics and nuclear mechanics," Miller said. "After that, I plan on applying to NASA, SpaceX, and the European Space Agency to be an astrophysicist. If I could get into any of them, I would be ecstatic. I would be an astrophysicist for an amount of time, but after that I would hope to transfer to [research in] quantum mechanics and theoretical physics."
Through research in the outer-boundary fields of quantum/theoretical physics, his aim is to eventually make a positive impact on society.
"They're the future. The future of our world, the future of energy, the future of computing, the future of transport, all lies in the quantum realm," Miller said. "[With that], I would like to contribute to the energy sector. Energy is the currency of the universe, and I want to help make sure that we find the best methods for us in order to prevent climate change, and in order to better our standard of living. I really want to help people in that regard, of trying to fix problems that we have [as a society].
Mr. McCoy also has confidence that, though coming from a challenging background, Miller will be able to push through into the field.
"From what I've seen, he can tackle anything. He has the ability to be top in his field," Mr. McCoy said. "He has a lot against him, but he's really figured out how to pull through them at great lengths. He's got some demons, he's had to deal with personality issues, and he's taken great strides to overcome them."
Limbaugh, after four years of friendship, has high hopes for what Miller's drive can accomplish.
"I think it's a win for everybody. He's willing to go into a field and challenge the way we look at life, and I think he's going to do it," Limbaugh said. "If there's one person I would be cheering for on the side of science, it would be Zach Miller."
Though he knows many of his life's challenges are yet ahead and that he's not out of the gauntlet yet, or won't be for years, Miller has singular focus on his mission. The adversity that comes alongside every stride he takes leaves him only more resolved.
"In cross country we were taught, 'It's just a hill, get over it,' and on the other side of that hill is a valley. You just have to get past it," he said. "The best way is to start running."
Leave a Comment