Healthy minds, healthy bodies
The hidden benefits of working out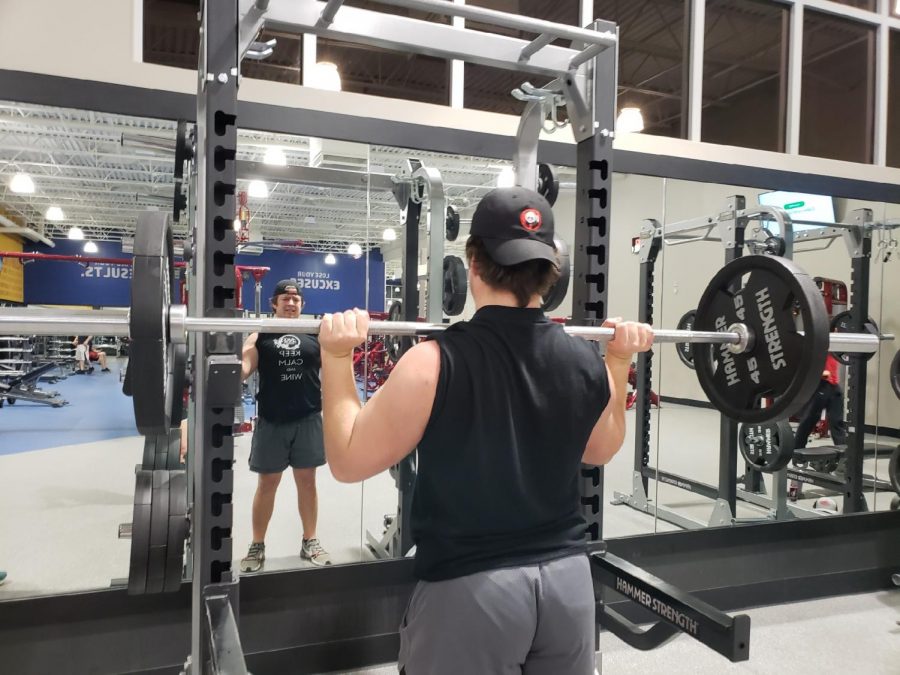 Senior Zac Bishop has been working out regularly since his freshman year, he believes that working out has improved his life for the better, as well as helping him to stay in shape for football.
"Working out everyday, you feel better, you are less tired all the time and looking yourself in the mirror everyday, you think it is incredible what you can do with your body and all those things are a really good benefit," Bishop said.
Having an outlet to get all of a person's stress out is a good thing to have; working out could be one of those things. Senior Kaitlyn Chadwick uses working out as a stress reliever, it puts her in a better mood than she was before and is a good way to get all of her aggression out safely.
"Mentally, it gives me confidence and emotionally helps me be a better person all around while helping with stress," Chadwick said. "I workout because it is a stress reliever, I like to go after a long day at work or just a few times during the week because it puts me in a great mood and I just feel refreshed after."
Working out on a regular basis can improve appetite and sleep schedule, as well as improve your mental state. Junior Vinny Graczyk says he finds working out a great way to relieve stress and to get any negative emotions out.
"Working out can get out a lot of stress that you go through, throughout the day. Say you had a math test first hour and you did really bad and have a lot of suppressed anger about that, you can just get that all out in the gym without actually having to get upset," Graczyk said.
As well as getting more sleep and eating well, Bishop has felt more focused and less tired due to the fact he works out every night. Because of that he goes to sleep early and after working out, for some reason, it always makes someone hungry afterwards.
"Working out teaches you how to focus more and if you are working out all the time, you are going to be less tired because you then get a lot of sleep, you're gonna be eating more, you have to keep up with your body. You would not be dozing off at work or missing out on anything," Bishop said.
Even if a person is fit and has worked out before, it is still a good choice to continue working out. It is important to never give up, keep moving forward and keep progressing.
"Even if you are fit, the process of working out is very beneficial when it comes to your mood and the way that you see yourself. Even if you are fit and do not work out, continuing to build that muscle and strength it really does something for how you see yourself," Graczyk said.
Every person should take onto some sort of physical activity, but sometimes it is hard to get the motivation you need for working out. For Chadwick, what motivates her is softball. She has to stay in shape to make sure she plays her best every season.
"Softball motivates me to workout. I want to be that girl people are scared of on the field," Chadwick said.
Leave a Comment
Your donation will support the student journalists of Francis Howell Central High School. Your contribution will allow us to purchase equipment and cover our annual website hosting costs. FHCToday.com and our subsequent publications are dedicated to the students by the students. We hope you consider donating to allow us to continue our mission of a connected and well-informed student body.