Shifting into the Car-munity
An expanding car community at FHC and the students involved with it
There's clubs and activities at FHC for students to share their passion and love for whatever activity they love to do; however, some students feel left in the dust for something that they truly feel passionate for. This doesn't mean that it stops them from continuing to share what they love. Senior Adam Decker has grown up with a love for cars ever since he was younger, playing video games and eventually expanding his horizon and love for different cars. While there isn't an activity or club like cars, he and other students like Seniors Hunter Bowman and Zach Kofron outlined a community at FHC to spread car culture and their love for them. 
Even when you're far away, you'll hear the scream of the machine that makes us perk our heads up like a pack of wolves. They're fast, they're loud, they're appealing to our eyes, and whether or not you're into cars, there's a lot of admiration for them shared by a lot of people. Sporty, Luxurious, Old, or Classic, we can't help but glare eyes at them, and there's so much to love about it: the performance, the machinery, and the technology.
Car culture has been a developing social group that has expanded to around the world, where many people share love for these vehicles. Across generations and races, everybody tries to be a part of this culture and intimacy. Everybody has different opinions and different cars, but in the end, everyone shares the same interest.
Cars have always been a primary topic when starting conversations. As many people share the same passion for cars, it helps connect people together and creates a community for people to be involved in. There's car shows, blogs, forums, and social media for people to communicate and share their passion. There are numerous different communities within this car culture that people are a part of and there's so many different ways to bond with each other over cars. 
As it turns out, Francis Howell Central has a car culture and community amongst it's students. There's many students at FHC who show passion for cars and this interest group is expanding. While it may not be a club here and while they are limited with the way they can gather at school, they all partake in events outside of school and congregate with people from different places.
Senior Adam Decker is a well-known car enthusiast around FHC, and shares a passion for cars with other students. He believes that their car culture brings people together to appreciate cars in general, whether or not they have different perspectives and opinions. 
"Our culture is really the way that people enjoy cars together like whether you like Japanese cars or you like older American cars," Decker said. "It's really just about how you like to share that passion."
The topic of cars is an effective and significant way to meet new people and get to know them. Decker believes it's like a conversation starter, and it can bounce off of establishing the passion for cars. It's a way to put yourself out there and it helps create a strong bond with someone 
"You can ask, 'Oh what kind of cars do you like, or do you have a car,' and that can kind of help you strike up a conversation with that person," Decker said.
Decker strongly feels that the car community has made him more open after putting himself out there. At first, it was extremely nerve wracking for him to talk to other people and go to events alone and share his opinions.
"But you just have to put yourself out there because you don't know what's gonna happen," Decker said.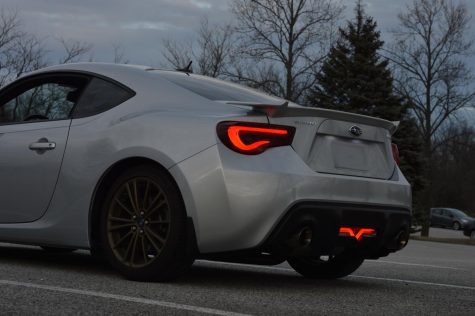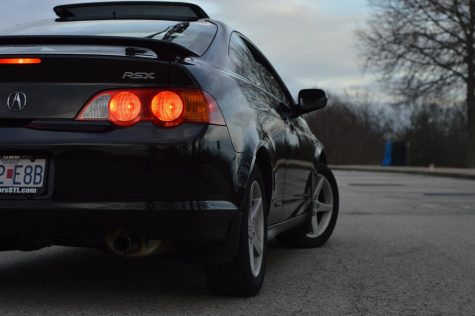 Decker believes that his willingness to learn and talk to others has impacted his feelings towards the car community both outside and inside FHC. As he put himself out there, he's been able to spread his love for cars to other people and allow them to become more open with their feelings as well. This car community at FHC spreads around this way. 
"I'm sure you might be extremely nervous that something's going to go wrong, but in reality you might be overthinking just a little bit," Decker said. "You're really going to find that most people in the car community are really nice people and they're willing to teach you if you don't know; you just have to be open and willing to learn."
Creating conversations and friendships has allowed Decker to influence others into getting into cars. He feels as though he's helped senior Hunter Bowman have a deeper liking in cars after talking to him. Bowman is also a very avid car enthusiast who has felt impacted by the car community at FHC. Through the culture, he's made friends with people and opened up
"I've met a bunch of new friends through the car community people you would never talk to outside of it; People you don't really know," Bowman said.
"
You're really going to find that most people in the car community are really nice people and they're willing to teach you things you don't know; you just have to be open and willing to learn"
— Adam Decker
Like Decker, he feels that he really connected with new people through the car community at FHC, people that he would not likely talk to outside of it. Bowman believes that it's a way that you can really get to know somebody and discover that they aren't what you expected.
"And you come to find that a lot of the time, your impressions of people are wrong," Bowman said. "You know, you start to assume things based on what people look like, what they do and you start talking to people and you find out that you know you're completely wrong."
Bowman agrees with Decker that the car community at FHC really helped him adapt to high school socially and act as a stress reliever. Bowman is a high achieving student who takes many AP Classes and performs well, and the overloading of work builds up stress and frustration. He feels that going to the car community at FHC has helped him look for a way to escape the turmoil of school and make him happy. 
"It has kind of made High School easier. It helps to have something that you're really passionate about and bond with other people because I take a lot of really difficult classes, and sometimes that can be emotionally stressful," Bowman said. "When you have something to fall back onto and something that really just makes you happy and just being around really good people."
Senior Zach Kofron tells that the community helped him decide what to do with his car and gave him advice about the best options and ways to modify.
"It made a difference for me because I bought a Miata because of the car community at school," Kofron said. "A lot of people have been a big influence for modifying my car.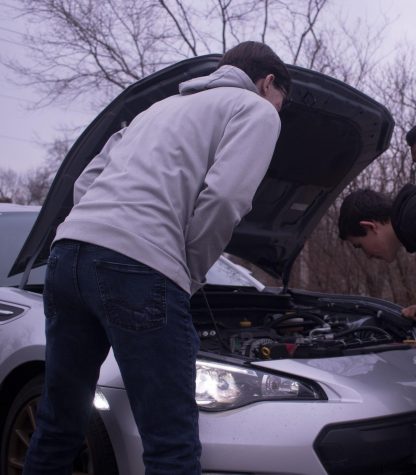 Kofron has also used the community to make new friends and acquaintances and believes that the community really brings together people at events. FHC doesn't host any car events where people could come together, so Kofron added that there could be a new Cars and Coffee event and add more people to this community. 
"I wouldn't mind our own small little cars and coffee event," Kofron said. "Like if we could have our own events and get more people involved in cars and one on."
Kofron, Bowman, and Decker all conclude that people shouldn't be afraid to include themselves in the community ay FHC. Decker and Bowman believe that it can really expand people's social horizons. In the long run, it is really good for people to be nervous, put oneself out there and be nervous about being involved because people don't know what's gonna happen, and they believe that it can be good for people. One might meet somebody who, who could be a really good friend who could be helpful.
Bowman believes that people are afraid to include themselves in the community because there's lots of knowledge about cars
"Don't be afraid to ask questions, and don't be afraid to try to include yourself," Bowman said. "It's kind of scary that there's a lot out there to learn and you feel like you might embarrass yourself; you feel like an outcast or you don't know everything, but that's not the case whatsoever."
The car community is an expanding place at FHC for people to find homage at. The community is more than just talking about cars, it's a place to establish connections to people and have fun. Cars aren't meant for specific people, they're made for mostly everyone to enjoy learning and talking about them. More and more people join the community, whether in FHC or outside of school, it's only ever getting bigger each day. It's just a matter of how someone puts themselves out there and chooses to become social. Decker concludes that this car community is friendly and willing to teach and include people in events and activities, and he believes that the community really helps people change their perspectives and be open. 
"There's absolutely always room for expansion. Now that doesn't mean that everybody who wants to join is going to be informed about everything because there's a lot of stuff you can learn," Decker said. "There's a lot of stuff you learn as you kind of involve yourself into cars and the car community. But as long as you're open minded and you're willing to learn, then it's always open." 
Leave a Comment
Your donation will support the student journalists of Francis Howell Central High School. Your contribution will allow us to purchase equipment and cover our annual website hosting costs. FHCToday.com and our subsequent publications are dedicated to the students by the students. We hope you consider donating to allow us to continue our mission of a connected and well-informed student body.