Does it Stop Here?
Three different policies including the implementation of a one-mile walk boundary, the consolidation of bus stops, and the changing of school bell times will take effect in the upcoming 2023-24 school year in the district due to the nationwide shortage of bus drivers.
Many bus drivers are retiring, and the district is not getting any new applicants. Initially, the Board met and discussed ideas on how to fix this shortage and ensure proper and safe transportation during the work session on Monday, March 30, and on Thursday, April 20, the Board voted on the final policies. All policies will improve the gas efficiency rates of buses, reducing costs while simultaneously reducing the number of drivers needed by creating fewer total stops.
Exceptions to the one-mile walk boundary include if a student will have to cross a major highway or uncontrolled intersection on their way to school, or being part of the Individualized Education Plan(IEP). Director of Transportation Jennifer Simpson said being informed is very important, and it will be a team effort to ensure the safety of students.
"We'll be mailing out letters to all the families in June who no longer qualify for transportation," Mrs. Simpson said. "If there wasn't a crosswalk and a stoplight like at Central, then our decision of who would be walkers and who would not would be different. It will be up to the families to make sure that students are safe as they're crossing the road. If they have to cross a busy road, we would encourage students to use the crosswalks."
Assistant Principal Brian Warner said a new normal will develop.
"It's not us versus you. We have to work together to try to figure out the best possible option and then adjust and tweak as we go on," Mr. Warner said. "I understand that it's going to be impacting a lot of people. I need to be patient, it's one thing if it's implemented and the policy doesn't change me. When you start to impact my child, and you start to impact the household, it gets a little bit more personal. So when I get those phone calls, I need to be understanding to them. I understand it in being able to work and trying to do whatever I can to support them, but also to maintain our district focus on why we've made these changes the way they are."
Additionally, bus stops will be consolidated to the point where students in grades 6-12 will have to walk four-tenths of a mile to and from stops, and grades K-5 will have to walk only two-tenths of a mile. Mrs. Simpson said families will need to pay attention to the parent portal for the first week of August. 
"They're going to want to pay attention so everyone can identify their bus stop location and then put the plans in place that work for their family to be able to access that stop safely," Mrs. Simpson said. "Spend the next couple of weeks before school starts putting safety precautions in place as a family and figure out the safest walk path and determine who the buddy systems are so everyone doesn't wait until the first day of school to realize how far away their bus stop is."
Superintendent Kenneth Roumpos said safety is the top priority.
"Our building administrators will be working through logistics of all of these changes over the summer. We envision working with our neighbors and parents to encourage supervision at bus stops," Dr. Roumpos said. "We already don't have enough bus drivers and with 44% of our current drivers eligible for retirement next year, the problem is only expected to get worse. We must act now so we can continue to provide reliable bus service to families."
To reduce the amount of total stops, the district has changed most of the bell times, resulting in both middle and high school students riding the same bus. Mrs. Simpson said there will be assigned seats.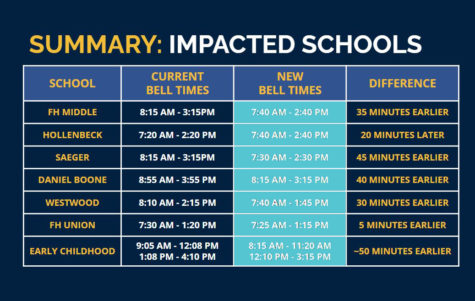 "The middle school students will sit in the front portion of the bus and then high school students will sit closer to the back," Mrs. Simpson said. "I came from a district where the middle school students behaved much better when the high school kids were on the bus. We are actually looking forward to an improvement in student behavior."
Principal Suzanne Leake said if a route is full, they're not going to add more students.
"They're going to be as efficient as possible with the number of seats and riders. The goal is to fill up as many seats with one bus as opposed to running that route twice if not needed," Dr. Leake said. 
Additionally, the bell times of Saeger will be 45 minutes earlier, meaning dismissal is at 2:30 p.m., leading to a crowded FHC parking lot as parents arrive early to pick up their middle school or high school students at the same time. Mrs. Simpson said the parent drop-off lane will be adjusted in Saeger.
"We are working with the building administration to make sure that we have staff outside to help move traffic along in a safe manner and control our parking lot," Mrs. Simpson said. "We will be working through those challenges this summer to make sure that we have good plans in place that we can communicate to our parents and our students."
Dr. Roumpos said students have overcome more difficult challenges, such as the Covid-19 pandemic.
"We do recognize that adjusting to a new start time can be challenging for some students – especially at the middle school level where some schools will start 35-45 minutes earlier. But we also know students are resilient," Dr. Roumpos said.
Leave a Comment
Your donation will support the student journalists of Francis Howell Central High School. Your contribution will allow us to purchase equipment and cover our annual website hosting costs. FHCToday.com and our subsequent publications are dedicated to the students by the students. We hope you consider donating to allow us to continue our mission of a connected and well-informed student body.